Man Tries Shaming Fast Food Employee for Internet Points, People End up Loving Her Instead
A fast food customer thought recording employees would end up making them look bad, but he ultimately played himself.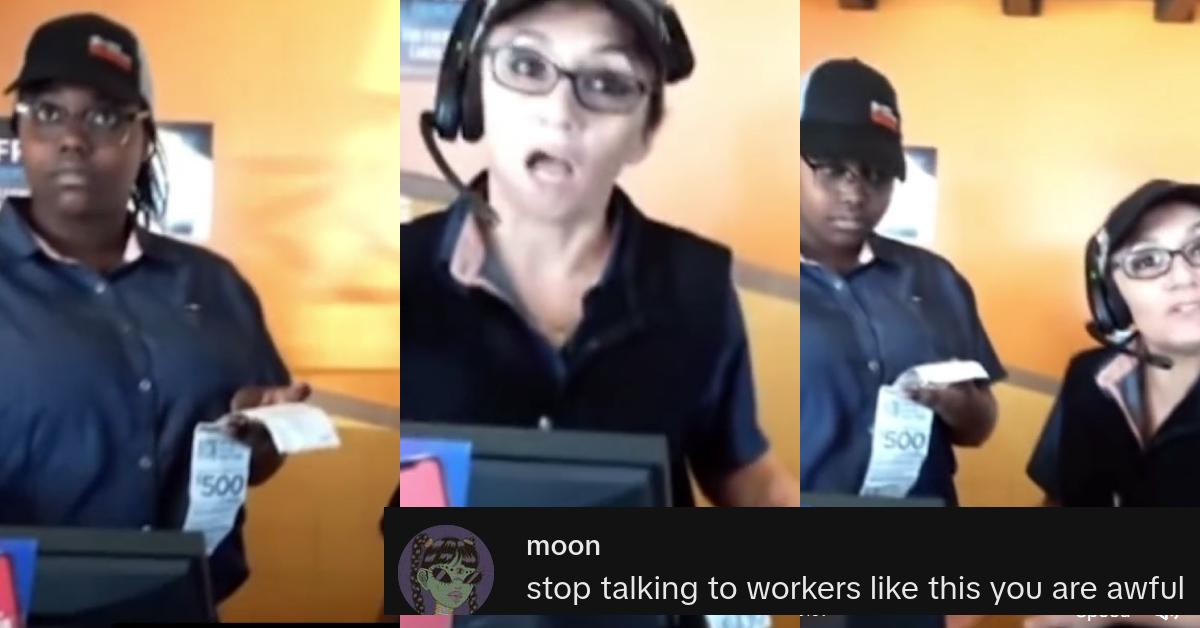 Working in the food service industry can be a stressful venture: when you're slammed during a dinner rush, managing multiple tables at once and narrowly dodging your coworkers who are hauling a-- from one corner of the restaurant to the next, running back and forth for refills, that bottle of hot sauce the customer asked for, etc., things can get a little crazy.
Article continues below advertisement
Article continues below advertisement
There are a number of social media posts uploaded online that often show these workers having to deal with difficult, and oftentimes, irate customers, some who think that they're in the right.
Like this one man who appears to have tried and shame a worker for their workplace behavior in a "call out" video that looks like it ultimately backfired.
Article continues below advertisement
The video, which was uploaded to the @humansinpublic TikTok account, shows a customer gripe with an employee from the patron's perspective. Their conversation goes as follows:
Customer: I noticed your attitude changed when I was recording you.
Employee: We can do nothing...I'm sorry [unintelligible] sorry.
Customer: Well you guys are very rude...you know you say thank you to everybody else but me.
Employee: I didn't take your order?
Customer: She did, you don't teach them to say thank you to everybody?
Employee: I say thank you to everybody.
Customer: Well...she didn't, she was very rude. I'm letting you know that. You know maybe if she wasn't so rude then, she wouldn't have thrown my food around.
Employee: Give me one second (she goes and walks to another part of the restaurant to talk to another employee about something)
Article continues below advertisement
At this point in the video, the clip transitions to the woman and her co-worker standing at the cash register.
Customer: It should've been yours the receipt was in your name.
Employee: Oh it's in my name okay.
Customer: So do we not know what we're doing now?
Employee: No I was thinking it was her order, I was thinking it's her job it's still my name.

Article continues below advertisement
Customer: So she has to do the refund on your order?
Employee: No, I'm here.
Customer: Aren't you the supervisor? Aren't you the one in charge.
Employee: Both, we are.
Customer: Oh you're both managers?
At this point in the video, the clip cuts out.
Many viewers who saw the clip said that they saw what looked like an evident case of a customer attempting to make a mountain out of a molehill. The fact that the man interrupted the employee several times and attempted to find problems with the workers' behavior while questioning every move that they made as they attempted to process his refund didn't seem to sit right with folks who watched the clip.
Article continues below advertisement
What made matters even worse for viewers was the fact that the woman he was initially talking to was so polite: she never once raised her voice or made any mean facial expressions or castigated the man for the way he was treating her and conducting himself in their conversation.

Article continues below advertisement
"She seems so sweet I feel bad for her dude being a major d---," one TikToker wrote.
Another penned: "I could never do their job. I'd be fired immediately for what'd I'd say back to him"
Someone else simply wrote: "This guy..."
There was one user on the platform who said that if their work crew had gotten into it with the customer, the entire scenario would've played out much differently: "girl please me and my work crew would have ran his ass through the gutter lol"
Article continues below advertisement

"she doesn't even come off as being rude he's disrespectful asfk," someone else replied.
"he is such a tool...." someone else wrote.
It seems that there are plenty of people, who, in an attempt to call someone out for internet clout and get them in trouble, believe in their own righteous indignation so much that they think whipping out a phone and recording is going to help them prove a point or "shame" someone else.
Article continues below advertisement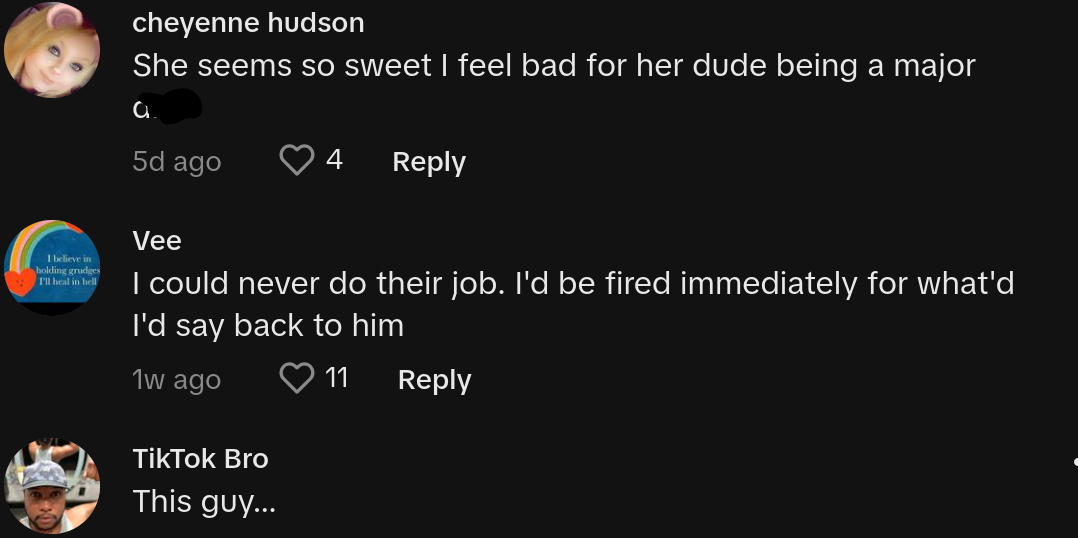 In instances like the one showcased above, however, oftentimes folks just end up shooting themselves in the foot, and look pretty darn foolish in the process.