A Server Kept Working After Clocking Out ... and She Got a Hefty Tip
A server clocks out at her restaurant, but works a little anyway and gets a hefty tip. People are praising her after she shares the feel-good story.
There are so many stories in the world that make us rageful beyond belief, but luckily, some stories bring good news and good tidings. Yes, TikToker Lexi Meeks (@capfairywh0re) gave us a little insight into her work day as a server at an anonymous restaurant. While we may be accustomed to Karens and stingy customers, Lexi gives us something to celebrate.
Article continues below advertisement
She shared on TikTok how she stayed a little bit after clocking out and decided to help a table by bringing them to-go boxes. Just for the few minutes that she helped them out, they tipped her $20! Now that isn't an everyday occurrence. But why did she stay late? Is this a fair example to share with other servers, and will this encourage restaurant managers to ask their employees to stay on the floor after clocking out?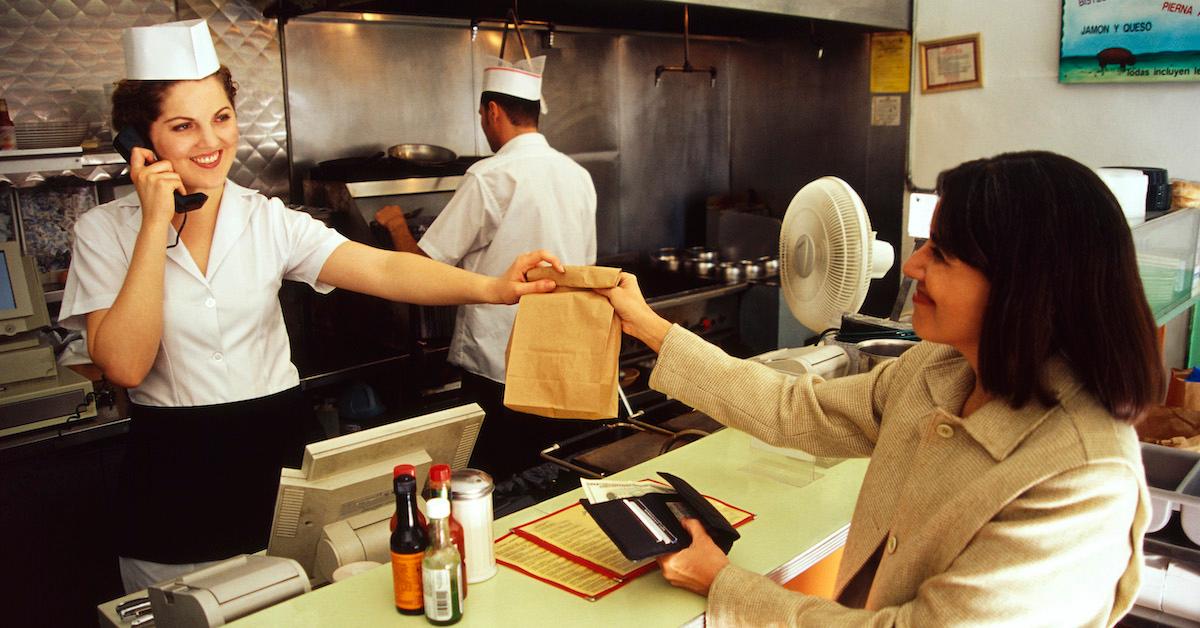 Article continues below advertisement
A server shared that she got a major tip by working a little after clocking out.
This doesn't happen everyday — and in fact, it happens far too often that we work extra and get nothing for it — but Lexi Meeks put a little extra kindness and care into her service job and it paid off! Being a server is tough work. We have to set up, clean, memorize menus, orders, allergies, and communicate between the customers, managers, kitchen staff, host, and everyone in the restaurant. We're practically the frontlines of making sure that hungry people get their food.
So it's no surprise that in doing all of that, we often have to deal with some *difficult* people. But that's not what Lexi talked about in her video on TikTok. With plenty of animation and excitement, she shared a good news story for the day.
Article continues below advertisement
"I'm off the clock … I'm off early, love that. Didn't make much money, don't love that," she said. "I'm going to make sure I didn't leave anything on the table, double check for some cash … As I'm going back to this one section, there's no other tables back there but one and lady calls me over like, 'Ma'am, ma'am!' and so I rush over there like, 'Yea, babe, what's up?' and she's like, 'Can you find our server?'"
Article continues below advertisement
When Lexi figures out who their server is, she realizes she hasn't seen her "in a fat minute." Lexi looks around for the other server and can't find her. "This is where you make the decision," Lexi says. "You could either a) return to the table or b) I'm off the clock, I don't need to help this lady, whatever, right?"
Article continues below advertisement
And Lexi makes a "good samaritan" decision, quoting what every server knows. "Even though they're not your guests this time, they will or may be your guest next time. They see you, they will recognize you, they might know you, even if you don't remember them, they might remember you." Honestly, this is the best advice any server could get, especially in a situation like this.
So Lexi jokes around with them, and brings them some to-go boxes and peaces out. As she gets to her car, the husband thanks her and gives her $20! Go Lexi! Not such a money-less morning after all. And best of all for her, she already clocked out and counted her money, which means she doesn't have to claim that as part of her tips.
Article continues below advertisement
This is great news for Lexi, but there's a complicated ethical side to it that could encourage employees to work after clocking out.
We are all about the work-life balance, but sadly, many higher-ups don't feel the same way. This is especially true in shiftwork, where people get paid per shift instead of a salary. Oftentimes, people are asked to pick up shifts at the last minute or to work holidays because they can get overtime pay. But in a tip-based customer-facing industry, like a restaurant, this is especially true.
Whenever we're in the restaurant, we are essentially the face of the business. In fact, Lexi covered up the logo of her restaurant when recording her video so that she wouldn't represent them. So even if we've clocked out, the customers probably don't know that! And although they might respect our time, they'll also be even more grateful that we helped them.
Article continues below advertisement
Working at a restaurant is hard, but it can also be very rewarding. The kindness and generosity you give can come back in many ways — whether that be an instantaneous tip, theater tickets, or even a lifelong friendship. But this feel-good story isn't an excuse for servers to work after clocking out. Work is work, and if you're off the clock, go home!
But contrary to popular belief, the service industry is hard to leave behind when you clock out … especially if you're still in the restaurant.