May the Floss Be With You: 'Fortnite' Drops 'Star Wars' Skins Ahead of Weekend Event
'Fortnite' now has 'Star Wars' skins — Rey, Finn, and a Sith Trooper. The skins have been released for the 'Fortnite' 'Star Wars' event Dec. 14.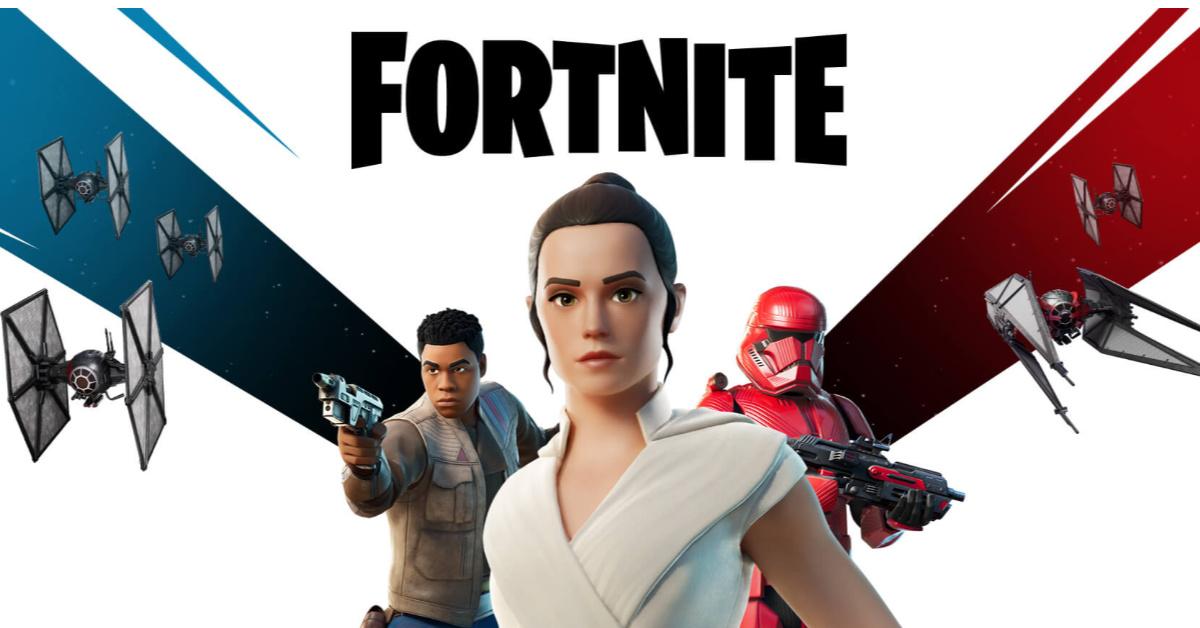 Get ready to floss, people. This is not a drill. The many, many Fortnite fans have something to be excited about… provided they are also Star Wars fans. To celebrate The Rise of Skywalker's impending premiere, Fortnite has added special Star Wars-themed skins to the popular battle royale game. Here's how to get your very own Fortnite Star Wars skins.
Article continues below advertisement
Fortnite's Star Wars skins have three different designs.
There are now three new Star Wars skins available in Fortnite: Rey, Finn, and a Sith Trooper. This is in addition to the Stormtrooper skin that's already been in the shop for a while. If you want to get your own, just head to the Item Shop and get ready to drop some V-bucks.
Each skin costs 1,500 V-bucks, or you can purchase all three together for 3,500 V-bucks.
Article continues below advertisement
Both Rey and the Sith Trooper have special tools, too. Rey has a quarterstaff harvesting tool and the Sith Trooper is paired with a Riot Control baton. (Those are an additional 800 V-bucks apiece). Rey and Finn have special back blings (featuring holographic Jedi and Alliance designs, respectively), and the Sith Trooper gets a blaster — it's not usable as a weapon in the game, though. And are there new emotes? You better believe there are new emotes. We have a good feeling about this.
The new skins are coming out just in time for the Fortnite Star Wars event.
The Fortnite Star Wars event starts on Saturday, Dec. 14 at 2 p.m. ET. During what is one of the biggest crossover events in history, Fortnite players will be given a sneak peek at the forthcoming Star Wars film, The Rise of Skywalker. Director J.J. Abrams himself will be presenting exclusive footage of the film a full five days before the big premiere.
Article continues below advertisement
Wondering where the Fortnite Star Wars event takes place? Prior to the event's start time, you're gonna want to make your way over to the cinema in the Risky Reels area (doors open at 1:30 ET). And don't go around shouting "It's a trap!" Weapons will more than likely be disabled during the event. If seeing exclusive footage of the newest Star Wars film somehow isn't enough of a draw for you, everyone who attends the in-game event will also be receiving a free TIE Whisper Glider. That oughta get some virtual behinds in the virtual seats.
Will you be attending the Fortnite Star Wars event? Purchasing some Fortnight Star Wars skins? We honestly don't know how to choose between Rey, Finn, and the Sith Trooper. (Just kidding. We choose Rey. We always choose Rey.) However you choose to celebrate this momentous occasion, may the floss be with you.