Frank Sinatra's Son Was Kidnapped and Held for Ransom for Two Days in 1963
Frank Sinatra Jr. was kidnapped when he was just 19 years old and held for an incredibly high ransom, but who were the men who kidnapped him?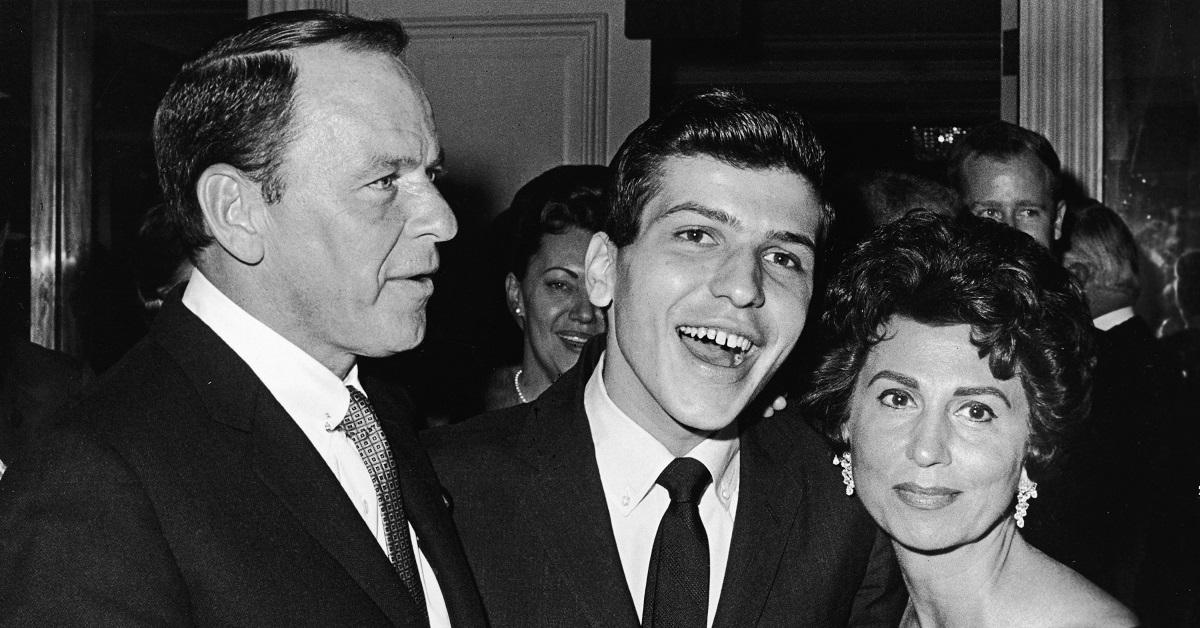 Frank Sinatra Jr. was just 19 when he was kidnapped and held for ransom. His father was already a world-renowned singer and actor, and his kidnappers were apparently aware that they could get a pretty penny if they were able to get their hands on his son. Ultimately, Sinatra was returned safely, but only after a tense two days of negotiation with the kidnappers.
Article continues below advertisement
How was Frank Sinatra Jr. kidnapped?
At 19, Sinatra was just beginning his career as a singer. He was performing at the Harrah's Club Lodge in Lake Tahoe, on the border between Nevada and California. At roughly 9 pm on Dec. 8, 1963, a man pretending to be a delivery man entered Frank Jr.'s dressing room, where he was hanging with a friend. The friend was duct-taped and tied up, and Sinatra was blindfolded and carried out a side door.
Article continues below advertisement
Who kidnapped Frank Sinatra Jr.?
Sinatra was kidnapped by two high school friends named Joe Amsler and Barry Keenan. The two men, who were 23 at the time, had been following Sinatra for weeks and had decided to strike on that fateful night. Sinatra's friend freed himself shortly after Amsler and Keenan left and immediately alerted the authorities. Shortly thereafter, roadblocks were established to head off the kidnappers.
Amsler and Keenan were actually stopped by police, but managed to bluff their way through the encounter and evade police custody. The FBI was brought in almost immediately, and recommended that Sinatra's father pay the ransom demand when it came in. From there, the FBI would trace the money and find the kidnappers. Meanwhile, Keenan and Amsler were hiding out in a suburb of Los Angeles.
Article continues below advertisement
Keenan and Amsler had a third co-conspirator.
In addition to the primary kidnappers, Keenan and Amsler also worked with John Irwin, who was to be the ransom negotiator. He called the elder Sinatra and demanded a $240,000 payment. Sinatra then gathered the money, allowed the FBI to photograph it, and then left it at the spot that Irwin had requested on Dec. 11. Irwin then released the younger Sinatra while Keenan and Amsler picked up the cash.
Article continues below advertisement
The kidnappers were quickly apprehended after Sinatra was freed.
After Sinatra Jr. was picked up and taken to his mother Nancy's house, he was able to give the FBI enough detail to begin to close in on his kidnappers. They found the house where he had been held, and collected more evidence there. The bureau's progress was public because of coverage in the news, and Keenan, Amsler, and Irwin could begin to feel the investigators honing in.
Irwin eventually told his brother what had happened, and his brother then called the FBI. Just hours later, all three kidnappers were in police custody. All three were convicted of kidnapping in court, although they served short prison terms, in part because Irwin was ruled to be insane.
The elder Sinatra, who had conducted the negotiations with Irwin over a payphone, was worried that he wouldn't have enough coins to finish the conversation. As a result, he carried a roll of dimes in his pocket for the rest of his life and was even buried with one.