Back in my day, the standard advent calendar doled out a small piece of milk chocolate everyday from Dec. 1 all the way through Christmas on Dec. 25.
But these days, advent calendars go far beyond that bite-sized piece of chocolate. Now, they give out anything from tiny bottles of alcohol, to expensive jewelry, and even pieces of cheese. So, if you're down to shake things up this year, these fun advent calendars are bound to do the trick.
Fun advent calendars you'll want to have this holiday season:
1. Trader Joe's Cat Calendar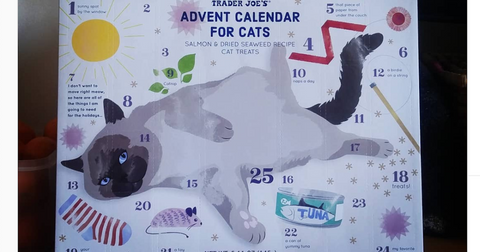 Trader Joe's unleashed advent calendars filled with cat treats this year, according to PopSugar, making way for a very *meowy* Christmas, if you catch my drift. It's seriously perfect for anyone looking to spoil their beloved furry friends this holiday season.
2. McCrea's Caramel Calendar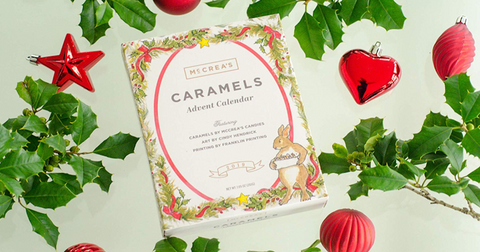 Not every sweet tooth loves chocolate, and if that's the case for you or a loved one, Amazon is selling McCrea's Candies 2019 Caramel Advent Calendar. It comes filled with an assortment of caramel candies, it's a little bit ~fancy~ and it's absolutely delicious.
3. Give Them Beer's Hard Seltzer Calendar
2019 is the year of hard seltzer, so it should come as no surprise that Give Them Beer created an advent calendar filled with 12 different hard seltzer varieties, according to Food and Wine. Obviously this count-down is a bit different from the others, straying from the standard 24 or 25-day format, but it gives customers the chance to try several brands of the beloved carbonated beverage.
4. Tiffany & Co.'s Jewelry Calendar
Those who love Tiffany's iconic little blue boxes will love the brand's jewelry advent calendar, according to Insider. It comes with 24 pieces of jewelry, costing $112,000. Inside, you can find anything from a rocking horse ornament to the brand's classic heart charm bracelets. "Merry Chri$tmas," as they say.
5. Aldi's Beer, Wine, Cheese & Toy Advent Calendars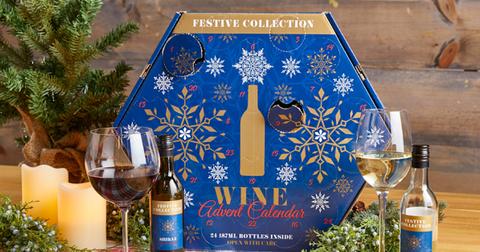 Aldi is famous for its next-level advent calendars, and this year, you can choose between four awesome varieties. For those who love winding down after a long day, the Germany-based grocery store sells wine or beer calendars. They're also selling some filled with cheese, and others filled with toys. Like I said, the possibilities are endless.
6. MillerCoor's Calendario De Fiestas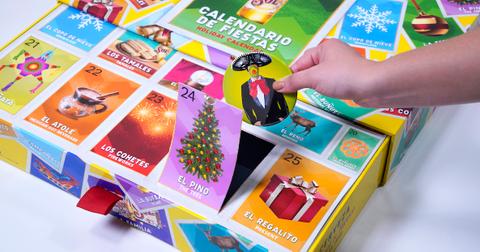 MillerCoors' Sol Beer unleashed the first-ever Mexican American advent calendar, called Calendario de Fiestas, which is filled with 25 days of art created by Mexican-American artists. You'll find anything from a Burrito pinata freshener, a Corazon de Oro sew on patch, and Pan Dulce shoelaces. No alcohol, but seriously awesome nonetheless.
7. Wine Lovers' Advent Calendar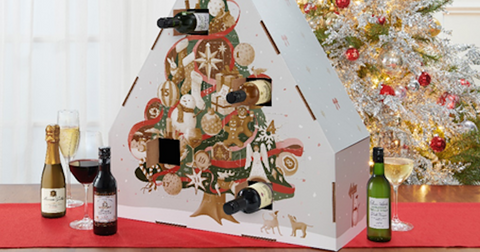 If wine is truly your favorite vegetable, Wine Lovers' Advent Calendar features 24 different mini bottles (187-milliliters) of quality international wines, from places like Bordeaux to Tuscany. Treat yourself or treat your friends... maybe buy it in tandem with Aldi's cheese calendar for a next level pairing!
8. DreamBone Holiday Advent Calendar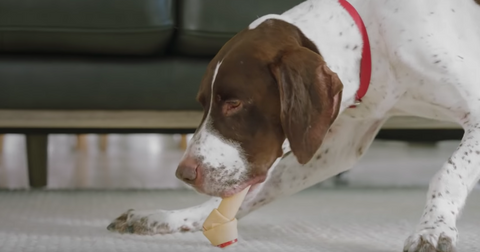 Those who love their dogs more than life itself should certainly consider spending an additional $15 this holiday season, to make their pup's month extra special. Behind each door, you'll find a DreamBone dog treat, made especially with all-natural ingredients.
9. Truly Hard Seltzer's Truly Survive the Holidays Gift Box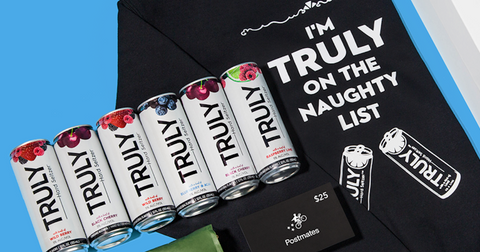 OK, this one isn't a straight-up advent calendar — per se — but this gift box Truly Hard Seltzer created in partnership with Giftagram will help anyone survive the holidays. Available on Giftagram.com for $75, it includes six cans of Truly, a Truly holiday sweater, a $25 Postmates gift card, Cheers Restore Pills, Stumptown Coffee, and a Brumate Slim Can Koozie. It has enough swag to keep you going until Christmas rolls around, trust me.
10. Copper Cow Coffee's 12 Days of Pour-Over Holiday Advent Calendar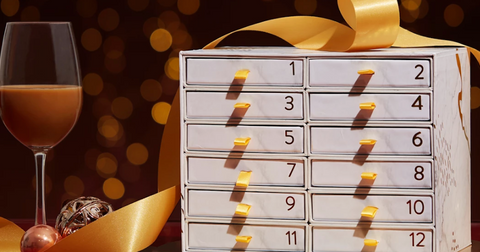 If your holiday season quite literally runs on caffeine, definitely snag yourself one of Copper Cow's limited-edition 12 Days of Pour-Over Holiday Advent Calendars. It features a wide variety of coffee flavors, from churro, to cardamom, and even rosemary. I can already smell the coffee roasting.