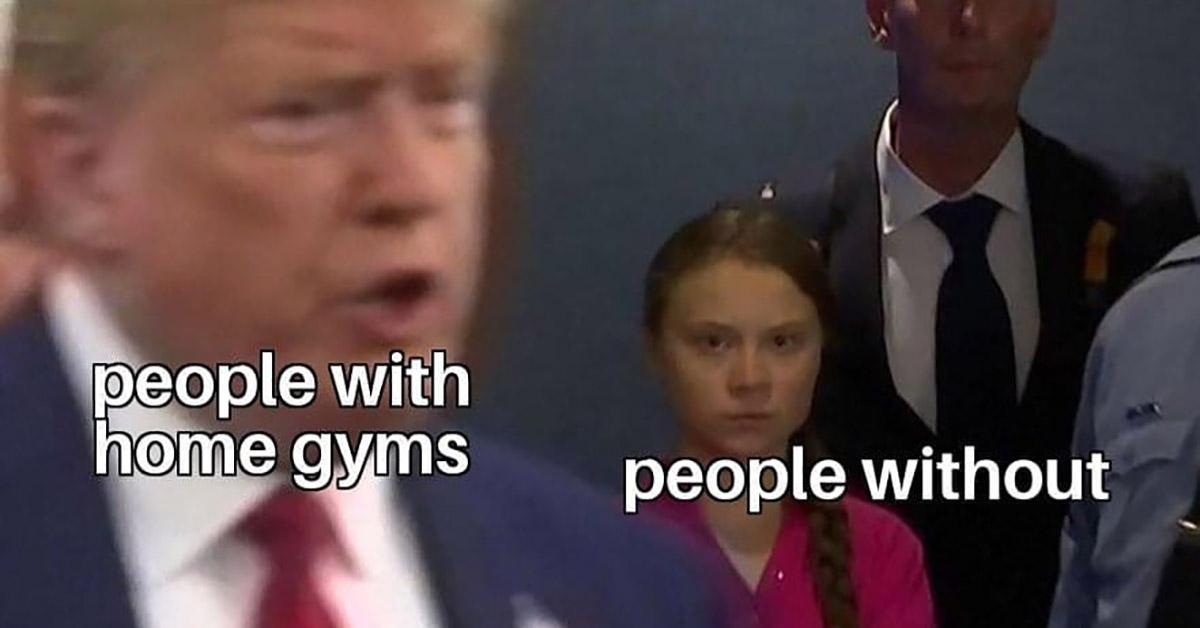 These Coronavirus Memes About Working out From Home Are Way Too Accurate
Let's face it: Going to the gym to work out was a privilege that most of us took for granted. As a result of the new coronavirus pandemic, everyone is required to practice social distancing, which means that most people will have to skip out on their usual routines and opt for home workouts.
Article continues below advertisement
To help keep people active, fitness trainers have been offering virtual classes and a wealth of workout tips online. YouTube has also proven to be an awesome resource for hundreds of workout tutorials. But guys, getting these exercises done can be quite a struggle, especially if you've got limited equipment or pets that refuse to give you personal space.
Whether you're struggling to get through your sessions or longing to get those gains back, know that you're definitely not alone. Here are a few fitness memes to keep you laughing as you make the most of your indoor workouts.
People are mourning the loss of their muscle gains.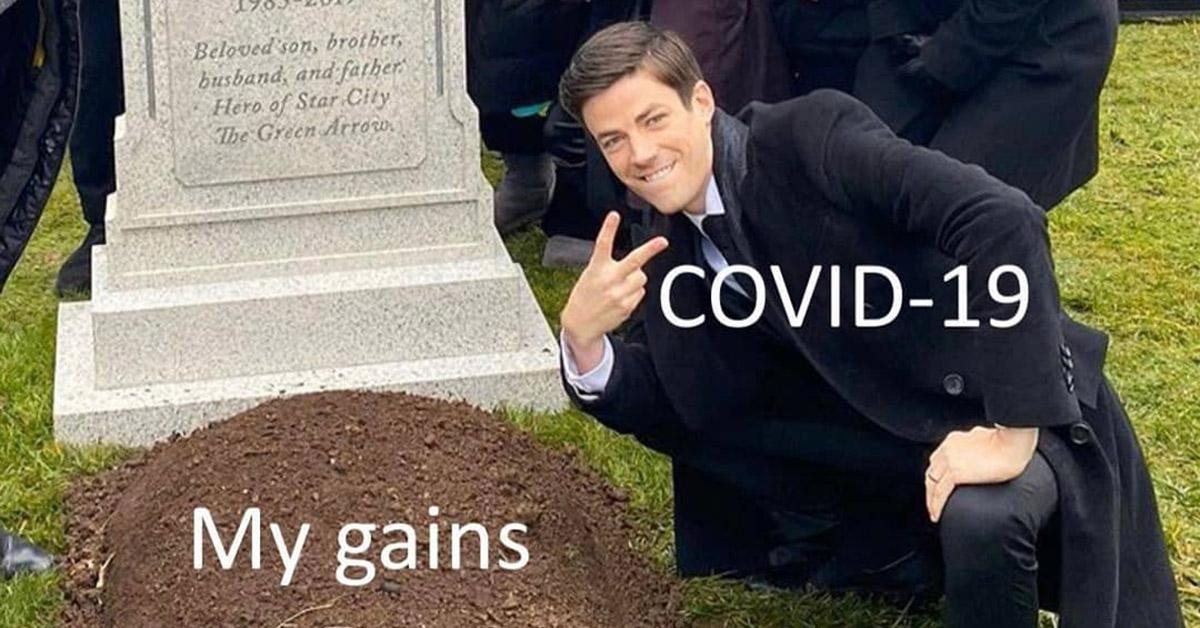 Our hearts go out to all the fitness buffs who were just starting to make progress with their gains after consistently lifting weights. We understand that it took tons of time and hard work to get there. So sorry for your loss.
Article continues below advertisement
It'll take some time to get those gains back.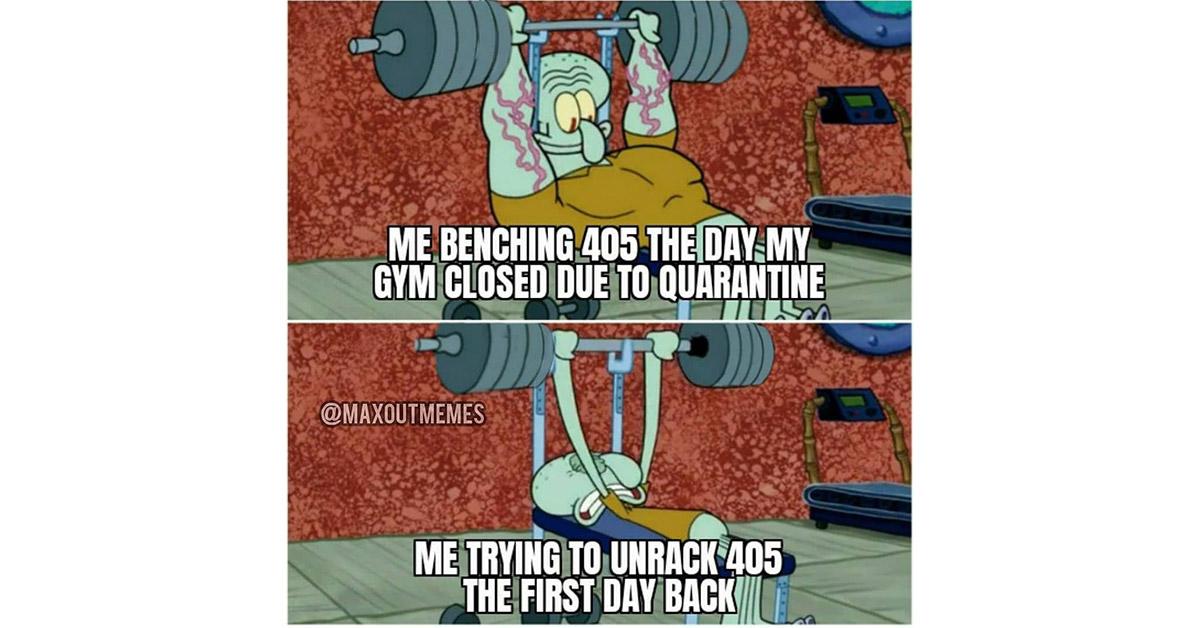 For those who lift heavy or hit new records during their last gym visits, trust us, we totally feel your pain. But when you go back, you might want to start slow before you fill that rack with tons of weights.
Article continues below advertisement
People with indoor gyms are definitely having the last laugh.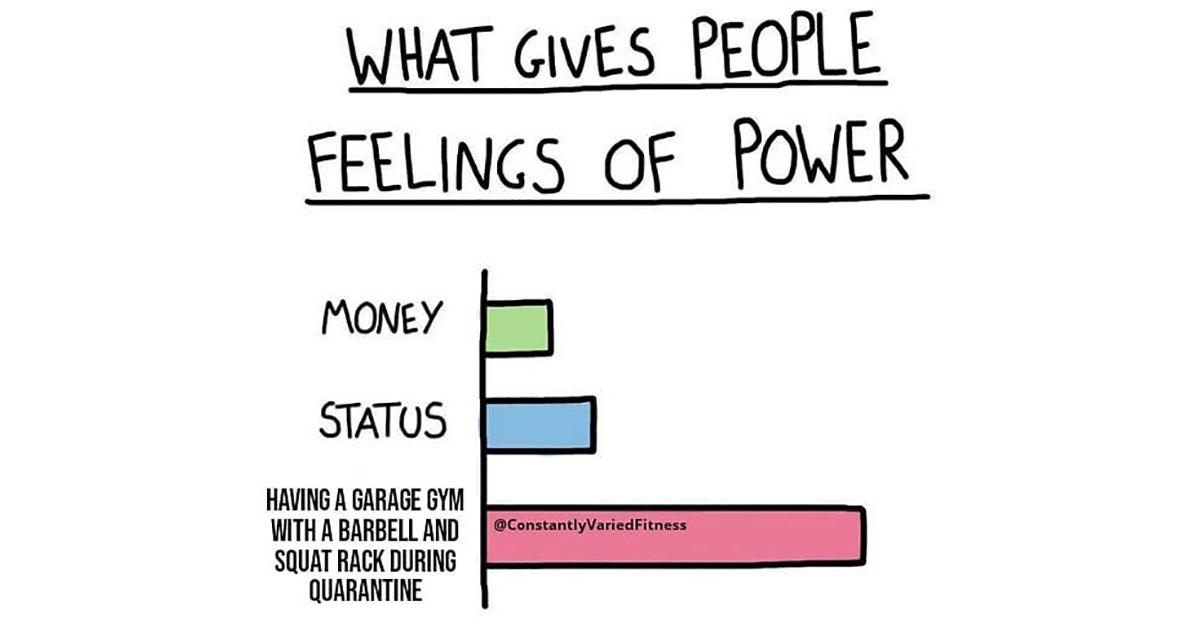 Having a home gym wasn't a huge deal before this coronavirus outbreak, but now, almost all fitness buffs can agree that having one sounds even more appealing than money. Kudos to all the people who now officially hold the most power.
Article continues below advertisement
The coronavirus is making this way too easy for kidnappers.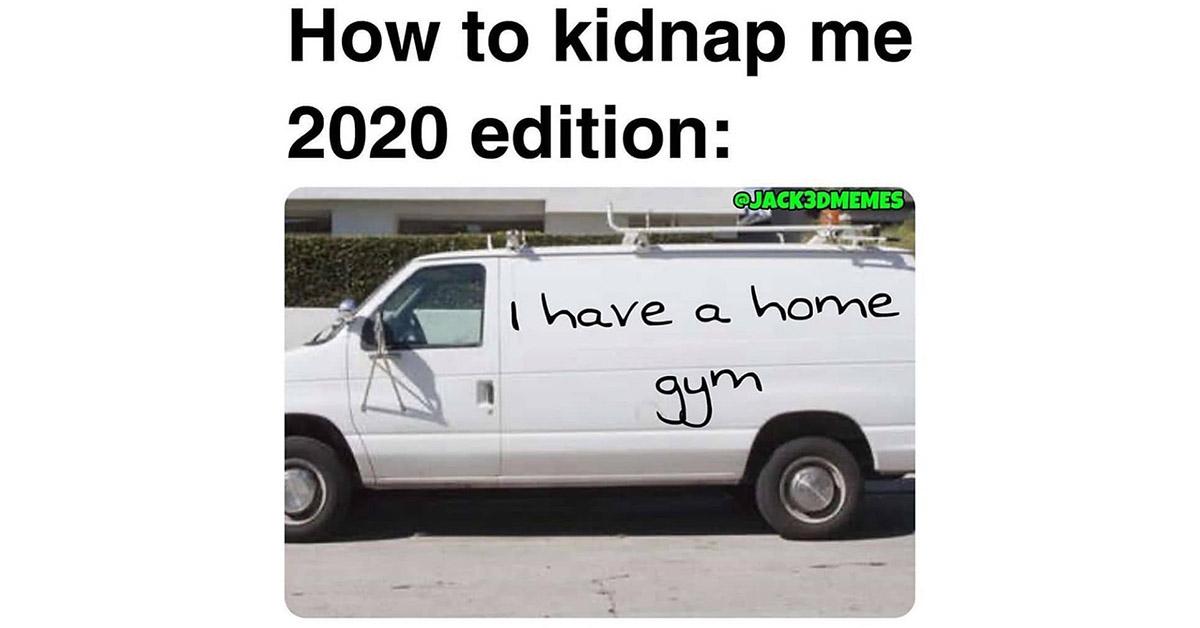 Just imagine going for days without food and then spotting a sketchy van that says "I have fresh pizza." This would have the same effect on fitness buffs right about now, because skipping out on a routine for too long (or missing out on muscle growth) can make a person desperate.
Article continues below advertisement
Text books and milk jugs aren't the same as actual gym equipment.
Anyone else have moments where they sit and daydream about the good old days, when they could still pick up free weights? And grip plates? And foam rollers? Sure, there are household items that could work as substitutes, but it's just not the same.
Article continues below advertisement
Pets make for an interesting substitute.
We get the feeling that this guy's dog is confused and just going with the flow, but it's definitely an interesting approach! Having pets as workout buddies can make this experience so much more fun.
Article continues below advertisement
When it comes to gains, it helps to plan ahead.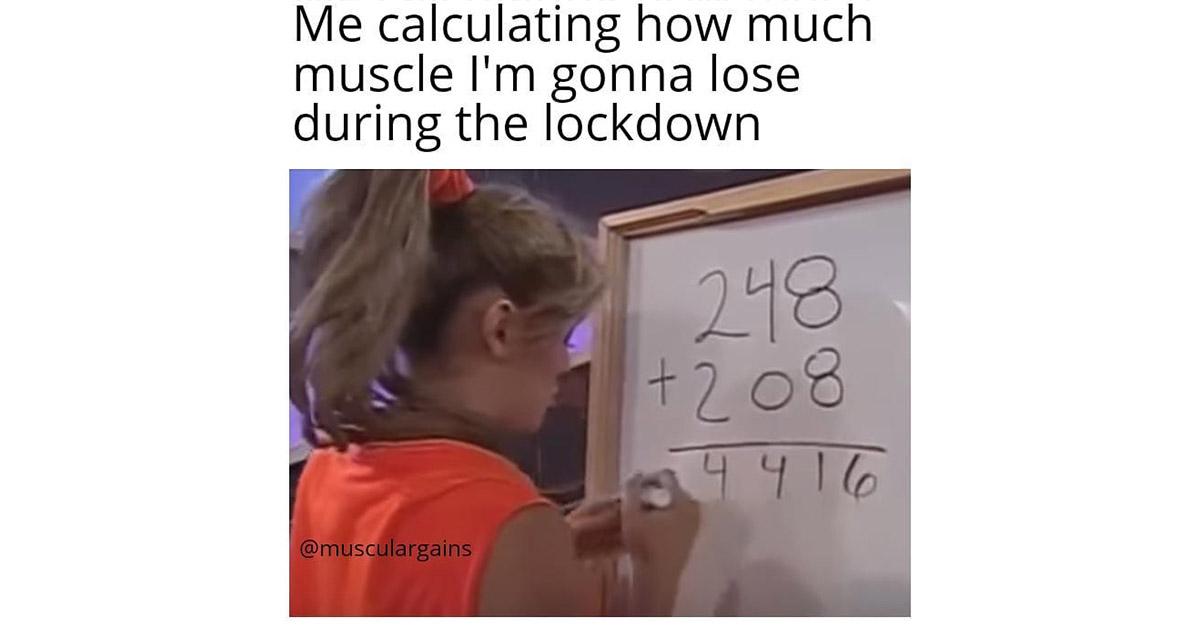 Obsessively tracking muscle growth progress has now boiled down to calculating how much gains you'll lose in the span of this quarantine period (sigh). But hey, on a brighter note, it helps to know how much work you'll need to put in to get back to where you were.
Article continues below advertisement
Home workouts are just complicated.
We know, we know. They're technically supposed to be easier and more convenient but that's just not always the case. Some of us need to plan ahead and organize and figure out what gym outfits we'll wear.
Article continues below advertisement
Staying focused can be a challenge.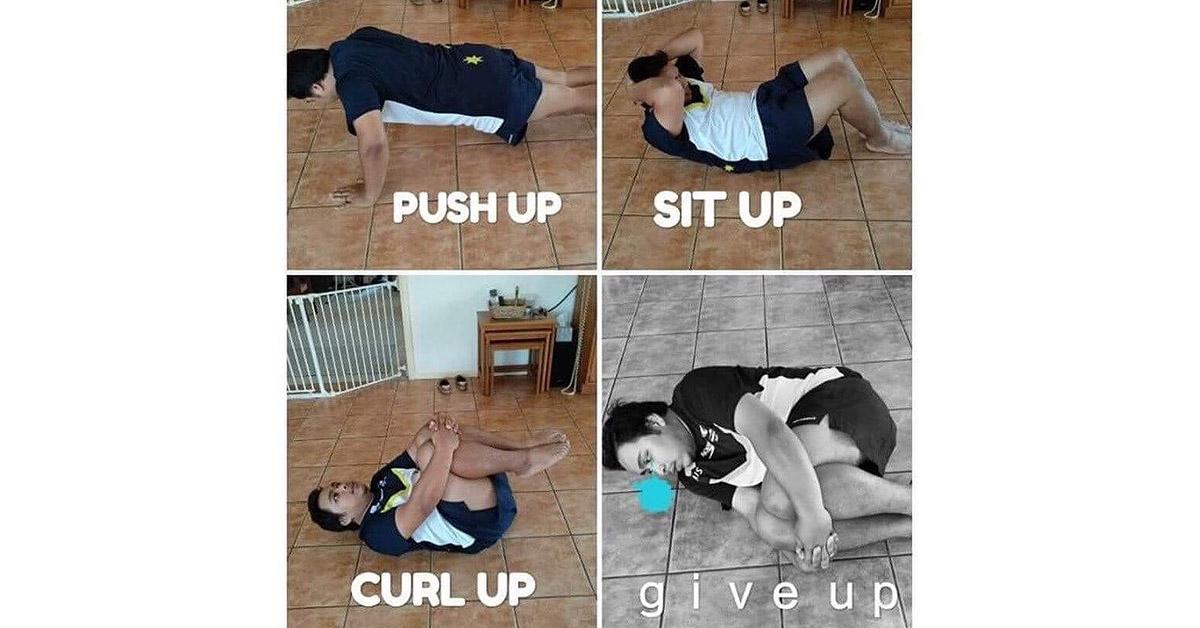 Well, we've all been there. You're 10 minutes into a workout tutorial and you're already sweaty and out of breath, so you decide to pause the video for a quick rest... And then that rest turns into an even longer snack break.
Article continues below advertisement
Working out from home is pretty much a last resort.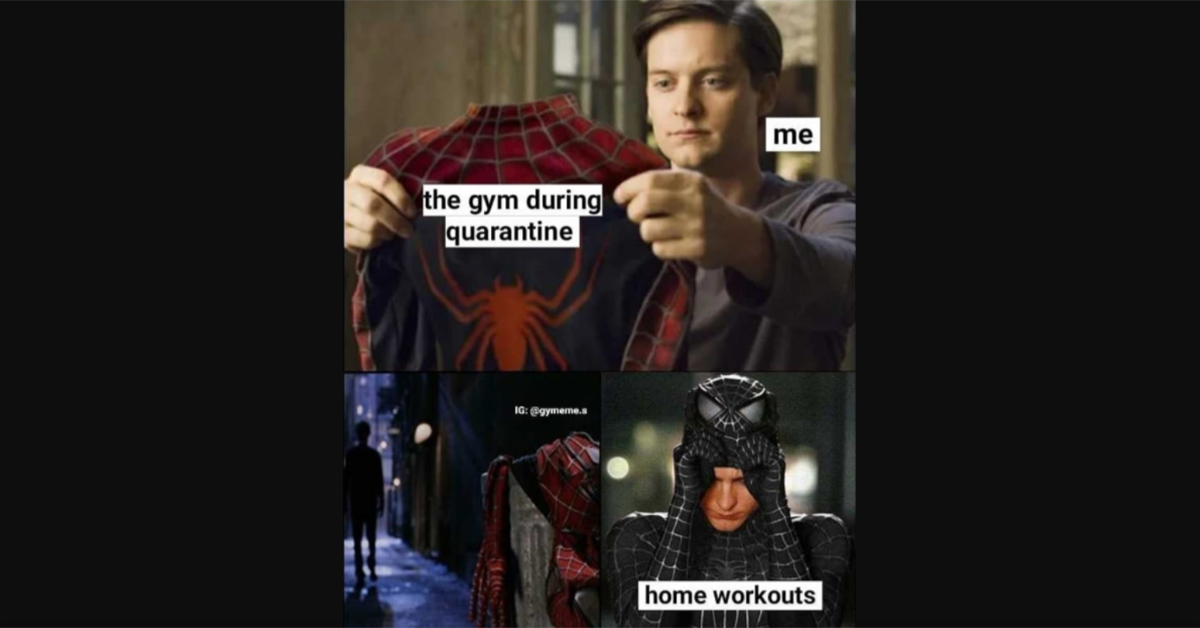 As much as we all appreciate the YouTube workout videos, it's just not the same as... well, working out with other people. In an actual spacious gym. It's like being grounded indefinitely.
Article continues below advertisement
Being stuck at the gym actually sounds better than staying at home.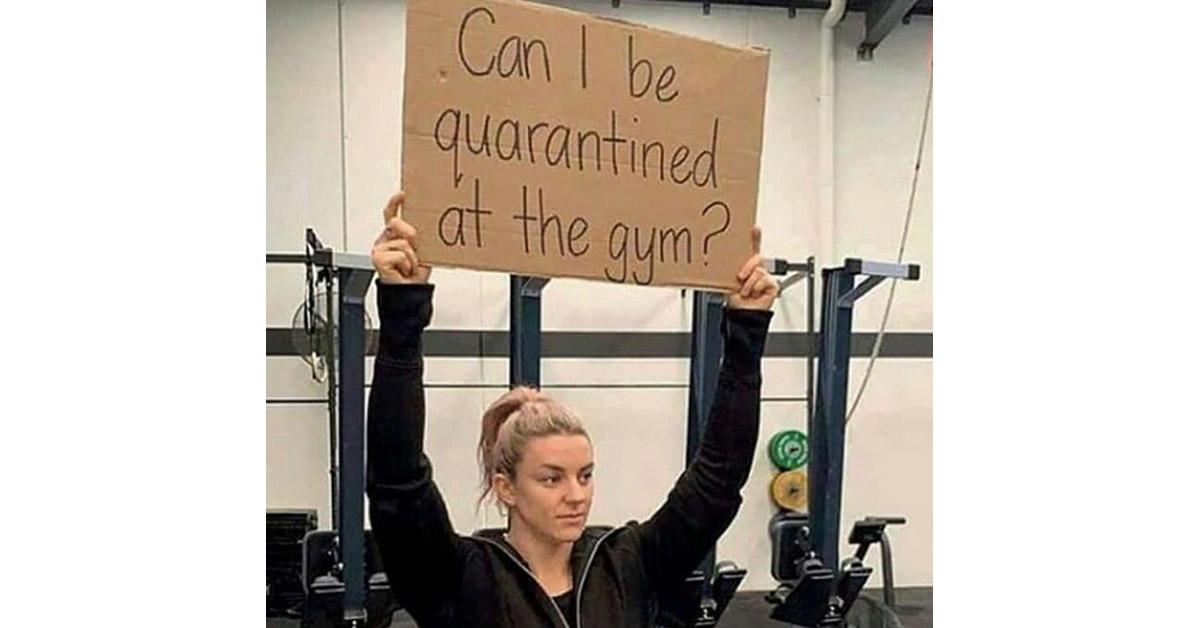 Aside from gym machines and equipment, showers are available, there's an abundance of snacks, there's Wi-Fi, and there's yoga mats for sleeping. It sounds like the perfect set-up if you think about it...
Article continues below advertisement
It'll be the happiest day when gyms re-open.
Expect the fitness world to collectively lose it when they're finally free to return to the gym for their workouts. Terry Crews summed it up quite perfectly.
Article continues below advertisement
But in the mean time, you can get creative with your workouts.
Perhaps you can do a few sets of squats with paper towels for leg day or do some arm curls with your snacks. Either way, some form or exercise is better than none at all!
Article continues below advertisement
The best way to prevent contracting or spreading the coronavirus is with thorough hand washing and social distancing. If you feel you may be experiencing symptoms of the coronavirus, which include persistent cough (usually dry), fever, shortness of breath, and fatigue, please call your doctor before going to get tested. For comprehensive resources and updates, visit the CDC website. If you are experiencing anxiety about the virus, seek out mental health support from your provider or visit NAMI.org.