Here's All of the Tea Between Trisha Paytas and Gabbie Hanna
Trisha Paytas posted a video on YouTube that started a massive internet fight between her and Gabbie Hanna over an STD. Here's their beef.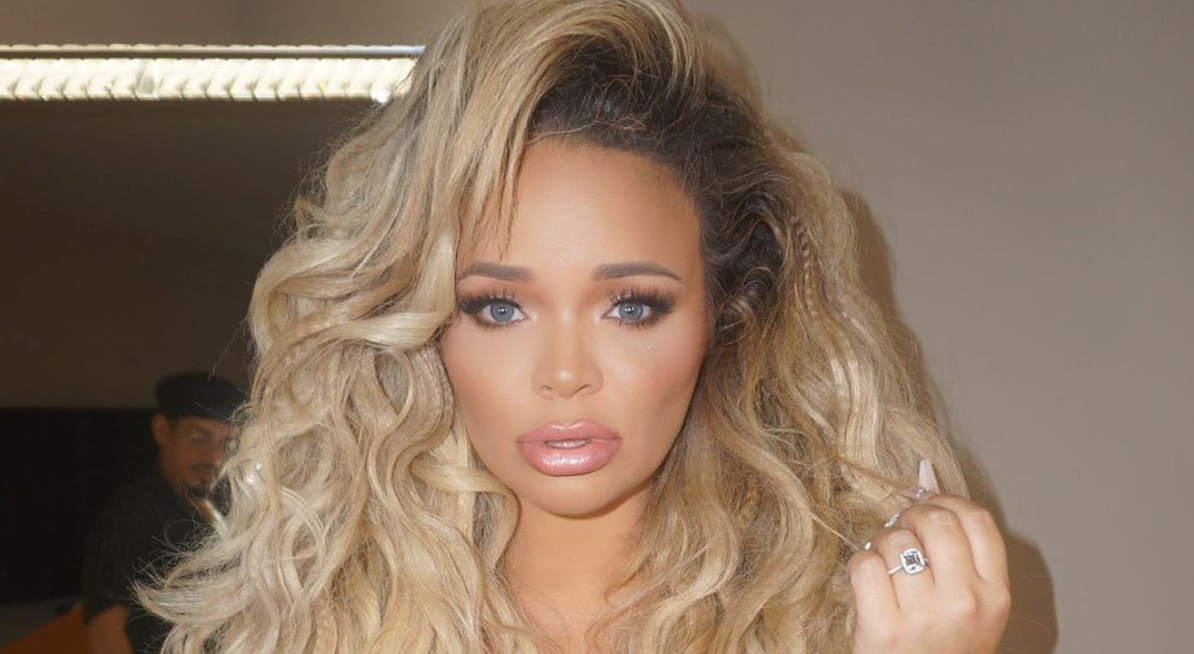 Ahh, Trisha Paytas. The YouTube star who married a cardboard cutout of Brad Pitt, talked about using meth in the first episode of her podcast, and also made a whole video about coming out as transgender that had the internet fuming. If you haven't been following any of the previous Trisha Paytas drama, don't worry because you don't need to know any of it for this new chapter of internet beef she's entered.
Article continues below advertisement
In a new YouTube video posted to her channel on Nov. 10 titled, "Why I Don't Trust Gabbie Hanna," Trisha did just that — outlined exactly why she doesn't trust fellow YouTuber Gabbie Hanna.
To catch you up on how the two are connected, Gabbie started as a member of the Vlog Squad. She made occasional appearances in David Dobrik's vlogs before she eventually gained her own footing with her platform, where she now posts vlogs of her cleaning her house and the new music she's working on.
Article continues below advertisement
Trisha only became involved in the Vlog Squad when she started dating Jason Nash, the oldest member of the group. Jason and Trisha had a whirlwind friendship that ended with Trisha releasing a series of videos in which she trashed the members of David's group and started to spill some tea.
While Gabbie isn't as publicly involved with the members of the Vlog Squad like she used to be, since she hasn't been in any of their videos in years, she still seems to be friendly with them — which is how the beef starts.
What's the Trisha Paytas and Gabbie Hanna beef? Trisha says Gabbie told Jason that she had herpes.
So you don't have to watch the whole, 15-minute long video for yourself, we'll give you the gist. In her video, Trisha said that she doesn't trust Gabbie because she had told Jason that Trisha had herpes.
Article continues below advertisement
"When me and Jason started hooking up in 2017... [Gabbie] told him 'hey, be careful, Trisha has herpes and you're sleeping with her," Trisha said in the video. To which, she gave the camera an incredulous look before continuing.
Article continues below advertisement
"Gabbie: Have we slept together? ... Did I show you my STD results? Are you my doctor?" Trisha said, calling Gabbie out for spreading what Trisha claims is a rumor.
Gabbie admits that she did this in her now-deleted Instagram stories, where she takes a poll asking her followers if it's wrong to inform a friend about their partner's potential STD status.
"Here's where I'm coming from, if I'm sleeping with somebody, and one of my friends knew, from a close source of that person, that they had an incurable STD, and they had that information, and we're like 'hey, just be careful, check it out, talk to them about it,'" Gabbie said.
Article continues below advertisement
How is Gabi Demartino involved?
It seems like Gabi was the "friend" that told Gabbie that Trisha had an STD, who then publicly said she was on Trisha's side. But Gabbie's Twitter told a different story. In a series of now-deleted tweets, Gabbie said that Trisha had blackmailed Gabi into defending her, which Trisha denied in a new video posted on Nov. 11.
This is a lot of back and forth to follow, but while Trisha still seems to be dealing with it, Gabbie and Gabi have moved on from it.
Gabbie admitted to deleting the tweets accusing Trisha of blackmail, and said that she wasn't going to continue to stay involved in the drama. Gabi tweeted that she had blocked Trisha on everything, and is no longer tweeting about their feud.
But Trisha still has a bone to pick with the two of them, so you'll have to wait to see who this one plays out.