Gabby Windey's Neil Lane Sparkler Stands out From Other 'Bachelorette' Rings
Gabby Windey accepted a proposal (and a Neil Lane sparkler) from Erich Schwer on the finale of 'The Bachelorette.' Details on her stunning engagement ring.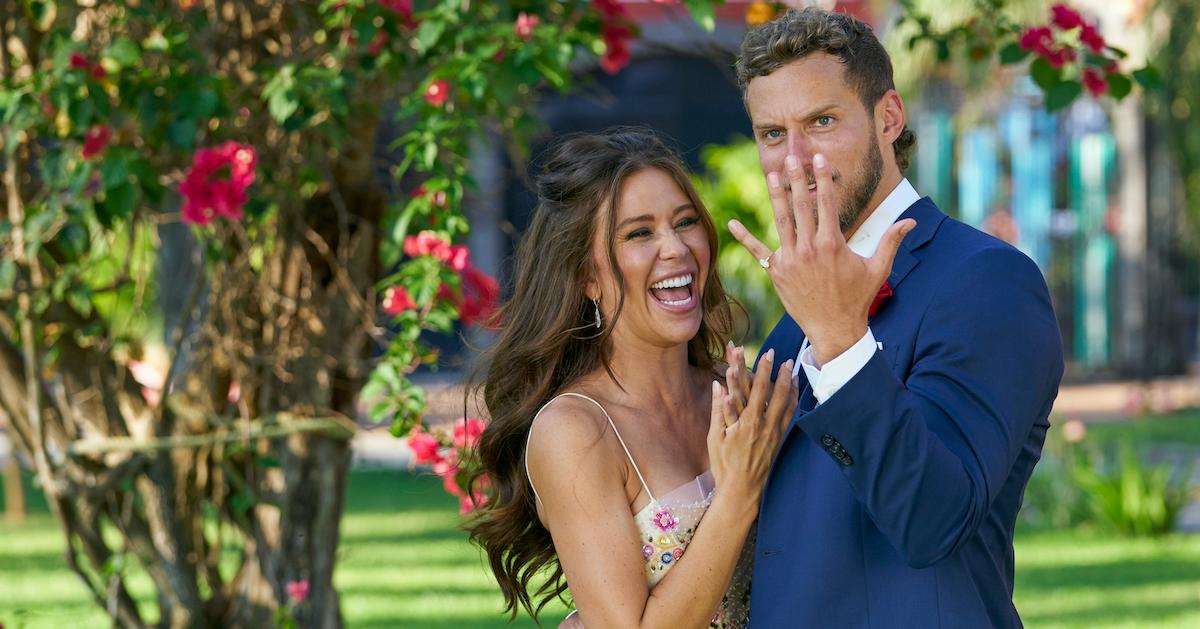 Spoiler Alert: This article contains significant spoilers for Season 19 of The Bachelorette.
Less than two-and-a-half months after Season 19 premiered, Gabby Windey and Rachel Recchia's time as the co-leads of has officially come to an end.
The flight attendant and her ICU nurse bestie dated dozens of guys throughout their respective journeys, and they went in to the Sept. 20 finale with only one remaining suitor each.
Article continues below advertisement
Not long after Rachel accepted a proposal from Tino Franco, the two went through a tense on-camera break-up.
Gabby, on the other hand, revealed during the After the Final Rose special that she is still happily engaged to her final suitor, Erich Schwer. The 31-year-old even sported her gorgeous Neil Lane engagement ring during the live finale event. Read on to find out more about Erich's emotional proposal, and to take a look at Gabby's ring.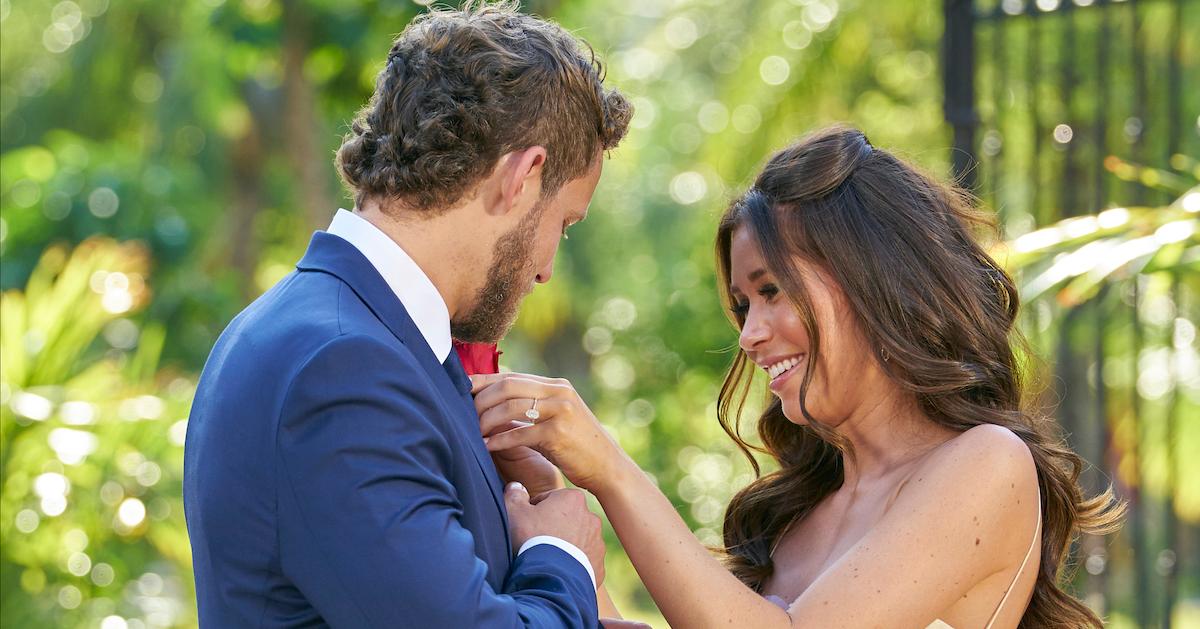 Article continues below advertisement
Erich Schwer and Gabby Windey got engaged during 'The Bachelorette' Season 19 finale.
After Jason Alabaster self-eliminated following his Fantasy Suite date because he wasn't ready to propose, Gabby's only remaining guy was Erich.
Before the two got engaged, they had several serious discussions about next steps. Though it seemed like they weren't on the same page, Erich did end up popping the question in Mexico.
"You are the most amazing person I've ever met. It's you and me until the wheels fall off. I'm head over heels in love with you, and I want to spend the rest of my life with you," he told the co-lead during his proposal speech. "I love you Gabby. Gabby Windey, will you marry me?"
The 29-year-old offered Gabby a ring that she said was "so pretty."
Erich, unsurprisingly, went on to accept Gabby's final rose of the season as well.
Article continues below advertisement
Gabby Windey's engagement ring features an oval-cut diamond and a yellow gold band.
While many past Bachelorette finalists have picked engagement rings featuring platinum pavé bands, Erich selected a yellow gold option for his bride-to-be.
According to People, Gabby's engagement ring features an oval-cut main diamond, which sits on a handcrafted 18-karat gold band. A halo of 22 round diamonds surrounds the central diamond. The ring also includes eight yellow diamonds, which brings the overall diamond grand total up to 3.25 carats.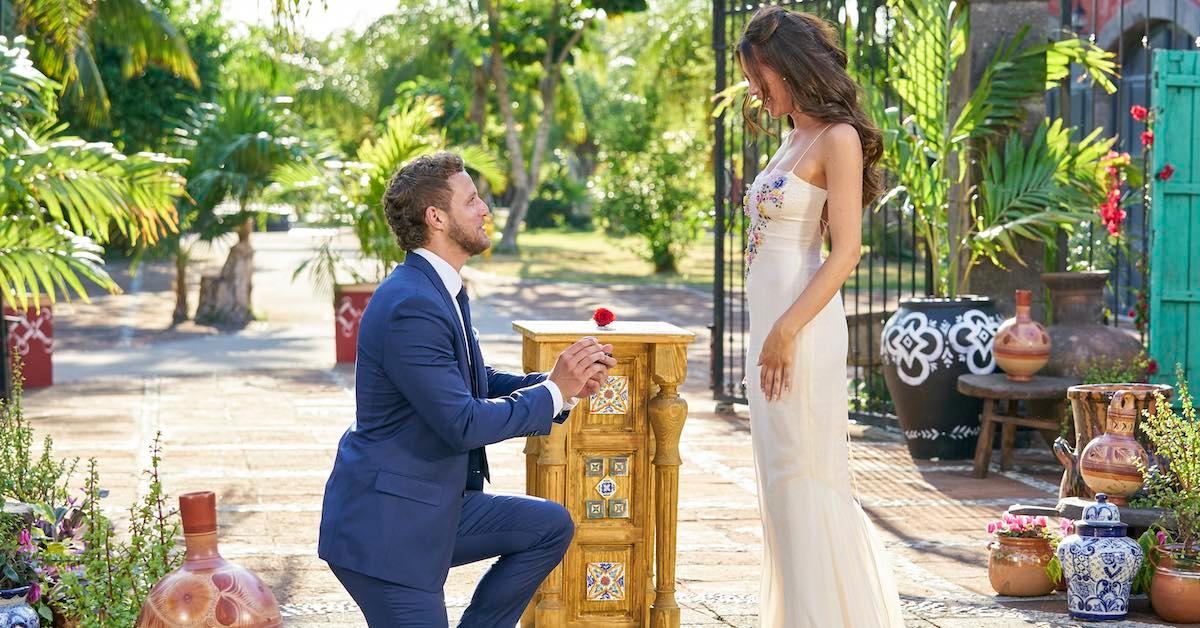 Article continues below advertisement
Neil Lane, who designed the ring (and who has long been the jeweler behind the engagement rings featured on the franchise) spoke with People about what it was like to work with the real estate analyst ahead of the proposal.
The longtime Bachelor Nation staple noted that Erich was upbeat and positive when he was picking out Gabby's engagement ring.
"Erich seemed to be in such a joyous mood. He expressed his love for Gabby and certainty in the relationship. There was a seriousness in his selecting the ring. He wanted to know about the shapes of the diamonds and the design, he seemed to really absorb each ring. He kept on going back to the gold ring with the oval-shaped diamond," Neil said. "At one point he just held it up in reverence as if imagining getting down on one knee and proposing."
Article continues below advertisement
The jeweler said that Erich ended up selecting a "perfect" ring for his fiancé.
"Erich's choice of the ring was a perfect one as the design and style he picked for Gabby was not only just what she had hoped for but a perfect illustration of their love," he said to the outlet, before defining what Gabby and Erich's love story symbolized. "A beautiful and simple love that from the outside shines but when you look beneath you see more of its intricate beauty."
You can see Gabby sport her ring on Dancing with the Stars, which airs on Mondays and Tuesdays at 8 p.m. ET on Disney Plus. You can also stream The Bachelorette on Hulu.