The 'Ghost Hunters' Season 1 Finale — Is Worley Hospital Haunted? (EXCLUSIVE)
The 'Ghost Hunters' reboot already hit its Season finale where they investigate Worley Hospital in Pampa, TX. Is it actually haunted?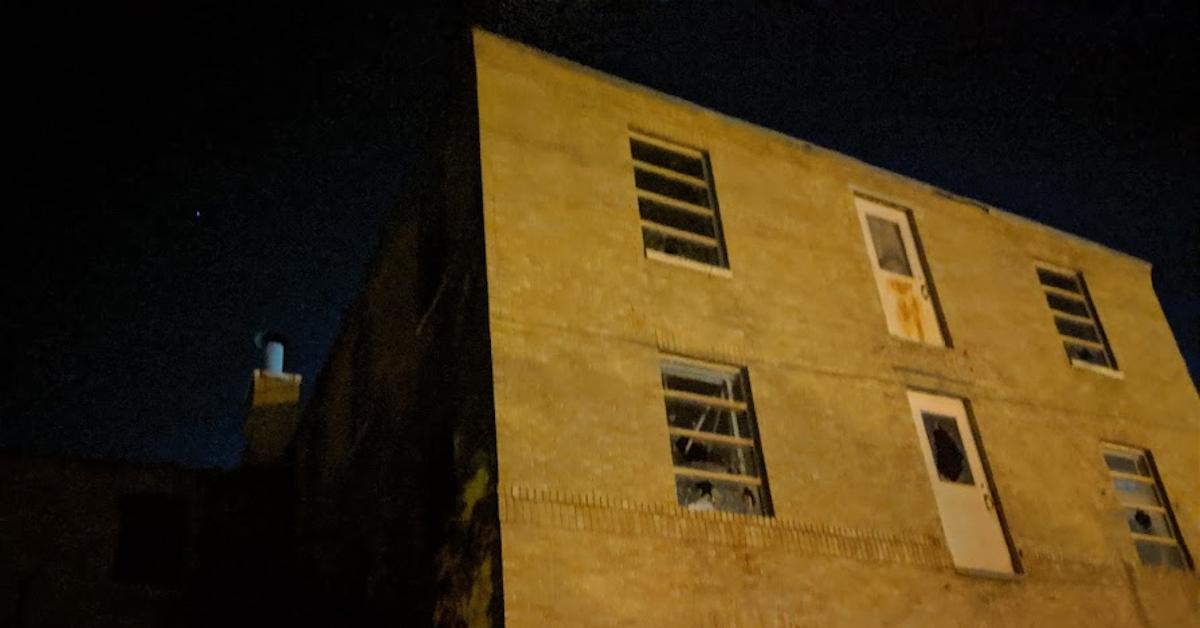 Mustafa Gatollari is the paranormal historian and site analyst on the Ghost Hunters reboot, and he will be blogging about the show's paranormal investigations each week exclusively for Distractify! Follow Mustafa on Instagram at @mgatollari.
Article continues below advertisement
All right I need to start things off by saying that all of the thoughts, opinions, testimonials, commentary, and all of that other stuff are purely my own and do not reflect the Ghost Hunters team, the folks over at Pilgrim Studios, or A&E.
Out of all the cases we've shot for the show, Worley Hospital in Pampa, TX is probably my favorite for tons of reasons. I feel like I cannot overstate how much I loved investigating this place and what we discovered here. It's that. Damn. Good.
It's been difficult as all hell to keep my mouth shut up about this case and once we wrapped, I knew before even seeing any of the footage that this was going to be one of our best cases ever.
Article continues below advertisement
The fact that we were investigating a hospital was also a tall order. There are tons of people who've been seriously injured or died in a hospital, so it could be any number of entities who worked, lived, or were treated that that could be responsible for the paranormal activity going on on a daily basis. It doesn't exactly give us a lot to go on.
If that wasn't enough to deal with, then we saw the call for help from the clients and I was left even more perplexed.
Article continues below advertisement
They saw the abandoned Worley Hospital as an investment opportunity. The hospital was first founded by Phebe Worley after she was injured in a car accident and had to be taken quite some distance to be treated. She thought that the citizens of Pampa and the surrounding area needed more immediate care options, so construction went underway and in 1928 the hospital became a reality and was well-received by the community.
Article continues below advertisement
However, with fewer and fewer patients to treat over the years, and other medical centers in the surrounding area doing a good job of bearing the load of helping those in need, Worley closed its doors in the '70s due to a lack of revenue.
Chelsea Dyer and her cousin Luke planned to turn Worley into a bed and breakfast. 
Whenever someone's invested their time and money into a location, and are afraid to move forward on it because of paranormal activity, my heart goes out to them. Luke and Chelsea immediately fell in love with the hospital and purchased it, but they didn't count on being scared out of their minds.
Laborers refused to work in the building because of the feelings of dread and sadness that would overcome them and they themselves found it difficult to stay there for extended periods of time. Not exactly what you want to be going for if you're getting into the hospitality business.
Article continues below advertisement
Chelsea saw shadow figures while in in the building and has seen, along with Luke and others, shadow figures looking out at them from the windows while on the outside of Worley. The biggest feeling, however, is one of fear as they walk through the hospital's halls.
Naturally, the first thing we looked for were high levels of infrasound (ultra low frequencies) and EMF, both of which could adversely affect your mental state and make you feel uncomfortable, scared, or out of whack. There was none of that at Worley. The place had no electricity running through it at all and had zero EMF, not to mention completely normal levels of infrasound.
Article continues below advertisement
It didn't take long for Brandon and me, however, to have our first interaction with a "shadow" figure. Brandon actually caught it out of the corner of his eye on his body cam. It seemed as if whoever was there with us, wasn't trying to engage. They peaked out of a corner pillar and retreated behind it. Grant, Kristen, and Daryl had something similar happen with their FLIR thermal imaging camera, Grant had several hits on it that we just couldn't replicate or explain — there was something or someone who was stirred up by our presence there, but they didn't want to be seen.
So, is Worley Hospital really haunted?
While going over all the research for the building, there was one story that stood out to be in particular, and that was of Mary Lucille Myers. She was a surgical nurse at Worley Hospital who met a tragic end: she took her own life by poisoning herself with cyanide, twice in one day at the hospital.
She was having difficulty at home with her husband, who returned from World War II after being in a POW camp.
Article continues below advertisement
I kept this in the back of my mind during the investigation, and while Brandon and I were going through another run of the building, I thought I saw something out of the corner of my eye in a room. I can't explain it, but I felt like someone or something was calling me into there — I was acting purely off of what felt like a hunch and second-guessed myself: maybe my mind was playing tricks on me.
Article continues below advertisement
But I had to check it out, so I went into the room and, sure enough, Brandon and I started getting readings on our data logger — EMF spikes, which made NO SENSE because we completely canvassed the building and that specific area previously and there wasn't any electric activity going on whatsoever.
But the real surprise came when the EMF spikes correlated with the questions we were asking the entity. In the show, our session was condensed, but in real-time, it lasted some 30 minutes, with real-time responses, tons of control questions, and repeated confirmations.
Article continues below advertisement
It was as if we instructed the entity how to interact with us and our equipment in a short period of time, and it was very, very exciting, especially considering that there haven't been a ton of paranormal groups in there before us (a few, not many, a member of which who I got to talk to who had some incredible claims herself).
At one point in our communication session with the entity, Brandon and I even asked them to go upstairs (we were on the second floor) to speak with Grant, Richel, and Kristen — Brian and Daryl were on the first floor knocking down walls.
The entity chimed on our data logger as if to say "yes", then we had no activity any longer on our device, and neither did Grant, Richel, and Kristen...until we asked the entity to go up there. All of a sudden, they started getting activity on their devices for a few minutes, then they asked the entity to come back to us, but instead of our data logger going off again — our motion detector did.
And that's when Brandon got that amazing EVP of who we believe to be Mary Lucille Myers backing away from that motion detector.
Article continues below advertisement
Our conversation with Mary went on a bit further, and we did everything we could to stray away from talking about her suicide, but instead focused on the positives of being able to work with Luke and Chelsea in this building — that it's going to have a makeover. That it's her home now and she doesn't need to leave and they're going to take care of it for her.
In fact, I was so touched by our interaction with Mary that I went back the following day after finishing my evidence review, along with Grant and his wife Reanna, to put Mary at ease.
Article continues below advertisement
The entire vibe in the building had changed. It was crazy to think that just a few hours prior, the restlessness and longing of someone were hanging heavy in the air, and at that moment, it felt dispelled, and pleasant.
Another thing you didn't see in the show was while we were on a break, we saw the face of someone in the window — no one was inside the building. So we had several people go up to recreate it.
Article continues below advertisement
Sure enough, Richel's face was the one that looked most like the person in the window, after digging through more of the research, we found photos of Mary Lucille Myers — who had a similar face structure, dimples, and smile, to Richel's. It was nuts.
So is Worley Hospital haunted? I'd say absolutely, but not with someone who's necessarily a bad entity. I believe the energy of a young woman crying for help in a time and place where she felt she had no clear path to happiness because she's ridden with guilt.
Hopefully, we helped a little bit in mitigating that guilt and providing her with an outlet to cope. Just as important, however, is that Luke and Chelsea are no longer afraid and have a renewed vigor to realize their dream of renovating Worley Hospital.