These Ghost Photoshoots on TikTok Are a Whole Spooky Mood
People are dressing up as ghosts and taking incredible pictures as part of a "ghost photoshoot." Some of them are truly aesthetically pleasing.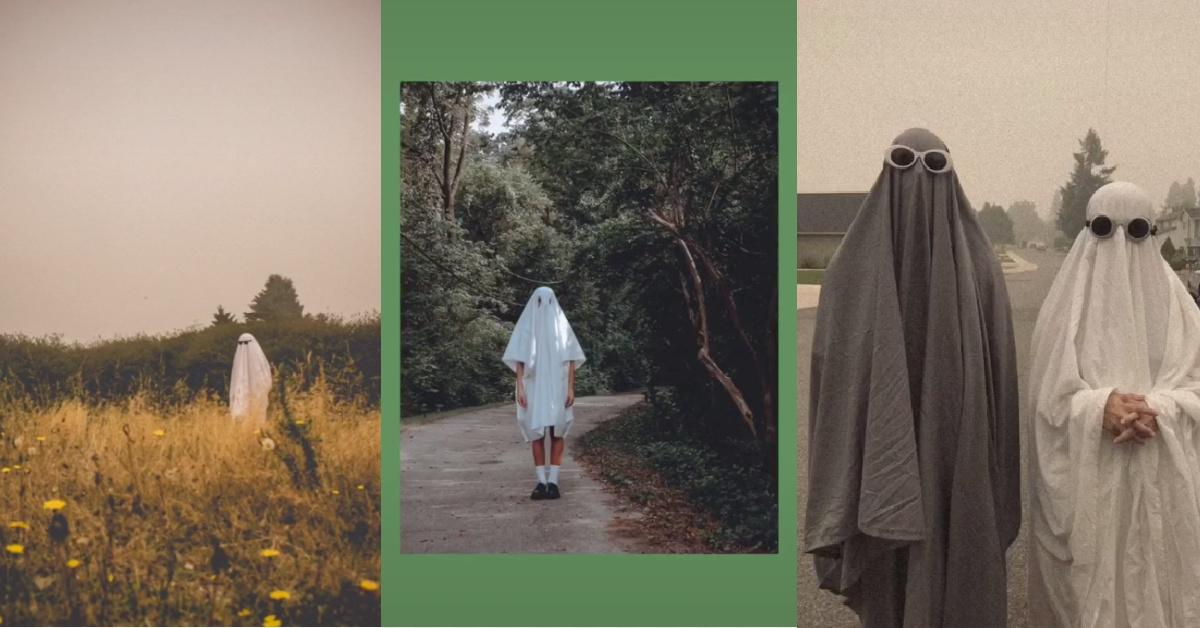 OK, we don't want anyone to start panicking, but we have some kind of scary news to share about the popular video-sharing app TikTok. Unfortunately, it appears as though it is completely, 100 percent haunted. Yes, really. Pretty spooky, right?
Article continues below advertisement
Now, that news may make you want to uninstall the app and hire some sort of cell phone exorcist, but before you do, we recommend taking a few minutes to check out all of the adorable ghost photoshoots that have been taking over TikTok. Yeah, it might be haunted, but it's definitely good haunted. That's a thing, right?
Article continues below advertisement
Ghost photoshoots are taking over TikTok.
The concept behind the latest TikTok trend is incredibly simple, yet also incredibly wonderful if you ask us. Basically, people are dressing themselves up as ghosts and then holding photoshoots of them doing everyday things in their ghost costumes. Also, we should mention that these "ghost costumes" are actually just good old-fashioned bed sheets with eye holes cut out. Not exactly terrifying, but they certainly make for some pretty great images.
A lot of the charm of these ghost photoshoots comes both from the actual activities the "ghosts" are performing (everything from taking a shower to driving a car to just hanging out outside) and from the way the photos have been edited to have a particular autumnal look. We never really found ourselves wanting to be ghosts before looking at these photoshoots and now? Eh, it probably wouldn't be the worst thing. Also, a lot of the ghost-y photos would make excellent phone wallpapers!
Article continues below advertisement
If you want to make your own ghost photoshoot video for TikTok, you're in luck because it seems as though it's pretty easy to do. Just make your ghost costume (again, a bedsheet with holes cut in it), then take some pictures of you doing some everyday activities. When you upload the photos to TikTok, make sure to use the "tEaRs fAlLiNg dOwn - todorokics" sound on TikTok (it's a clip from the song "Oh Klahoma" by Jack Stauber, just FYI).
Article continues below advertisement
You can also use a TikTok filter to find "real" ghosts … kind of.
If you can't get enough ghost-related content on TikTok, then you'll also want to check out the videos of people using the Reality Ripple Effect. The filter was originally meant to simply add a fun rainbow-y effect to whatever you happen to be filming (if it's moving). However, some people quickly started to notice that sometimes, the Reality Ripple Effect showed up even when you were filming an empty room.
Article continues below advertisement
Obviously, there's only one possible explanation: ghosts. TikTok users are convinced that the Reality Ripple Effect reveals the presence of paranormal visitors ... and we have to admit that some of the videos are actually a bit spooky (although others are clearly just meant to be humorous).
Either way, we'll probably just stick to watching ghost videos of the bedsheet-costume variety. We're not trying to totally freak ourselves out while watching TikTok, after all. Have fun and stay spooky out there, folks!