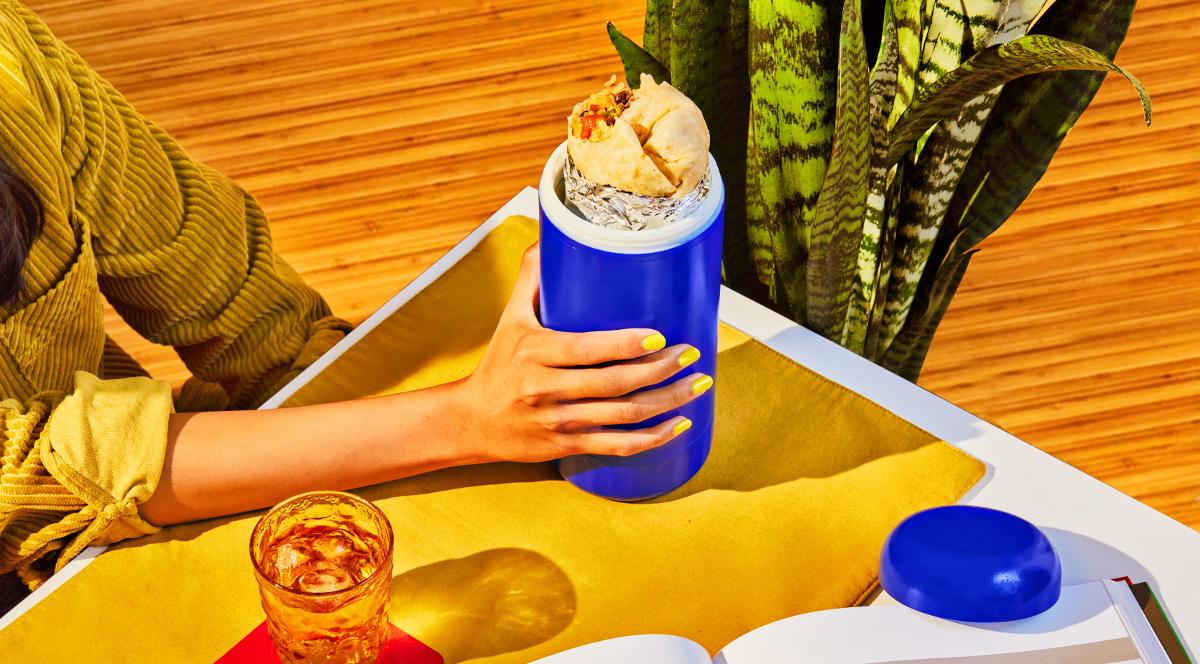 Someone Made a Giant Burrito Dispenser - You'll Never Wanna Eat One Another Way
How old were you when you discovered the "proper" way to eat a cupcake? I.E. ripping off the bottom and sanwiching the top frosting for a more measured cake consuming experience? I don't care what anyone says, but that's the best way to eat a cupcake, hands down. Scientists have yet to discover the best way to eat a muffin (the tops are unarguably the most worthwhile portion), but at the very least we know of a better way to chow down on a burrito.
Article continues below advertisement
We've all been there: carefully peeling away the tightly rolled pieces of aluminum and wax paper to eat a burrito while maintaining its structural integrity. Doing that throughout the entire burrito-munching process can prove a bit difficult however. If you're a savage like me you're bound to inadvertently eat some foil. And it's not like you can entirely take the burrito out of the foil either because then you run the risk of the entire thing falling apart.
So what's a burrito fanatic to do? Well, you could get better at tearing paper and hope that you''ll never have to face the ignominy of a sub-par burrito eating experience, or you could up your game. How do you do that you may ask? With a Burrito Pop, duh.
Well at least that's what this Kickstarter project is hoping. It's basically a big thermos for your burrito but with a unique feature.
Article continues below advertisement
Twist the cylindrical, bottom portion of the Burrito Pop to push your delicious Tex-Mex treat into your mouth. You'll be greeted with bite after mouthwatering bite of the burrito without any of the bits of paper and foil getting in the way. Oh, it also keeps your burrito nice and warm so you can toss it in there and not have to worry about the ingredients changing temperature and ruining a perfectly good 'rito.
Article continues below advertisement
Madelin Woods, creator of this very bespoke little doo-dad calls this feature the "burrito elevator" and in her video demonstrating the specific use of this wonderful creation, she also points out it's a great way to keep your hands clean and your burrito fresh. Who wants to just lay a half eaten burrito in a wrapper on a table by your workspace? Not ideal.
Article continues below advertisement
Plus, the Burrito Pop is microwaveable, so if you want to heat up your meal again, just pop it in the microwave for a bit and you'll be eating an evenly warmed meal in no time. It's also dishwasher safe too, s you can easily re-use it without having to taste the ghosts of burritos past with each new deliciously packed tortilla you consume.
Madelin's also researched and "learned more about the dimensions of a burrito than anyone should ever know," so it's a safe bet that this thing is pretty friendly to all kinda of burritos out there.
The biggest question though is: would people actually by such a specific little item? As it turns out, yes, there are tons of people interested.
Article continues below advertisement
The Kickstarter goal for the Burrito Pop was $10,000 and now it stands at over $26k, so there are definitely throngs of folks who are more than willing to shell out cash for such a cool looking sandwich holder designed for the best burrito experience ever.
Article continues below advertisement
If you're interested in pre-ordering one, you can check it out here. And while it's called "burrito pop," I'm pretty sure it could house a fat shawarma sandwich or a wrap too. It's OK, go a little nuts with your mobile sandwich thermos with patented "burrito elevator" technology.