Is This Gigi Bryant TikTok Page Run by Mamba Academy or Fans?
One Gigi Bryant tribute account on TikTok is getting a ton of followers and claims to be tied to the Mamba Academy, but that has yet to be verified.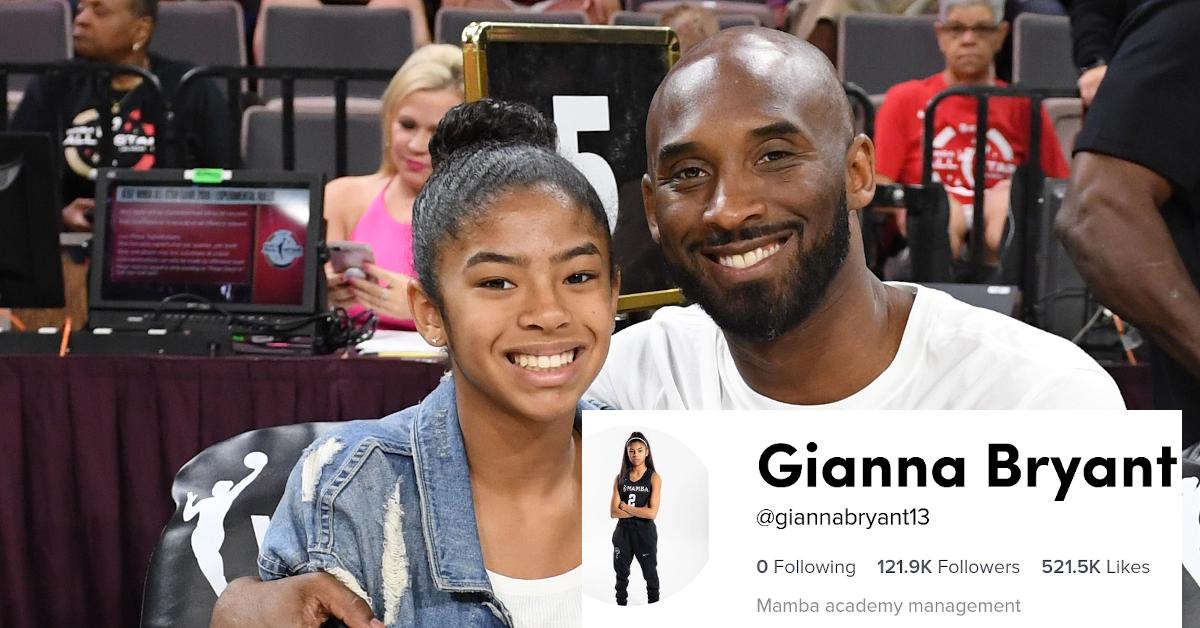 People all over the world were shocked and hurt when they learned that a private helicopter crash claimed the lives of several children and their parents, most notably among them Kobe Bryant and his daughter, Gianna, who was only 13 years old.
Understandably, a slew of tributes to the dearly departed MVP and multiple NBA champion and his family flooded into social media, with several fan accounts popping up to honor both him and his daughter — like this Gigi Bryant TikTok account.
Article continues below advertisement
On Jan. 31, 2020, a TikTok account that appears to belong to Gianna Bryant, @giannabryant13 was created on the platform. Not much is known about the page other than that the description reads, "Mamba Academy Management."
It didn't take long for the page to secure over 121,000 followers, and a series of tribute videos and posts to the young daughter of the NBA legend were shared.

Article continues below advertisement
At first glance, it seems like the page was actually created by fans of Gianna Bryant. The first few posts released from the account contained the #ForYouPage hashtag, which indicates that it was more than likely a tribute page. Whoever is running the account, however, has told fans in the comments section that it is an official page by members of the Mamba Academy Management team.
Article continues below advertisement
The tricky part is, however, there's nothing to suggest that Kobe Bryant's Mamba Sports Academy has anything to do with the Gigi Bryant account. Which makes the account's listing and sales of Gianna and Kobe Bryant merchandise pretty suspect.
It's kind of gross to think that there's someone out there not affiliated with Bryant's family exploiting his and his daughter's death for cash and internet points, which would most likely be the case if they're lying about the Mamba connection.
Article continues below advertisement
Then there are the accounts that, on the surface, seem like they mean well as they try to pay tribute to the late Lakers star and his child. But it doesn't help when they're a bit cringe-inducing or obvious attempts at cashing in views while riding a current trend.
A mere hours after Kobe and Gianna's death along with other children and their folks on that helicopter they were re-enacting the player's "journey" into heaven.
Article continues below advertisement
Article continues below advertisement
Then there are some tributes on the platform that don't take the approach of "acting out" Kobe walking into heaven and greeting his daughter, or a bunch of other pop culture figures who have recently passed away.
Balou Royal covered the sheer number of people who attended Kobe's memorial service, no re-enactments of his death or staged glimpses into his supposed afterlife included.
Article continues below advertisement
James Jefferson's video blasting the BBC for mixing up Kobe Bryant with LeBron James was a different kind of tribute commentary on the legend. Unlike a lot of the "tributes" that seemingly appear to cash in on a high profile death, James was making a point about the glaring and head-splittingly embarrassing error made by the news agency, and that this isn't the first time it's happened with a black public figure.
What do you think of all the Gianna and Kobe Bryant TikTok videos? Do they cross a line and seem a bit exploitative? Or are a few bad apples just ruining it for everyone else?