TikToker Outs Goodwill Selling Products for Retail Store Prices
A TikTok user's viral clip showing the price of a mirror in the store started a conversation on the chain's pricing structure.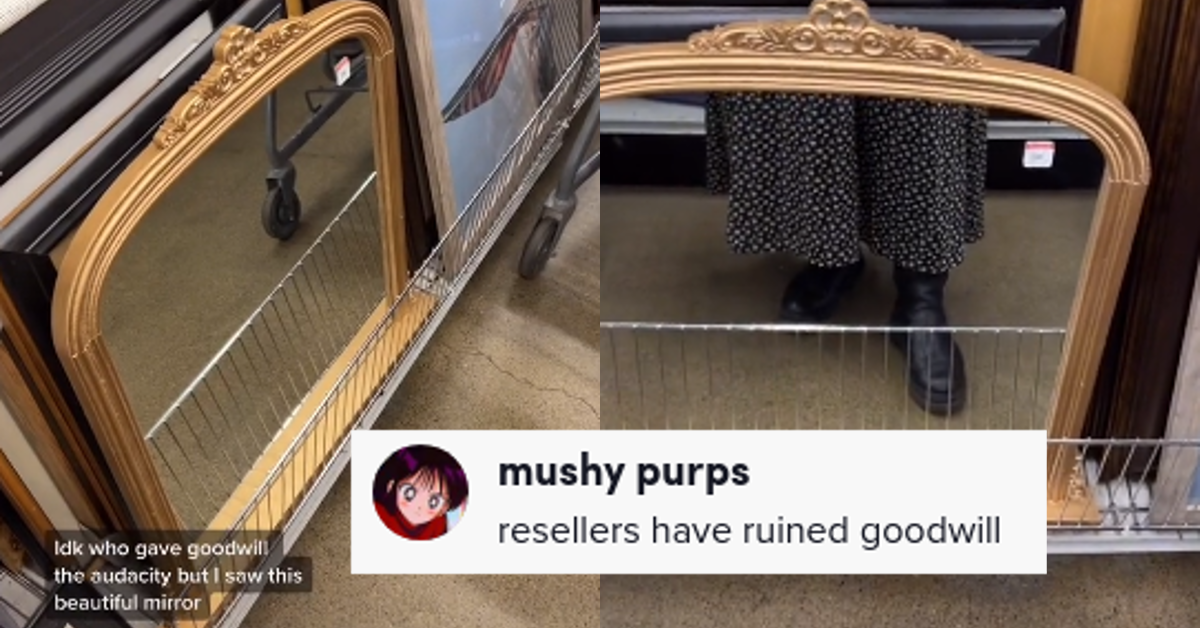 If you're shopping around for bargains, then there are tons of second-hand and consignment stores and flea markets that you can peruse in order to find a cool deal. Some folks even manage to secure themselves items that are worth way more than their owners are aware of, who then go and resell these products online for a nice profit.
Article continues below advertisement
There are tons of "retail arbitrage" videos on the internet that show folks scanning items at retailers like Ross Dress for Less and Marshall's, too, and turning a hefty profit. But even if you aren't scouring brick-and-mortar establishments for a great item-flip opportunity and want to just get a nice new piece of decor for your home or cool clothes, or whatever tickles your fancy, second-hand stores can provide some pretty great finds.
However, there are a growing number of folks who are heading to antique/consignment stores and discovering that they're at the shallow end of the deal spectrum.
Like this one Tiktoker who saw a mirror at a Goodwill store they thought was cute...until they saw how much the charity was selling it for.
Article continues below advertisement
User @anotherhijabiontiktok, Nesreen, uploaded a video of them finding the mirror while shopping at a Goodwill location. As they zoomed in on the price, however, they discovered that the second-hand mirror was going for $149.99, or more than a similarly designed mirror goes for on Amazon.
Article continues below advertisement

Granted there could be many other factors at play here: the mirror that Goodwill is selling could very well be one manufactured for a higher-end company, or perhaps it holds some intrinsic antique value, but that didn't stop throngs of TikTokers to start a conversation on the nature of reselling "ruining" Goodwill stores and folks who are hoping to make a great find in one of the non-profits many locations.
Article continues below advertisement

One user wrote that "they inflate their prices of donations and don't even pay their works more and take advantage of disabled workers."
Article continues below advertisement

Others have simply stated that "the prices have been crazy lately," to which Nesreen agreed.
TikToker @lindsayryan26 writes, "It's not even worth buying used stuff anymore. Cheaper to buy it new these days."
Article continues below advertisement

And while there were a lot of folks who decried resellers, there seemed to be many who ultimately chalked the "price hike" up to Goodwill's business practices.
@20something.milf simply said, "Goodwill is a scam."
Article continues below advertisement

TikTok user @kristendupont1 wrote, "I don't think we should blame the resellers. Goodwill gets everything donated. What people do AFTER they purchase something shouldn't matter. Blame GW."
Article continues below advertisement

@gsdlvr22 penned, "I had an employee tell me 'it's inflation'. I said ma'am, you don't purchase your merchandise, it's given to you…. I walked out and I'll never go back."
Article continues below advertisement

What do you think? Have you been a longtime Goodwill shopper and have noticed that the charity store has seen an uptick in its prices as of late? Or do you believe that retail arbitrage/reselling has had some type of effect on this phenomenon?
Article continues below advertisement

Or do you think that Goodwill has always featured items that were higher priced than others and that folks on social media are just posting clips/photos of these higher-priced items and painting an inaccurate portrayal of the prices of items at these locations?