Grace Helbig's Husband Is a Comedian and an "Amazing" Partner During a Trying Time
Who is Grace Helbig's husband? Let's meet Elliott Morgan, a fellow comedian who said "I do" to Grace in 2022. We have all the details.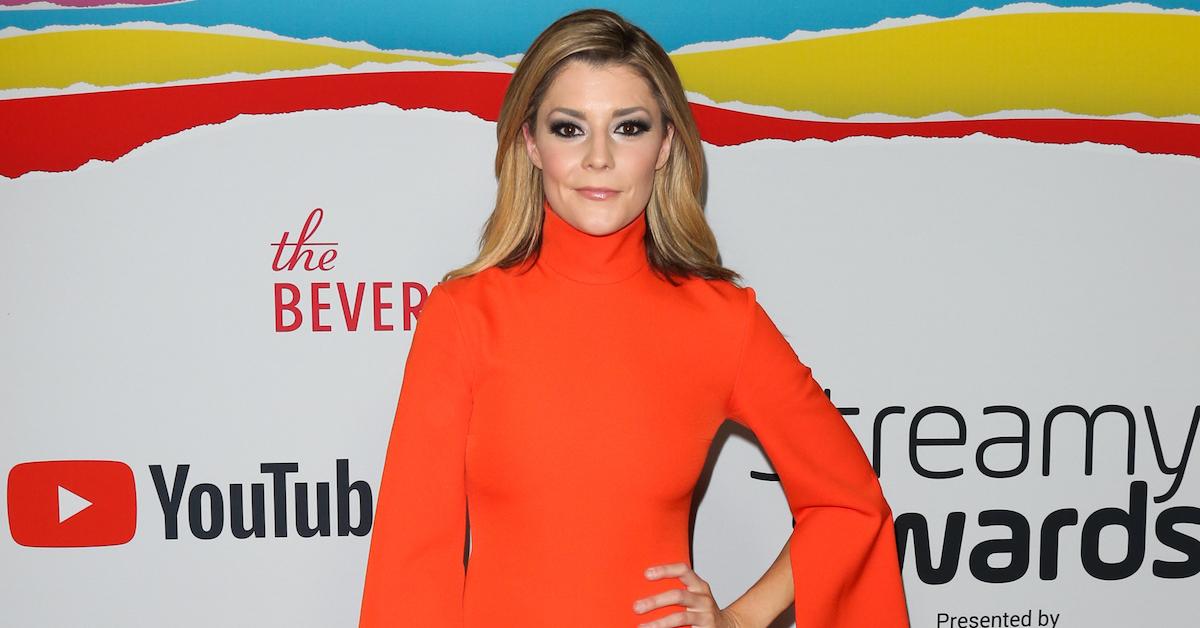 Comedian and social media influencer Grace Helbig clearly met her match in her husband, who is also a YouTuber.
Fans of the This Might Get Weird podcast host might be wondering how she and Elliott Morgan met, and more about their relationship.
Article continues below advertisement
Read on to learn more about Elliott, and why Grace, who counts 2.6 million YouTube subscribers among her sphere of influence, says she's cashing in on the "in sickness and in health" part of their wedding vows sooner than they both may have expected. Here's what we know about Elliott Morgan.
Grace Helbig met her husband in the most perfect way for her.
Grace got real with her 1.3 million Instagram followers in July 2023, saying she is "thankful" for her "amazing husband" during a difficult time — more on that in a moment.
First, she and Elliott, who has 142,000 YouTube subscribers, got hitched in the fall of 2022, after starting to date in 2019 and getting engaged in 2021.
Article continues below advertisement
The two influencers met via their YouTube communities, with "things really [taking] off after he slid into her DMs."
Grace and Elliott said "I do" to one another at a wedding chapel in Las Vegas, Nev. in the fall of 2022.
Just prior to their wedding, Elliott gave fans an idea of his feelings for his partner in a birthday Instagram post, calling Grace "the funniest, most beautiful, most wonderful person I have ever known," and adding, "I am inspired by you constantly."
Article continues below advertisement
Elliott Morgan was married previously.
Before starting to date Grace, Elliott was married to a woman named Tiffany, whom he divorced in 2017.
He told his followers about the split, "My ex-wife is a truly wonderful human being, we certainly have our differences." The influencer admitted it was "sad to see it officially" end.
But it seems that Elliott was young when and Tiffany got married, with the vlogger saying, "When I was 20, I took some pretty serious vows before I even think my brain was fully developed."
Grace Helbig announced she has breast cancer and was honest with her fans.
In July 2023, Grace took to her Instagram to share that she has been diagnosed with breast cancer. "It's very shocking. It's very surreal. It doesn't feel real," she said.
Article continues below advertisement
A caption to her video explained, using Grace's trademark humor of course, "About a month ago I got diagnosed with breast cancer. I know, I'm shocked too but I'm doing OK! It's been a whirlwind but I wanted to let you in on the secret. Get your lumps checked! And look at me go, finally using my boobs for attention on the internet."
The podcaster revealed she has triple positive breast cancer, going on to explain she has been told it's super treatable, and that she has a "very clear treatment plan," which is what she needed.
Again leaning into comedy, Grace shared the details of how she would be receiving chemotherapy, noting her arm port would allow her to be hooked up to the machine "like a roomba" at a charging station.
Finally, she offered a takeaway about being sure to ask the "stupid" questions at doctor's appointments, which led to her diagnosis. Thankfully, it sounds like Grace has a solid treatment plan in place and Elliott is supporting her through these trying times.