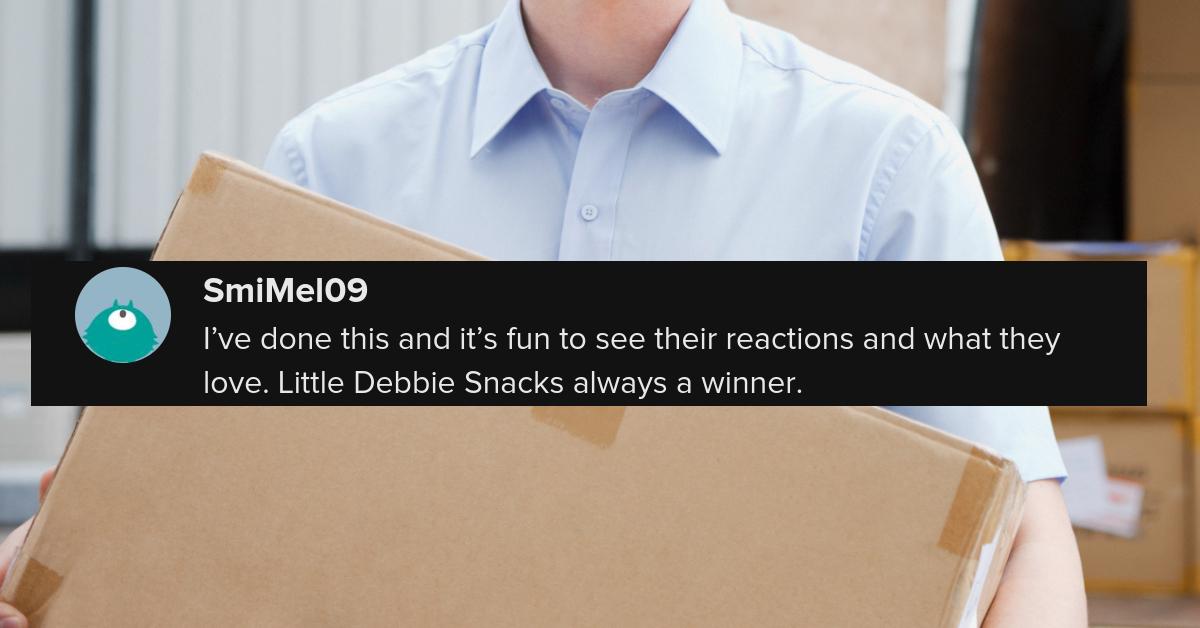 TikToker Leaves Snacks Out for Delivery Driver, Reaction Caught on Doorbell Camera
Social media is filled with stories of delivery drivers who wouldn't exactly be in the running for employee of the year. From folks who toss packages out of their cars like they owe them money, or those who steal the items they're supposed to be dropping off to paying customers, there are a lot of people paid to deliver stuff for a living who aren't all that good at it.
Article continues below advertisement
And a lot of these less-than-stellar customer service experiences are documented on doorbell cameras and then shared to social media for the internet to enjoy/get thrown into a blind rage over.
However, there are also some wholesome instances captured on these cameras as well, like what TikTok user @prshz1 documented recently on the app.
In the video, a delivery driver can be seen walking up to the porch of the TikToker's home to deliver a package when they see the spread left out for drivers which include a cooler filled with drinks and a basket packed with snacks.
Article continues below advertisement
In a text overlay of the video, the TikToker writes: "This is one of my favorite delivery reactions!" followed by three heart-smiley emojis. The driver sees the spread left out for her and immediately starts expressing her gratitude.
Article continues below advertisement

"Aww isn't that nice?" she says. "Goodness gracious, whole lotta stuff." she goes on, looking at the basket packed with goodies. After grabbing a bag of snacks and what looks like a red Gatorade, she thanks the homeowner before walking off-camera.
Article continues below advertisement

This isn't the first time a funny delivery driver's reaction to a find on someone's porch went viral online. Another trending clip of a driver coming across an unusually large cat is cracking up folks all over the internet.
Article continues below advertisement
In the video, the driver is shocked by the sheer size of the cat, remarking loudly at how fat it is. ""Whoo...this is the fattest cat I've ever seen in my whole motherf***ing life. F***ing Garfield n***a this a big a** cat I thought this was a f***ing bobcat when I walked through that door."
Article continues below advertisement

The driver then snaps a picture of the cat and after hearing the kitty meow, he jokes that it's so big it can't even "meow" but that its "howlin."
Article continues below advertisement

While there were a number of TikTokers who thought that the fat cat reaction was hilarious and joked that it was kind of messed up for the driver to just come to someone's house and begin making comments on the appearance of what is presumably their pet, other folks loved the gracious delivery driver's mini monologue.
Article continues below advertisement

Some said that they were delivery drivers themselves and would've greatly appreciated seeing that a customer left out goodies for them.
"so nice of you. I deliver and this would be so appreciated."
"Awww. She only accepted 1 each. raised right"
Article continues below advertisement

If you were making deliveries and saw that someone did this for you how would you feel? Judging from various posts on the internet, there are definitely a few people out there who perform this courtesy for the mail carriers in their community.