Let's Get to Know NBA Legend Grant Hill's Equally Talented Wife Tamia
Grant Hill is a seven-time NBA All-Star who retired in 2013 and became a broadcaster; let's get to know Grant and the woman supporting him, his wife.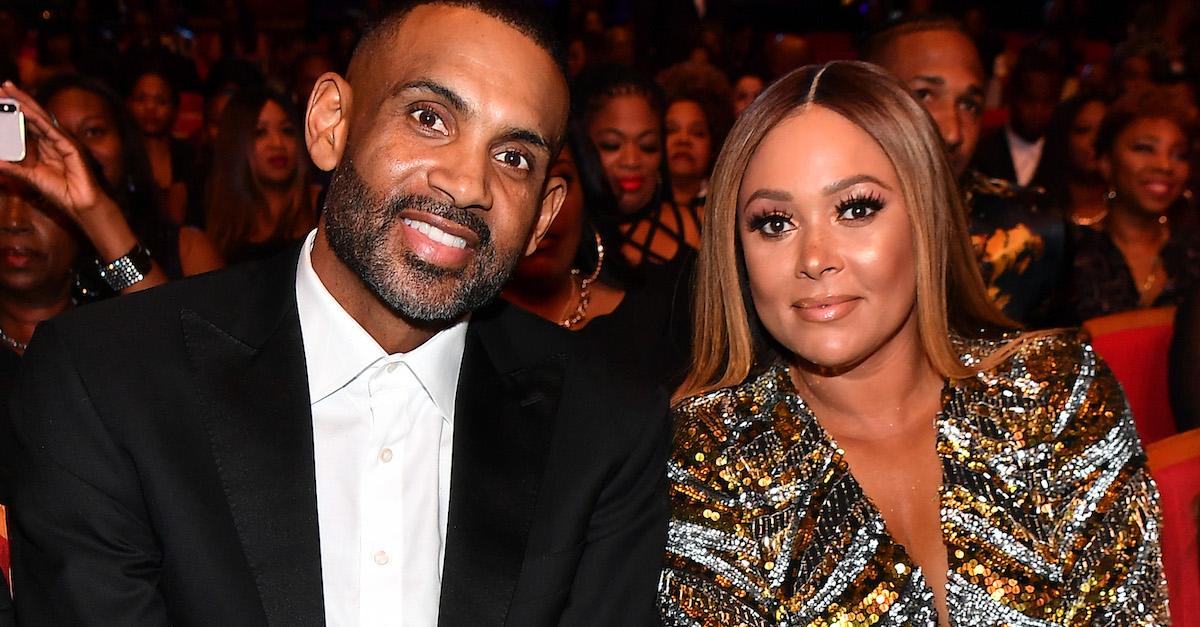 Seven-time NBA All-Sar Grant Hill is now one of the broadcasters calling the 2023 March Madness tournament alongside Bill Raftery and Jim Nantz.
While Grant's success as a player for the Detroit Pistons, Orlando Magic, Phoenix Suns, and other NBA teams is well-known, fans might not know much about Grant's life off the basketball court.
Article continues below advertisement
In fact, he has been with his wife, Tamia Hill, since 1996 — and the couple is still happily married and share two kids together.
Keep reading to learn more about Grant and Tamia's relationship, and how they met nearly three decades ago.
Grant Hill met his wife Tamia at the Soul Train Awards in 1996.
While Grant was shooting hoops, his future wife Tamia was performing on singing and dancing competitions from a young age in her hometown of Ontario, Canada. By 1994 she signed a deal with Warner Bros. Records and got her first Grammy nomination just one year later.
In 1996, Tamia met Grant after one of Tamia's famous friends, singer Anita Baker, introduced them at the Soul Train Music Awards. They went on to date for three years before tying the knot in 1999.
Article continues below advertisement
"We have so many meaningful memories from our wedding day that stand out," the couple told People magazine in 2023. ""But what we both still laugh about is that we didn't get a chance to eat any of the food from the reception... I don't think we realized we hadn't eaten until we got in the limo after the reception to drive two hours from Battle Creek to Detroit because we had an early flight out the next morning for our honeymoon."
Grant and Tamia share two daughters, Myla Grace and Lael Rose.
Grant and Tamia have two daughters — Myla Grace, 21, and Lael Rose, 16. Lael is still in school, but Myla has been making waves in the MMA world.
She had her debut match against Jenniffer Loza in 2021 and won the match with a chokehold in the first round. Myla currently has a 2-0-0 amateur record and seems to have a bright future in the sport.
Article continues below advertisement
"Myla is very much like Grant," Tamia told Black America back in 2012. "She's very calm, easy, laid back. Lael is kind of feisty. They do things that remind me of myself, and then they do things that remind me of Grant. It's funny when your kids mimic you. Even things that I don't realize that I do they'll do and I'm like, 'that's so me.'"
In 2003, Tamia was diagnosed with multiple sclerosis.
Tamia was diagnosed with multiple sclerosis in 2003, but luckily, the illness was caught early and Tamia has been in remission following treatment.
"Watching her when she was diagnosed and how she attacked that and had tremendous strength... when you go through your own stuff that's one thing," he told People. "But when you see a loved one, a family member, a wife, struggle that's tough. She inspired me. Not only is she overcoming it, but she fought. She resumed her career, she's an incredible mother, you know she's active, it's like you forget that she has this. To see her strength through it all has been inspiring."
Tamia has since become a vocal advocate for the National Multiple Sclerosis Society on behalf of others affected by the nervous system disease.
She is also still singing and releasing music, with her most recent album, "Passion Like Fire" being released in 2018.