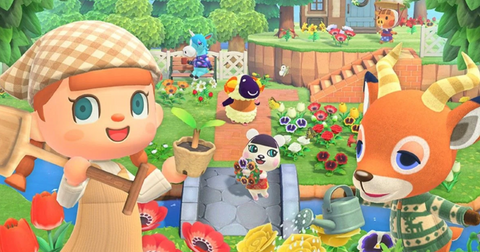 Does 'Animal Crossing: New Horizons' Grape Harvest Basket Point to a New Fruit?
By Brittany Vincent

Updated
When it comes to new adding regular new content, Animal Crossing: New Horizons is a star. Nintendo is always ensuring players have new things to do around every corner. Lately, there's one new item players have uncovered that appears to suggest there could potentially be more on the way than previously thought: the Grape Harvest Basket. As you might guess, it's a basket that carries grapes and can be worn on the back. As such, players are wondering if it means new fruit is coming to the game.
Occasionally, Animal Crossing: New Horizons players see new additions to the game in the form of customization items and regular new events. There hasn't been any fanfare about this new item at all, but it appears it could be coming to the game as part of a new event that hasn't begun yet. Luckily, fans are all too happy to investigate. Here's what we know about the Grape Harvest Basket in Animal Crossing: New Horizons for those curious among us.
What is the Grape Harvest Basket in 'Animal Crossing: New Horizons'?
The Grape Harvest Basket appears to be a new item coming to Animal Crossing: New Horizons. Fans like u/revuryi on Reddit seem to believe it's part of a new Grape Harvest Festival expected in-game next month in September. There's not been any official word about this event yet, but several players seem believe it's on its way since grapes aren't typically found in the game. The proof lies within this item that so many people seem to be getting on their own somehow.
Grapes aren't rare within the world of Animal Crossing, however. The mobile game Animal Crossing: Pocket Camp features grapes. It's possible the so-called "Grape Harvest Festival" that some players believe is coming could be some sort of crossover event with the mobile app Pocket Camp and the Switch game New Horizons. But even if players end up collecting grapes or something of the sort, it doesn't mean they'll be able to be collected on players' islands.
The reason players think there's a grape-related festival on its way is related to information apparently data-mined from the game and captured in a tweet with supposed dates and other items reportedly on their way to the game. The "Grape Harvest Festival" would include the Grape Harvest Basket, and it would cost 800 bells. Of course, its seasonal nature means that it would be a limited time item, so you'd have to jump on it fast if it's something that strikes your fancy.
There's nothing official out on the internet about any of these events just yet, so we'll have to wait and see what happens. In the meantime, there's nothing wrong with getting excited about a series of new goodies and events in Animal Crossing. You love to see it, and since for many of us Animal Crossing is still our escape to the outside world, we're ready for new content.