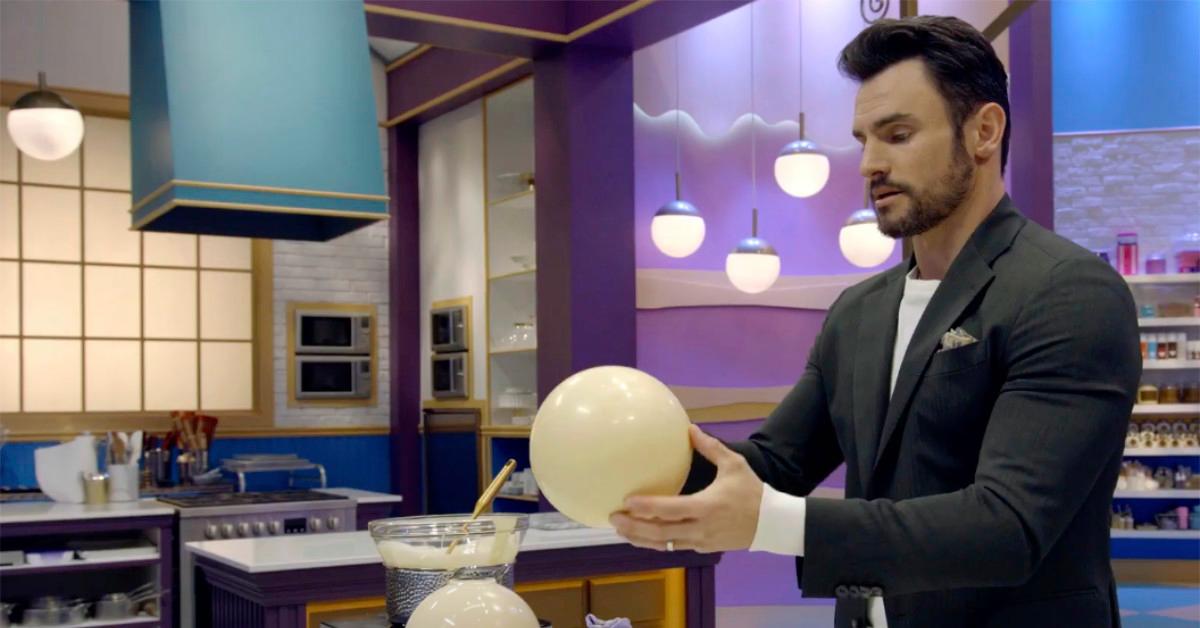 'Great Chocolate Showdown' Bakers Race Against the Clock — Talk About a Sugar Rush!
Dessert competition Great Chocolate Showdown is making its U.S. debut tonight, Saturday, Jan. 29, on The CW. But in its native Canada, the TV show has already aired two seasons, with a third on the way. And thanks to anecdotes from contestants and from Steve Hodge — one of Great Chocolate Showdown's three hosts and judges — we already know what it's like to film the show.
Article continues below advertisement
"When you see the bakers have two hours on a bake, that is absolutely real … and it's stressful for the bakers," Steve told WestVancouver.com last March. "The contestants stress themselves so much."
In fact, the competition is so intense, producers aren't sure the judges could cut it, Steve said: "I actually once said we should have a competition where the judges have to compete, and my producer just said, 'No way. Absolutely no.' Because it would be too stressful, and we'd probably mess it up."
Contestants have to go through multiple interviews to land a spot on the show.
Katie Rotchin auditioned for her spot on Great Chocolate Showdown in March 2019, while she was studying linguistics and anthropology at McGill University in Montreal, Quebec. After filling out an online questionnaire, she talked with the show's producers over the phone, and once she passed that step, she was invited for a an hour-long live audition over Skype.
Article continues below advertisement
"During the second half-hour, I was asked to bake," she revealed to The Suburban in January 2020, recalling that tryout. "Not having had any prior experience with this kind of audition, I struggled to fit both my baking and my face in the frame. I ended up just crouching down near the stove whenever I had to explain a step. Luckily, the producer found it funny."
But it wasn't all luck: Katie's organization came through in the audition. "I had made a finished version of my chocolate tart the day before, since I knew I would not have time to complete a finished version in the 30 minutes allotted, but the producer loved how organized and prepared I was," she said.
Article continues below advertisement
The show is "hard" but "really a great experience," contestants report.
Connie Kazan on Dearborn, Mich., and Bri Brown of Detroit, Mich., are two of the bakers who competed in Season 3 of the show, though neither one specializes in chocolate. "So, chocolate is a whole different world," Connie explained to ClickOnDetroit.com earlier this month.
Bri concurred, saying, "I know a lot of people are like, 'Oh I could do that.' But I'm telling you, the show is hard."
Season 1's Renu Mathew — a high school teacher from Olds, Alberta — told Mountain View Today last year that she "gained a lot of skills with chocolate and practice with chocolate" during the competition.
"We had access to some amazing people that kind of shed light on different techniques and best practices to improve our skills," Renu added. "So it was really a great experience that way."
Great Chocolate Showdown premieres in the United States tonight, Saturday, Jan. 29, at 8 p.m. ET on The CW.