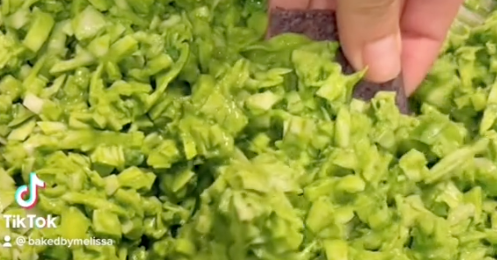 Get Your Greens in With This Viral Green Goddess Salad From TikTok
It's no secret that TikTok has had a vice-grip on the food community in recent years. For a period of time, feta was almost impossible to locate in most grocery stores as everyone rushed to make the TikTok feta pasta, and Emily Mariko inspired viewers in 2021 with her leftover salmon and rice bowls.
Like most trends, they tend to cycle in and out — and while most people have moved past the feta pasta and salmon bowls, the green goddess salad now has users in a chokehold.
Article continues below advertisement
The recipe was shared by Melissa Ben-Ishay of Baked by Melissa.
Believe it or not, this popular salad was created by Melissa Ben-Ishay, the woman behind the popular NYC cupcake brand Baked by Melissa. While the adorable bite-sized cupcakes may be her brand, she's been sharing even more recipes on the official Baked by Melissa TikTok that you won't find in her stores.
In between videos of some of her favorite desserts, Melissa has been sharing some of her personal favorite healthy recipes with her audience of more than 900,000 followers.
Article continues below advertisement
How do you make the green goddess salad?
The key to this salad is chopping all of the ingredients into really fine pieces, making them easier to scoop up onto a tortilla chip of your choice.
To make this salad, you only need a few simple produce ingredients. The base of the salad is iceberg lettuce, cucumbers, green onions, and chives. Dice all of these up really small, and adjust the quantities based on how much salad you're intending to make.
Once you've finely diced your veggies, you can then make the dressing. Combine a few garlic cloves (adjust this to your taste), a small shallot (you can sub for red or regular onion if you can't find a shallot), chives, basil leaves, nutritional yeast, one cup of spinach, lemon juice, and a quarter cup of both walnuts and olive oil.
Blend these ingredients together using a blender or a food processor before adding it to your base, coating all of the vegetables in it.
Article continues below advertisement
TikTokers have provided their various takes on this salad, though many of the adjustments are minor compared to the original recipe. Some users decided to sub out the iceberg lettuce for cabbage, offering more variety and a bit more nutritional value.
It also seems that you can really use whatever nuts you have on hand or prefer in the recipe, as they're mostly used to thicken the dressing rather than as a taste enhancer.
You can also use whatever tortilla chips you desire: if you prefer blue corn chips, they'll pair well with this salad. However, if you decide to go the traditional route, you'll be just as satisfied.
This salad has earned its popularity on TikTok over the past few months as more users test out the salad. While it's not as filling as some of the other viral recipes online, it's a great way to include more vegetables in your diet!