Man's Viral Post Describes 'Selfish, Horrible Customers' His Wife Deals With as a Grocery Store Worker
Allan Breathet's post explains that his wife came home from work crying because she's been yelled at by customers who blame her for the shortages and long lines.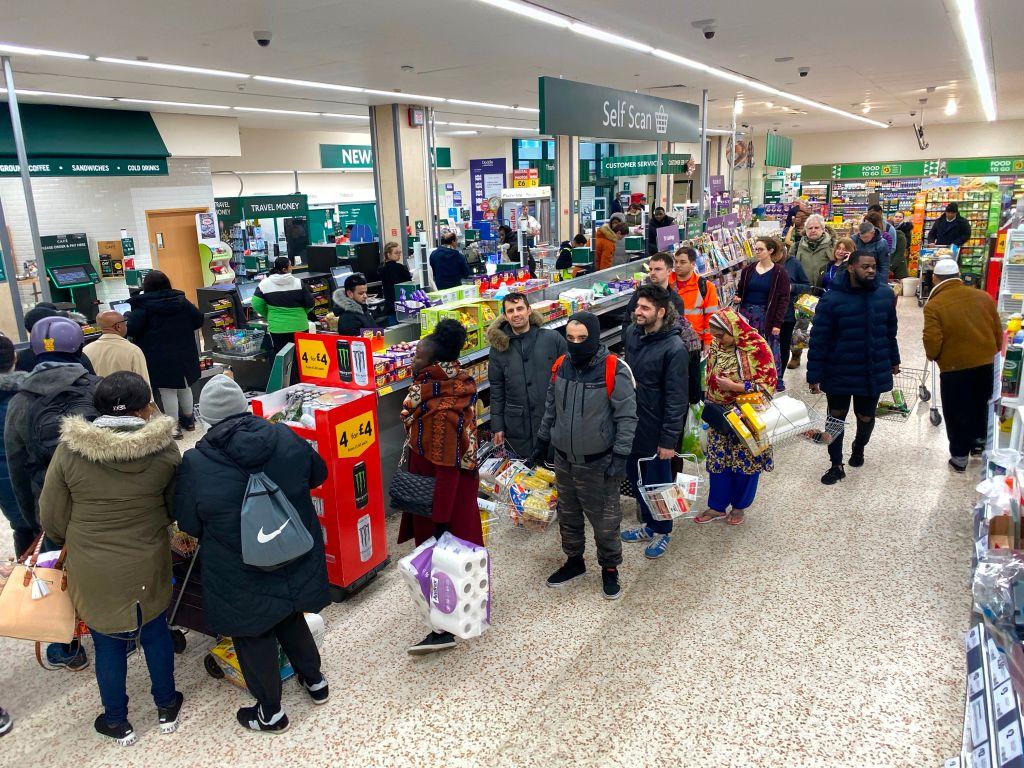 Article continues below advertisement
Grocery store employees, like Angela Breathet, who works at Tesco, a UK chain, are essential to making sure people stay fed during the quarantine. But not only are they not being paid enough for the risks that they're taking, they are also being screamed at and blamed by frustrated customers who somehow believe they're somehow at fault for the lack of paper towel on the shelves.
Angela's husband, Allan, recently took to Facebook to share Angela's recent work experience and beg people to stay sane when it comes to their interactions with grocery store employees.
Article continues below advertisement
"TO YOU SELFISH, HORRIBLE CUSTOMERS that have been in Tesco today I hope your f--king proud of yourselves. My wife has just come home from work and in tears telling me that today has been the worst day ever!!!!" Allan writes.
"She's had to endure being shouted at, called names and treated with no respect being told that this is her fault! that the queues are massive! And "Why are the queues taking so long to go down?", "Why is there no toilet roll?", "Rice?", "Pasta and hand cleanser?" etc.!!!!!!!. Just to put you straight, you a--holes. It's not my wife's fault!"
He goes on to write that it's not "normal customers''" faults either. It's the people who come in with the intention of buying up the store, he writes. It's the fault of those who are "being selfish and not giving a care in the world about other vulnerable people in your community that actually need the items and food more than you."
Article continues below advertisement
"Anyone that's going into any Tesco store of big retailers just remember that the people that are serving you are just trying their best!" he continues. "And just remember that just like my WIFE and the rest of her colleagues, they have more likely a higher chance of catching this coronavirus than you."
It's true. Those who work in grocery stores are coming into contact with so many people each day. Allan concludes his post with this essential all-caps message: "YOU SHOULD BE THANKING THE STAFF IN THE SHOPS FOR BEING THERE AND TREATING THEM WITH SOME UNDERSTANDING AND MOST OF ALL, RESPECT." Amen to that.
Article continues below advertisement
It's because of people like Angela that we can shop for groceries at all at a time like this. We should absolutely be thanking our grocery store workers, pharmacists, doctors, and anyone else who has to be out there working right now. We should never yell at them or chastise them in general but also especially now, especially when things are so clearly completely out of their control.
Article continues below advertisement
Allan's post went totally viral, garnering over 142,000 reactions, 170,000 shares, and 42,000 comments, the vast majority of which, like the one above, expressed anger and solidarity with him and Angela.
But unfortunately, Angela's story isn't unique. Grocery store workers everywhere are reporting having to deal with abuse and mistreatment from difficult customers.
Article continues below advertisement
Simon is right. It's not enough to thank our grocery workers, to be visibly appreciative for all that they're doing for us. We also have to step in and call out bad behavior when we see it.
Simon followed this tweet up with another that resonates: "Loud sighs and side eye aren't enough. If you witness someone being cruel to a customer service person, risking exposure every day to help YOU get basic necessities, you had better step up to the plate and speak up."
Article continues below advertisement
Trixie Mattel, who rose to fame on RuPaul's Drag Race, wrote on Twitter, "I thanked the girl at CVS for being at work and she started crying!" These are real people who are still going into work every day.
The coronavirus pandemic has changed the way we interact with the world. So many of us are stuck at home day in and day out for our protection. But there are so many people out there who are still putting their safety on the line to make sure we're comfortable. And that's huge. They deserve way better.