Why Are We Obsessed With Watching Gross Food Videos?
We love watching people put baked beans on pizza and stuff turkeys with a block of cheddar cheese. Why? What's so fascinating about these gross food videos?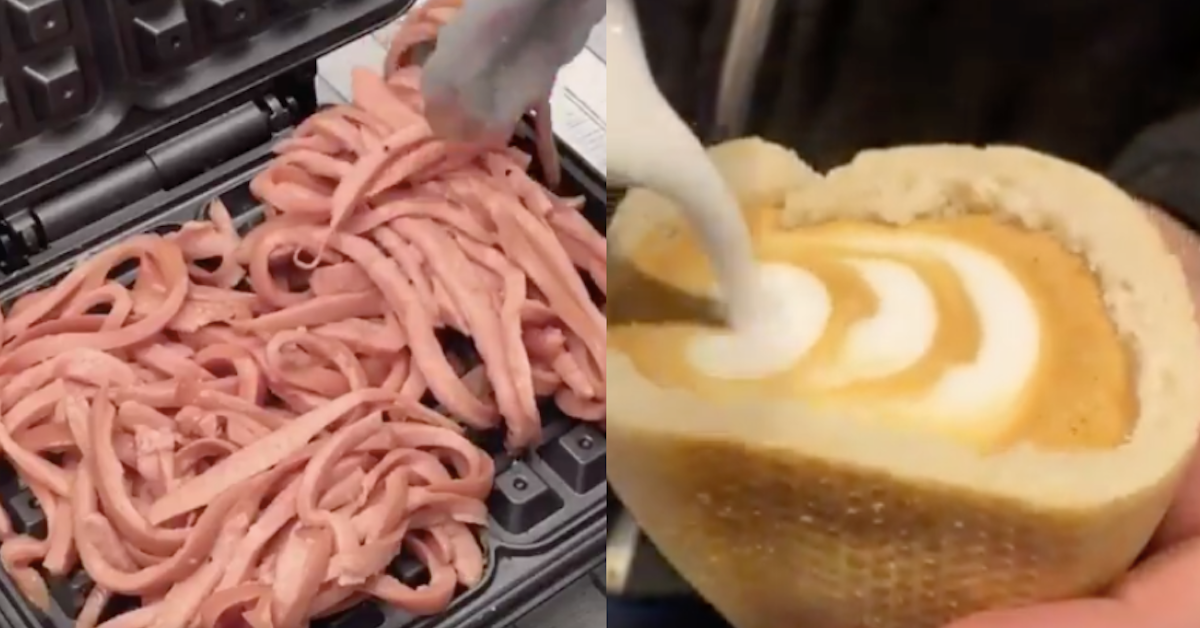 A hand takes a paper clip, digs it into an uncooked hotdog, and drags it across the meat tube, creating a mystery meat noodle. Thus begins the latest viral food video. What happens next, one could never in a million years predict. The hands, which now have a bowl of meat noodles, mixes in a few whisked eggs, then transfers the mixture to a waffle iron, to make meat tube egg waffles, of course.
Article continues below advertisement
After the meat tube egg waffles are stacked, the hands take, for some unknown reason, a bowl of shredded cheddar cheese and pour it into a pan. The hands then pop open a can of Heineken, pour some into the cheese, and stir until beer cheese sauce is achieved. The cheese sauce is then poured indiscriminately over the stack of meat tube waffles. It's horrifying.
And yet we can't look away. We love disgusting food videos. We love watching disembodied hands that could only belong to an evil mastermind concoct disturbing creations out of mismatched ingredients that no one in their right mind would actually want to eat. Why?
Article continues below advertisement
The meat tube waffle video is just the latest in a string of nauseating food-making videos to reach viral status. Chrissy Teigen tweeted about it. Despite being grossed out and horrified and in all other ways rocked to their core, people reposted the video with abandon. "At no point during this video did I know what was gonna happen next," one person wrote. Neither did I. Neither did I.
Shay Spence, the food editor for People magazine, filmed himself trying to recreate the meat tube waffle monstrosity. It's not the first time he's attempted one of these recipes.
Most of these videos are posted on Instagram, YouTube, or TikTok and then reach viral status when they're reposted on Twitter and other platforms.
Article continues below advertisement
Want to see a barista build a fancy latté in a hollowed-out baguette? Sure ya do. You hate it, but you want to see it, and therein lies the problem. We keep sharing these viscerally upsetting food ventures even though we purport to hate everything about them.
Article continues below advertisement
Anna Samson, in her Vice article, "A Deep Dive Investigation Into Why We're So Obsessed With Gross Food on Instagram," writes, "In his book, The Meaning of Disgust, Colin McGinn notes that 'laughter is the natural twin of offense.'" Gross-out humor is a whole subgenre of its own; people find nasty things funny.
Additionally, these videos qualify as absurd parodies of BuzzFeed-style Tasty videos, which have become a staple of the food-centered corner of the internet (and some of which have sort of become parodies of themselves).
I would also argue that there's an element of suspense in these videos that has a similar effect to watching, say, pimple-popping videos. Once a person takes a paper clip to a hot dog, all bets are off. They've clearly stepped outside the realm of normal food preparation, so you simply need to know what's coming next.
Seeing the meat tube waffle stack smothered in beer cheese at the end of the video is not unlike witnessing that final, juicy pop of a pimple. It's satisfying but also might make you puke. I'm only slightly sorry for talking about food and pimples in the same sentence.
Article continues below advertisement
We all watched with bated breath to see where the above video would take us next. The seemingly seven-hour long video depicts maybe 1,200 steps, each more offensive than the last until we're face-to-face with a deep-fried BBQ chicken stuffed quesadilla topped with pizza sauce, pepperoni, and cheese.
Shay Spence also made this one. Spoiler alert: It did not end well.
Article continues below advertisement
Article continues below advertisement
There's a Chefclub recipe in which they make a humanoid hand out of ground meat. No one wants that! And yet, that video has been viewed over a million times on Instagram alone.
According to the Chefclub website, the company was founded in 2016 by three brothers "who were neither cooking experts nor comfortable working a camera." The France-based company has only grown since then, proving that "cooking has become a societal subject, a platform for sharing and entertainment."
The food internet is no longer just about giving you practical recipes and tools. It's about entertainment value. It's about going viral. It's about making Chrissy Teigen freak out about mystery meat noodle waffles. And it's doing just that.