Guy Matches with Girl on Tinder... Just to Roast Her Dress
People are grossed out by this dude on Tinder who matched with a young woman just to tell her that he dislikes her dress.
I'll have been married almost five years come September so it's been ages since I've used any dating apps, and I don't miss nor do I envy the kind of encounters that resulted from some of these so-called "matches."
One young lady had the displeasure of this revelation in the form of a nasty response to her picture in a pink dress.
Article continues below advertisement
In fact, the dress offended a guy so much that he felt the overwhelming desire to say something to her about it, but his ill-mannered comments broke the internet when Twitter got a hold of the messages.
Thea Lauryn Chippendale, a 20 year old from North Lincolnshire showed no mercy in the face of her Tinder bully, George. A photo of Thea in a pink ASOS dress drove this "kind" fellow to start their chat with, "Not gonna lie you're a bit of a joke but that dress in the last photo isn't doing any favours. Hope this helps..."
So Thea then thought, "wait let me give him the benefit of the doubt and ask what exactly he's referring to." Sure enough he replied "you heard!" and didn't take the opportunity to JUST STOP TALKING.
I mean, props to her for even continuing the conversation past that, but Lauryn truly wanted to know why George felt the need to say something and why he valued his own opinion on the matter so much.
Article continues below advertisement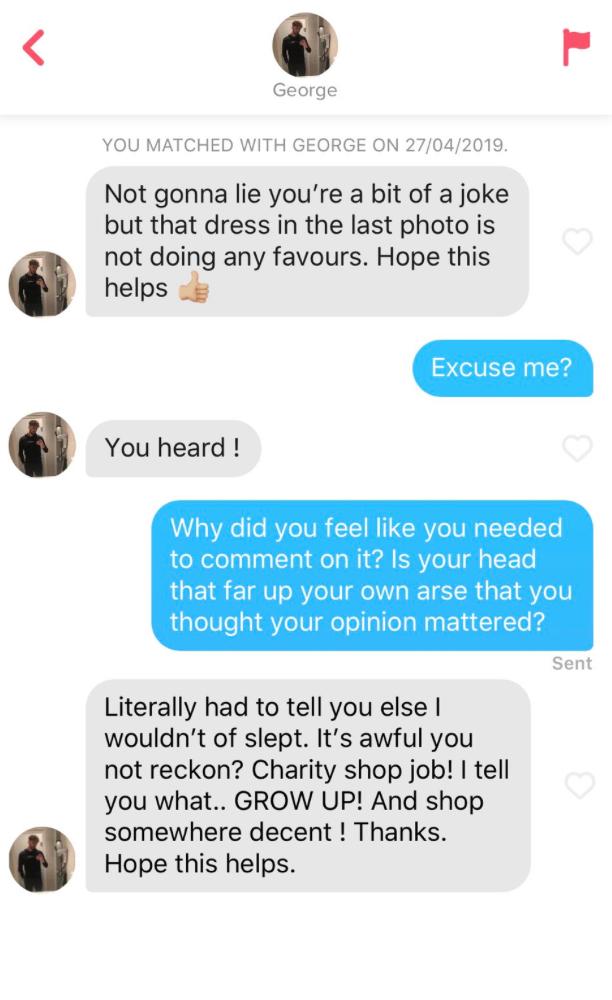 You're not the Fashion Police, George. That's no way to talk to anyone even if you were a celebrity stylist or fashion mogul! But wait you're none of those things, so all the more reason to JUST STOP TALKING GEORGE! (There's a recurring theme here).
Thea was not only dumbfounded by the offensive texts, she nor anyone else for that matter found them "helpful".
Article continues below advertisement
And by anyone else I mean the swarms of people who commented on her Tweet, which stated that "Men are trash" and showed a screenshot of the conversation as well as the picture that started it all.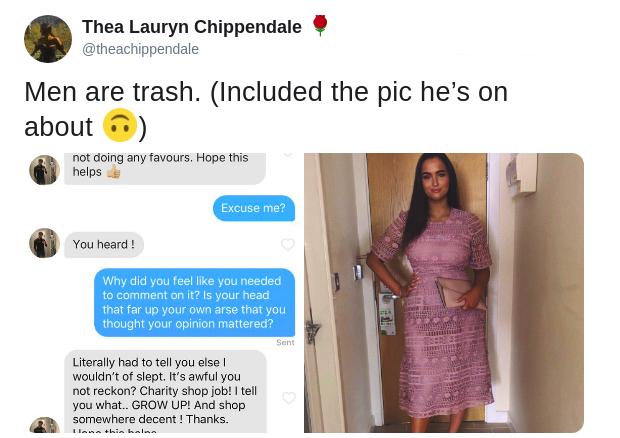 Article continues below advertisement
Many people echoed her sentiment and related hard to what Thea endured. Personally, I don't see what's wrong with her dress and think it's quite lovely, and so did a lot of others online. Some even offered up some explanations as to why he didn't like the dress.

Article continues below advertisement

Other women began sharing their own Tinder horror stories, where men tried to "neg" them like this fine chap. The idea behind "negging" is that you put someone in a psychological state where they have to "prove" themselves to you. I don't know about you, but it still sounds like the power dynamic is all messed up if you're going through all of that subterfuge to be in a relationship. Clearly you need to be with someone, or are convinced that you do.
Article continues below advertisement
Others began sharing tales of their own online dating disappointments.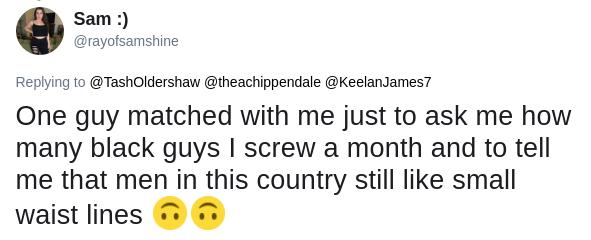 Article continues below advertisement

Thea shared her feelings about the whole incident online saying, "It did really upset me when he first sent it to me because, I understand that people have different opinions about what they see as nice or pretty, but he went out of his way to be mean to me? So I saw it as really malicious and cruel. Since posting it on Twitter, there have been SO many people replying to the tweet and sending me messages and they're all just so lovely! I've never personally experienced something quite as bad as this, but I've definitely had my fair share of strange messages from people before."
Job well done, Thea for standing up for yourself and letting this nobody stew in the wrath of the Twittersphere. George, if you're reading this, your fashion perspective was about as helpful as your grammar is pitiful.
Perhaps you should get Hooked on Phonics, lay off Tinder for a while, and spare the nice ladies your unsolicited advice. Her name is Karma and she takes the form of screenshots on viral media.