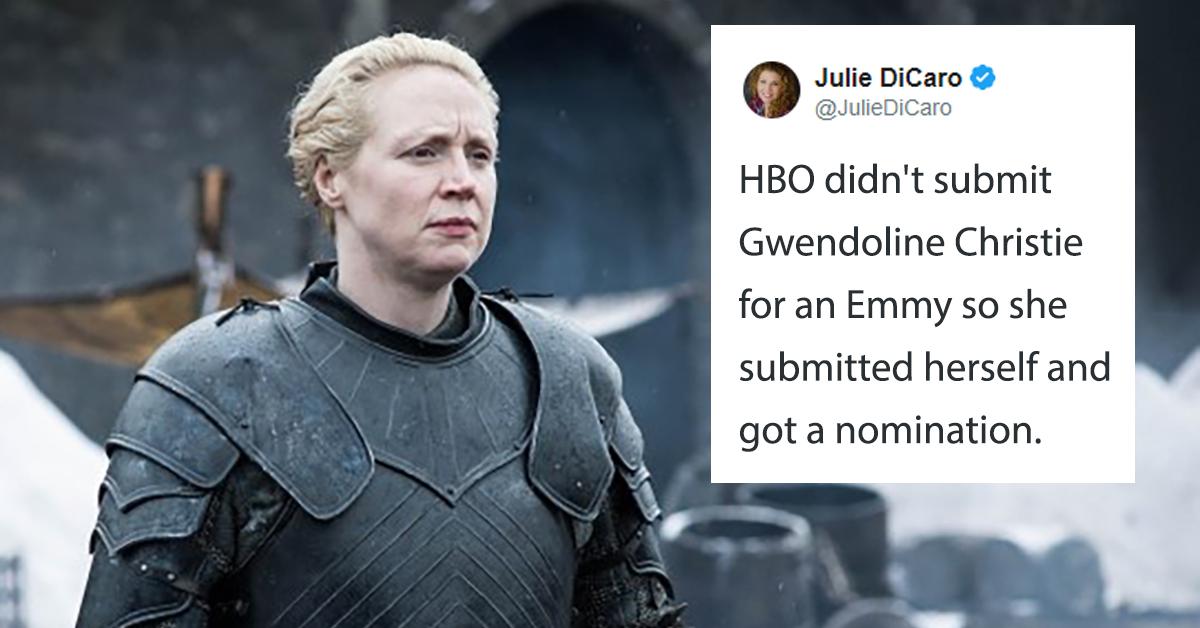 Gwendoline Christie Submitted Herself for an Emmy and Got Nominated
While there was plenty of criticism for Game of Thrones Season 8 online, there's no doubt that some of the characters absolutely blew it out of the water. Theon Greyjoy, played by Alfie Allen, completed his redemption arc in one of the best ways possible. And if you didn't cry when Brienne of Tarth was knighted after six seasons of being one of the most honorable characters on the show, we don't even want to know you.
Article continues below advertisement
So it should come as no surprise that both actors have been nominated for a supporting Actress / Actor Emmy. But according to The Hollywood Reporter it wasn't HBO who nominated the pair, nor did they submit Carice van Houten for her role as Melisandre, who also is also nominated for Best Guest Actress.
HBO confirmed to the publication that all three chose to go ahead and submit themselves via a representative, and pay for the $225 entry fee out of pocket. While it's not uncommon for actors to submit themselves for an Emmy, it is unusual for those submissions to result in a nomination, which happened for all three of the Game of Thrones actors.
Article continues below advertisement
Unsurprisingly, the nominations have been championed by fans, especially in the case of Christie, whose character Brienne of Tarth is a favorite among fans. Sports journalist Julie DiCaro commented: "HBO didn't submit Gwendoline Christie for an Emmy so she submitted herself and got a nomination.
Article continues below advertisement
Others were angry that HBO didn't nominate Christie in the first place, with one fan writing: "You seriously need to sort yourselves out! Brienne and Arya were the only two characters worth watching this series! Thank f--k [Gwendoline Christie] knows her own worth!"
Article continues below advertisement
Others users were supportive of the power move. "She deserves everything that's good in the world," one user wrote. "I had to 'nominate' myself for a promotion/raise and after 2 months of approaching my boss about it every shift we worked together, I got one!"
Article continues below advertisement
Others shared why they believe Christie deserves to win.
Article continues below advertisement
While others realised what Brienne had been writing at the end of Season 8.