Hairstylist Blasts Customer for "Stupid" Question — But Is She Just Rude?
A customer was shocked by the unwarranted rudeness from a hair stylist after she asked a simple question about detangling.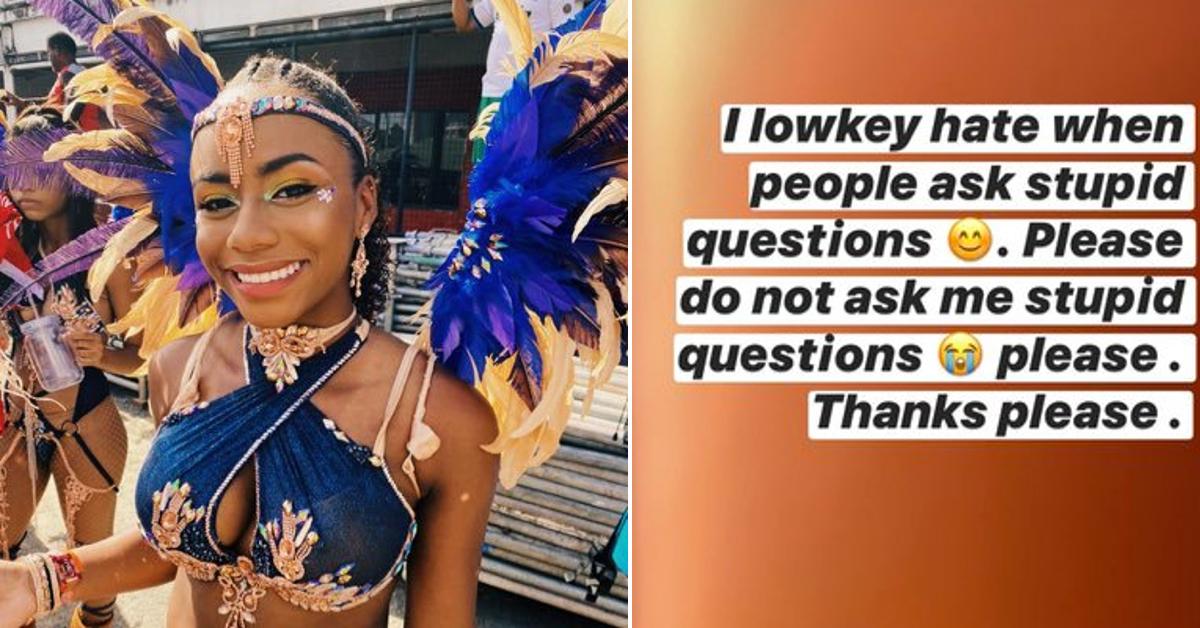 My wife has naturally curly hair. It's one of my favorite things about her, even though she admits it's a pain in the butt to maintain and was given grief all throughout her life from hair stylists that weren't accustomed to working on someone with a mane like hers. She has PTSD from walking in salons and hearing beauticians exclaim how much hair she has and how they're going to have to up-charge, only to spend hours in the chair for a style she ultimately hated. She went her whole life feeling like something was "wrong" with her natural hair.
Article continues below advertisement
However, the only thing "wrong" about my wife's hair situation was that the stylists she saw before never learned how to work on follicles that weren't naturally straight.
Which is why I can commiserate with this young woman who was called "stupid" and verbally attacked in a DM simply because she asked a hairstylist a question about charges for de-tangling.

Article continues below advertisement
It all started when Twitter user Meggy B hit up Zoeys Beauty Parlor on Instagram with price inquiries to get a new 'do. The current stay-at-home and social distancing protocols implemented by federal and state legislatures have shut down a number of "non-essential" businesses, which unfortunately includes barbershops and hair salons. This has inevitably led to the hilariously sad outbreak of "quarantine haircuts."
I'm about to undergo my very own shortly at the hands of my wife, (wish me luck, but she did a pretty good job with our son). Understandably, Meggy wasn't about to risk becoming another meme on social media, so she decided to hit up a professional to see if she could give her some beautiful, long curls.
At first, the conversation was pretty normal, but out of nowhere, after Meggy asks if there's a detangling fee, things went south real fast.
Article continues below advertisement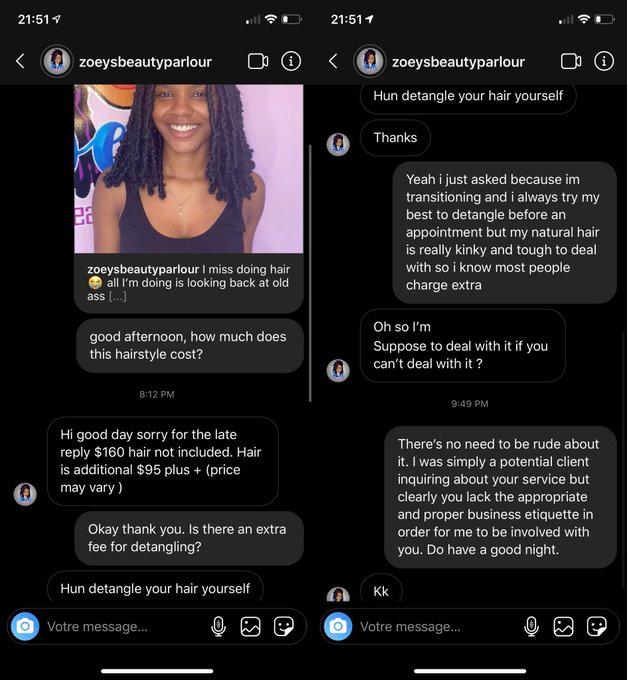 Out of nowhere, Zoey hits Meggy with "Hun detangle your hair yourself", which seems like a weird response and then it's followed up with a passive-aggressive "Thanks."
Meggy, however, tries to keep things civil and explains why she asked about the detangling fee, stating that she only inquired because her "natural hair is really kinky" and acknowledges that some people charge extra for the additional labor.
Article continues below advertisement
Zoey, however, wasn't having it and responded by saying, "Oh so I'm suppose to deal with it if you can't deal with it?"
I hate to break it to you, Zoey, but if someone is asking a hairstylist to work on their hair, it's probably because they'd like an expert to do the work instead of someone who hasn't trained to do so. Imagine asking a mechanic how much it would cost for an additional fix to your car and they hit you back with the same logic?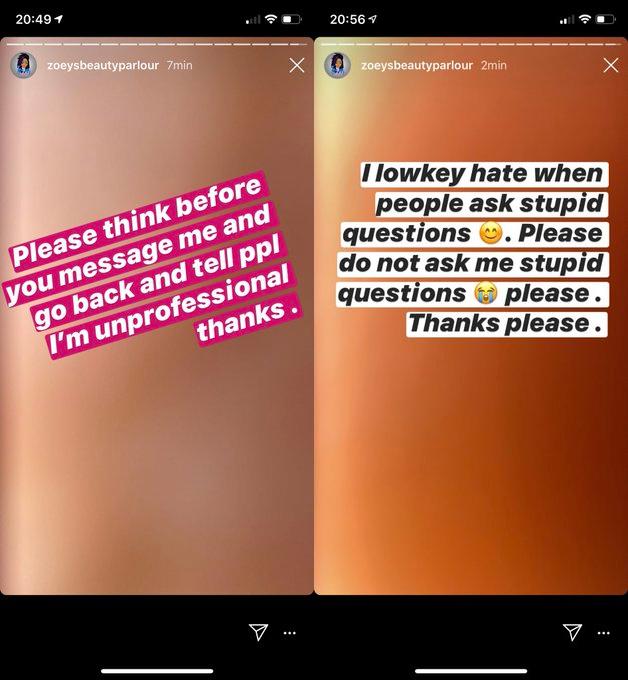 Article continues below advertisement
Understandably, Meggy wasn't interested in doing business with someone who responded to a basic inquiry in such an aggressive fashion, but it didn't stop there. Zoeysbeautyparlor ended up posting what appears to be passive-aggressive stories on her Instagram profile directly after their conversation.
Meggy took a screenshot the conversation and shared it on Twitter, where it's garnered nearly 72,000 retweets and over 425,000 likes to date.
Article continues below advertisement
Once Meggy's post started gaining traction online, Zoeysbeautyparlor alleged that she didn't post the conversation in its entirety, which Meggy says simply isn't the case. It's pretty evident from the screenshots, unless they were doctored, that it was a completely out-of-left-field response for what appears to be a perfectly normal question.

Article continues below advertisement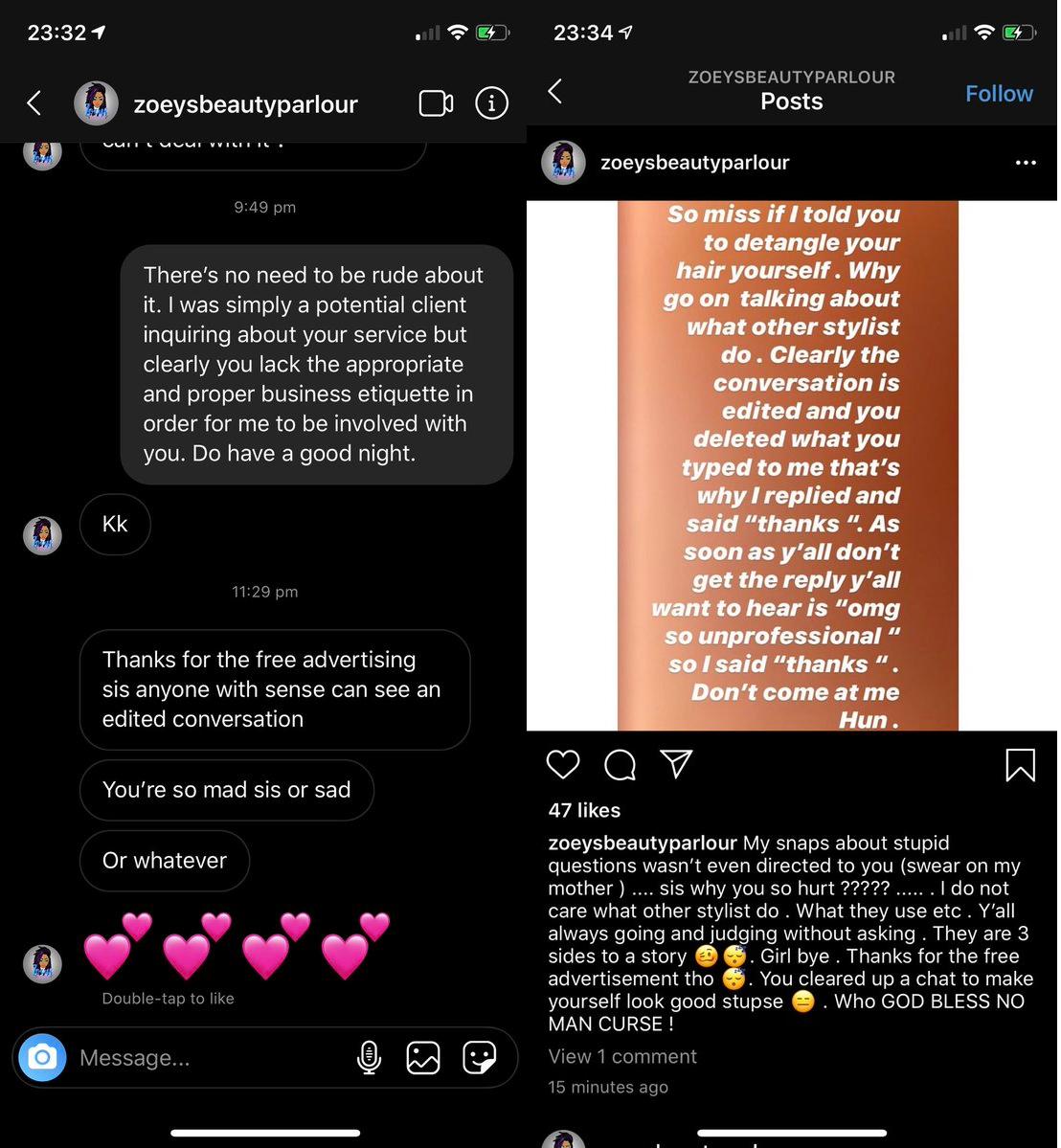 People were not only horrified by the response from Zoeysbeautyparlor, but other stylists offered up their services to Meggy B, while some chimed in to say there was nothing "stupid" about asking what a hair detangling would cost, as it commonly costs extra to have someone else do it for you.
Article continues below advertisement
Article continues below advertisement
Article continues below advertisement
Article continues below advertisement
What do you think? Would you ever go to a hair stylist who responded to an inquiry like that? Or is it indeed offensively dumb to ask about the prices of de-tangling?