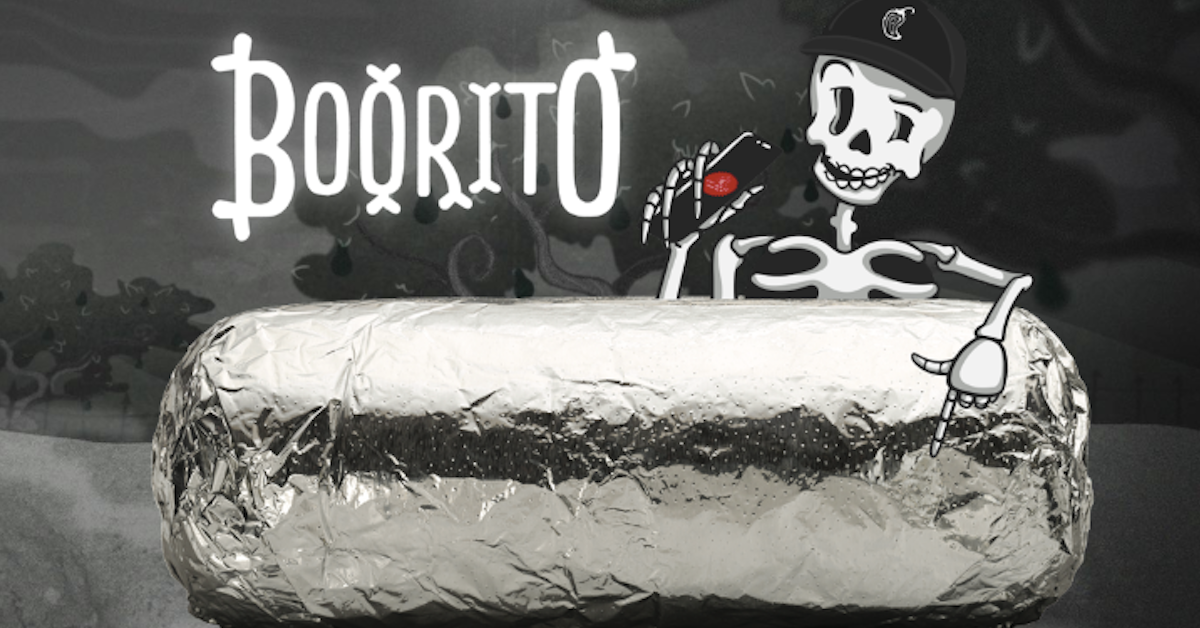 Spooktacular Halloween Food Deals You Won't Want to Miss
With Halloween on the horizon, many of your favorite restaurants and brands are haunting us with spooktacular deals and freebies that we can't wait to get our skeletal hands on! From discounted "booritos" at Chipotle to free donuts at Krispy Kreme if you're in costume, this Halloween promises to be chock full of treats (in addition to all those tricks).
Article continues below advertisement
These are some of the best Halloween fast food deals out there.
Some of them even last into November, so don't worry if you're too busy scaring your neighbors or eating candy to head out on Halloween itself!
Blaze Pizza is sending out spooky pizza boxes with hidden blacklight messages for the chance to win some incredible prizes, including free large pizza for a year! That's a $1500 value...and a whole lot of pizza.
Article continues below advertisement
Applebee's is serving a brand new Vampire Cocktail for $1 at select times. The fruity alcoholic drink is made with rum, strawberry, passion fruit, dragon fruit, and pineapple juice. It comes with a cherry and a pair of vampire fangs that make it kind of hard to drink but are fun nonetheless.
Article continues below advertisement
If you head to Chipotle in costume between 3 p.m. and closing time on Halloween day, you'll get a $4 boorito! The only thing scarier than all the ghosts on Halloween is the stomach ache you'll have after devouring all these delicious deals.
Article continues below advertisement
Get this: If you order at least $30 worth of food from The Cheesecake Factory using Door Dash, you can use the promo code TREATORTREAT to get a FREE Reese's Peanut Butter Chocolate Cake or Hershey's Chocolate Bar Cheesecake. Free cheesecake? It's my dream come true!
Speaking of Door Dash, if you dress up as your favorite food and post it to Instagram with the #DashOWeen hashtag, you'll get $10 off your next order. You will also automatically be entered to win $1000 in DoorDash credit and DashPass for a year. You're probably going to order food anyway on Halloween night... Why not get some money off?
Article continues below advertisement
Article continues below advertisement
Papa John's can provide jack-o'-lantern shaped pizzas for your Halloween get-together this year. These pizzas are made to order, have a pepperoni face and pepperoni border, and are shaped just like pumpkins. They're kind of cute, actually. They are $11 and well worth it to bring that extra something to your Halloween party.
If you order a $1 Wendy's Boo! Book, you will get five — count 'em, FIVE — coupons for a free Jr. Frosty. That's maybe the best deal I've ever heard. Not to mention, 85 cents of every Boo! Book purchase goes to the Dave Thomas Foundation for Adoption, which helps finds families for kids in foster care.