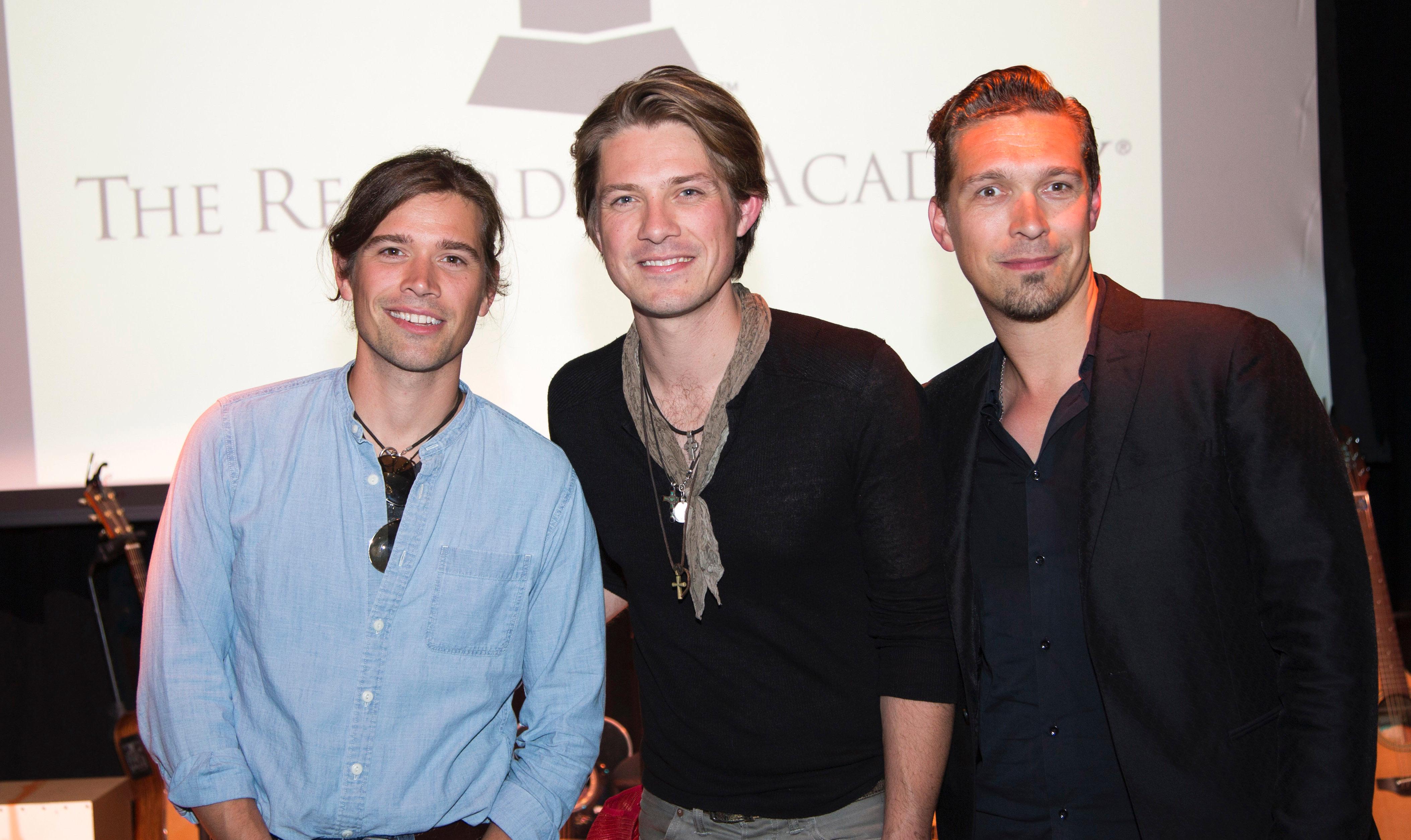 The Hanson Brothers Are All Grown up With Families of Their Own
Any millennial will be able to tell you that there was nothing better than hanging out in the backseat of their mom's minivan, jamming out to the radio while Hanson's "MMMBop" blasted over the speakers. While the lyrics to the hit song were more or less nonsense, there was something irresistible about the melody and that band of brothers with blond, luscious locks that we just couldn't get enough of in the late '90s.
Article continues below advertisement
In 1997, the Hanson brothers were everything. Isaac, Taylor, and Zac ruled the late '90s. So, where are the Hanson brothers now? Die-hard fans will let you know that they haven't gone anywhere! (In fact, there are plenty of people who strongly suspect they may currently be performing on The Masked Singer!)
Hanson has been touring and playing music for the past 25 years.
The Hanson brothers founded the band in 1992. At that time, Isaac was 11, Taylor was 9, and Zac was just 6 years old. Now, Zac and Taylor are in their 30s, and Isaac is 40, but don't think that means they've slowed down at all when it comes to recording music and touring.
Article continues below advertisement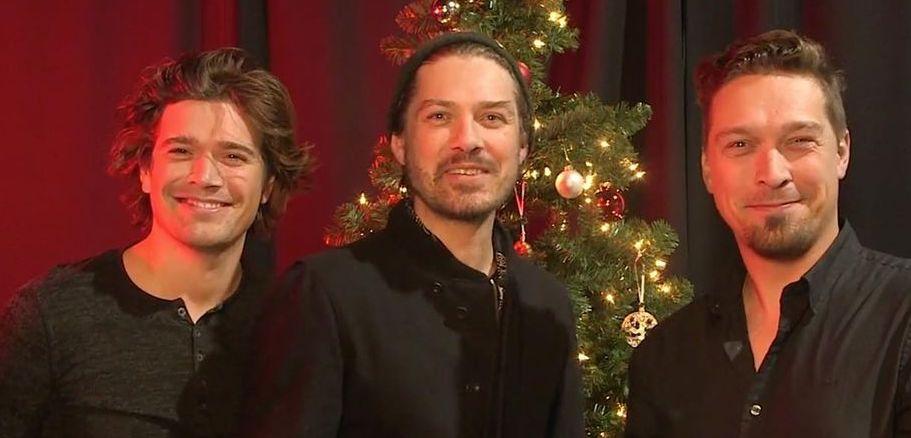 In March 2017, Hanson celebrated the 25th anniversary of their first album with the Middle of Everywhere: 25th Anniversary Tour. In October 2017, Hanson released their second Christmas album, "Finally It's Christmas." In July 2018, Hanson announced they would be doing a symphonic tour with an accompanying album, titled "String Theory." On September 13, 2019, Hanson announced their Wintry Mix tour, which would span several cities in North America.
Article continues below advertisement
Unfortunately, during the Wintry Mix tour, Zac Hanson was injured in a motorcycle accident. However, the tour continued, with Zac on percussion and former HAIM drummer Dash Hutton filling in for him on drums.
The Hanson brothers also founded their own beer company.
Besides music, the Hanson brothers have another passion: beer. Isaac, Taylor, and Zac founded The Hanson Brothers Beer Co. which is based in Tulsa, Okla. In true philanthropic fashion, they donate a portion of their beer sales to charity. They also give away a free song with every bottle of beer.
Article continues below advertisement
"Our first love is music and with over 20 years as musicians and entrepreneurs in the band Hanson, we are integrating a bit of that craft into each beer sold by giving a free song with every bottle... Our recipe: The best ingredients and total dedication to all aspects of our craft, all brewed with passion. Beer + Music = Awesome," their website reads.
Article continues below advertisement
All three of the Hanson brothers are family men now.
There are 15 kids between Isaac, Taylor, and Zac. "It's a cool thing," Zac said during a 2019 appearance on the U.K. talk show Lorraine. "We spend a lot of time together touring, in the studio, and around each other, so our kids know each other really, really well." All three of the brothers are also married. Here's a quick breakdown of what they've been up to in their personal lives:
Article continues below advertisement
Isaac Hanson and his wife Nicole have three kids together.
Isaac Hanson and Nicole Dufresne got married in 2006 shortly after meeting in a totally dreamy way: Isaac spotted her in the crowd at one of Hanson's concerts! "I went to the main guitar tech right after the show," Isaac told Entertainment Weekly back in 2007. "I was like, 'Dude, I really need your help. There's this girl… She's gonna leave.' And he goes, 'Dude, I really don't have time right now. Talk to the stage manager.' So I got the stage manager to stop my wife."
Clearly, things worked out pretty well for the eldest Hanson brother. He and Nicole have three kids together: James Monroe, Clarke Everett, and Nina Odette. So far, there's no word on whether these three will join forces and take over the music industry like their dad and uncles, but we wouldn't put it past them.
Article continues below advertisement
Taylor Hanson has seven kids!
If Isaac's kids don't become pop stars, there's a pretty good statistical chance that at least one of Taylor's kids will — he has a bunch of them! He and his wife Natalie Bryant have four sons (Jordan Ezra, River Samuel, Viggo Moriah, and Claude Indiana Emmanuel) and three daughters (Penelope "Penny" Anne, Wilhelmina "Willa" Jane, and Maybellene Alma Joy).
Article continues below advertisement
Natalie spoke with People about how she and Taylor go about choosing names for their children. "When choosing the names for my children, I tend to gravitate toward names that are unexpected, but translatable," she said. "I like to find gems that are still undiscovered enough to make people squirm just a little when they first hear it, but in time sound completely obvious. I love a name that reflects both mine and my husband's taste — a little bit name-nerd, a little bit rock 'n' roll!"
Article continues below advertisement
Zac Hanson is a father of five.
Zac Hanson and his wife Kate are the proud parents of five little ones: John Ira Shepherd, Junia Rose Ruth, George Abraham Walker, Mary Lucille Diana, and Quincy Joseph Thoreau (who was just born in March of 2021!). He regularly posts about his adventures with his family on Instagram and truly seems to be living his best life.
Article continues below advertisement
And don't forget about the fourth Hanson brother, Josh "Mac" Mackenzie Hanson!
That's right — there's a fourth Hanson brother that you (probably) didn't even know about! And if you don't, then you're missing out — Mac Hanson is also a super talented musician. When he was growing up, though, he initially hesitated to wade into the music industry. "Growing up, music was something I relegated to my brothers — that was their thing, and I felt I needed to discover my own identity," the singer told Billboard back in 2018.
"Looking back, I see how pride and ego can get in the way of what you want to do or are meant to do. I realize now that my hesitancy towards doing music was largely fear — fear of how it might look or be perceived."
Mac is the frontman for the band Joshua and the Holy Rollers. He married his wife Nicole Stark in August of 2020, and the two of them welcomed their son Elliot Harvest Stark Hanson in September of that same year.
Hanson has a new album coming out soon.
Hanson's newest album "Against the World" was originally slated for a 2020 release. Of course, then 2020 came around, and we all know how that messed things up for pretty much everyone. Luckily for Hanson fans, it looks like "Against the World" will be coming out in 2021. In April of 2021, they shared on their website that they are currently putting the finishing touches on it! Here's hoping the fans don't have to wait too long (although those who have been fans for several decades at this point are obviously not going anywhere).