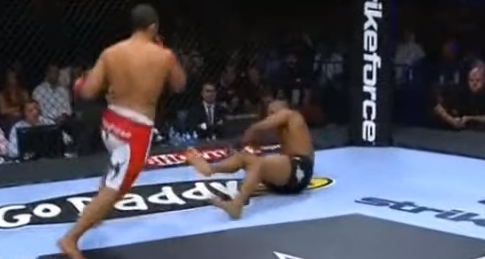 Has the UFC Middleweight Division's Boogeyman, Yoel Romero, Ever Been Finished in a Fight?
The world of combat sports is filled with different kinds of fighters who all have their own unique approaches to winning bouts, and there's a very strong argument to be made that mixed martial arts, because of its combination of so many disciplines, offers probably the most variated approach to fighting.
Yoel Romero has certainly demonstrated a "complete" approach to fighting and is a feared opponent. And although he has losses on his record, has he ever been finished?
Article continues below advertisement
Some MMA fighters have storied wrestling careers, and elect to use rudimentary striking and feints to set up takedowns so they can grapple their opponent to the mat, maintain top control, and pepper them with light shots to score points. Some fans deride these pugilists as "dry humpers" as they put scoring points over actually finishing a contest.
Yoel Romero could most certainly be this kind of fighter if he wanted to.
The six-time world and Olympic wrestling champion is one of the most decorated fighters in the UFC. But you will rarely see Yoel rely on his wrestling in his fights. The heavily muscled contender has a scary striking game which is lackadaisical at times, but he goes, as the cool kids say, from "0 to 100 real quick" — and will often nail a devastating flying knee, lunging punch, overhand right and then smash his opponents into oblivion with elbows once they're on the ground.
Article continues below advertisement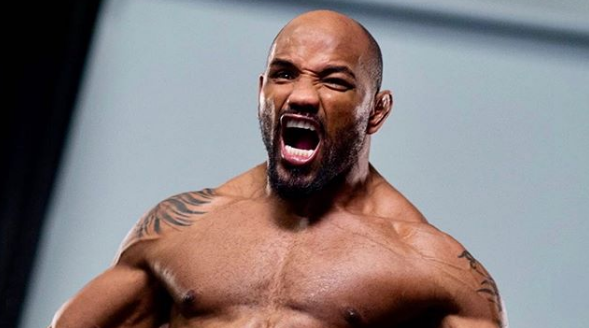 While Yoel hasn't captured UFC gold yet, he's had more than a few opportunities to do so. He lost two close decisions to Robert Whittaker, along with a contender match-up against Paulo Costa. He's gone 1-3 in his last fights four fights, so why is he challenging for the title yet again?
That has a lot to do with the nature of his losses; they were all on the scorecards against top opponents, and simply put, the opponents he fought never come back the same.
Article continues below advertisement
That might sound like a lot of mythical, tough guy hot air, but it seems to be entirely the case. Yoel was losing a fight to former Middlweight Champion Chris Weidman at Middleweight, until he launched a flying knee that split the forehead open of the Long Island native, ending the fight in devastating fashion. Chris' career has been on a bit of a downturn since then.
He had a barnburner against Jacare Souza, and the Brazilian has fallen out of serious title contention since fighting Yoel.
Article continues below advertisement
Yoel is attributed as being the man who sent former Light Heavyweight Champion, Lyoto Machida out of the UFC to go and compete in Bellator, and Luke Rockhold never really recovered from the brutal KO losses to both Michael Bisping and Yoel's remarkable finish.
Even Paulo Costa, who is arguably just as, if not, more physically intimidating than Yoel Romero gave a fight of the night performance against the Cuban.
Paulo was next in line for the title shot, but following his fight with Yoel, had suffered a torn bicep. Robert Whittaker, who was on a tear in the Middleweight division and looked like he would hold on to the belt for a long time, defended it twice against Romero and looked like a shell of the fighter he was against Israel Adesanya. It seems like even if you manage to beat Yoel, you never come back the same.
Article continues below advertisement
Which has a lot of people wondering if Yoel Romero has ever been finished in a fight. While it seems almost impossible to imagine the durable and ridiculously athletic 42-year-old Olympian ever losing by way of KO or TKO, Yoel was beaten decisively under the Strikeforce banner all the way back in 2011 against Rafael "Feijao" Cavalcante in a back-and-forth bout that saw the former Blackhouse MMA standout end Yoel's night.
Article continues below advertisement
While Feijao isn't competing professionally anymore — after a string of losses in the UFC and ending his career on a win in the World Fight Tour 7: Road to Bellator event — Yoel's career skyrocketed and he's seemed to learn something from his defeat against Rafael. The kick-to-spinning back-fist maneuver that dropped Yoel is something he's implemented in his own fight game plan to great success.
You can watch the only time Yoel's been finished below.
Article continues below advertisement
It's no secret that most prize fighters are in it for the money and obviously because they love doing it. For Yoel, however, it's evident that he's clearly still competing because he absolutely loves throwing down. The man won a huge $27 million lawsuit against Gold Star Performance, a New-Jersey-based supplement company that provided Yoel with an over-the-counter product that contained banned substances.
Since business violations of consumer products in New Jersey carry a triple penalty, Romero's $9 million lawsuit ballooned to a $27 million payout for the fighter. He's also a fairly high-paid athlete; so while he's waiting for that money to come in, he isn't exactly hurting for cash, either. Yoel is clearly more concerned about getting that gold around his waist against Israel tonight than trying to take it easy.
That says a lot about someone who has been competing at a high level for most of his life.