Man Admits to "Stalking" High School Bullies Online, Delighting at Their "Downfall"
A TikTok user described the joy he receives from seeing high school bullies who thought they were hot shots lead normal, boring, adult lives now.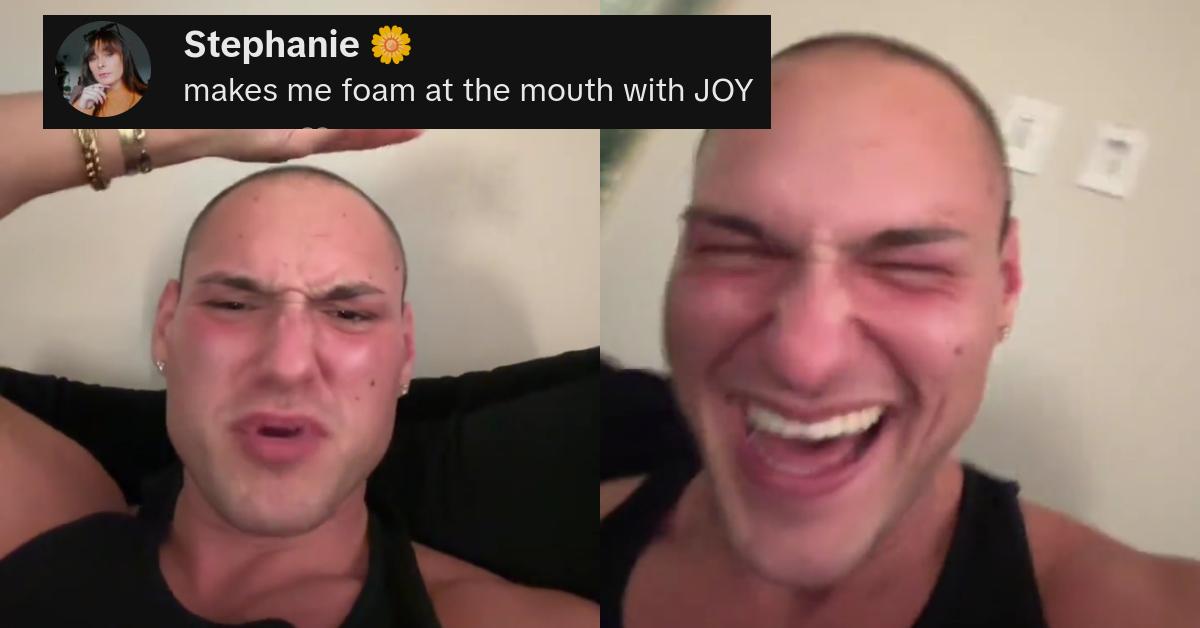 There are a lot of pitfalls to being on social media all of the time. There are plenty of folks who airbrush their photos or post impossibly "cool" pictures of themselves looking wistfully into the distance showing off their bums/abs on an exotic looking beach somewhere with a quote from Mahatma Gandhi about changing humanity for the better.
Article continues below advertisement
Pics like this of people living their best lives in the best lighting with the lowest possible percentage of body fat rocking perfect makeup is enough to make someone feel kinda bad about their own existences and the way that they look, so social media doom scrolling can quickly turn into the masochism/self-hate hour.
Or, if you're like TikToker Leo Skepi (@leoskepi) you can use it as an opportunity to revel in the misery of high school hot shots who bullied others during their Wonder Years, only to find out that in the real world of adulthood, they fell horribly short.
Article continues below advertisement
He posted about the glee he partakes in upon seeing the misfortune of his teenage enemies in a viral TikTok that's accrued over 1.9 million likes.
Article continues below advertisement
Leo says in the video, "I might be s---- as f---- for saying this, I don't care. There is something about seeing people from high school doing awful!" he smirks and laughs into the camera.
"All the people that were cool and like the hot ones, the pretty ones like the ones that were cool in high school and made fun of everybody, there's something like just like, gets me off about seeing them work like a normal job and be miserable."
Article continues below advertisement
The TikToker continued, "With a kid. At 24! Cause that's my personal version of hell. To be condemned to a normal a-- life and to be nothing special. B---- I hope you enjoyed it, I hope enjoyed your little couple years in high school where you were like the special one."

Article continues below advertisement
He ate up more of how far they've fallen from their high school glory days, "And it's funny to me everybody who made fun of me when I was like ugly, karma hit them with like a sucker punch cause now they're ugly and fat. I'm so sorry but I just eat it up, I genuinely love it."
Leo finished his video by stating, "I am stalking all of them and they're all doing awful."
It would appear that there were other commenters who took equal amounts of pleasure in stalking their former high school bullies to see if they were hit with the bludgeon of karma later in life.
Article continues below advertisement
"And they ALL still hang out together," one person said.
Another wrote: "makes me foam at the mouth with JOY"
Someone else also enjoyed the disparities in body size they've seen between themselves and the former "cool kids" in high school: "This is a daily thought. I lost 150lbs and now they're all fat"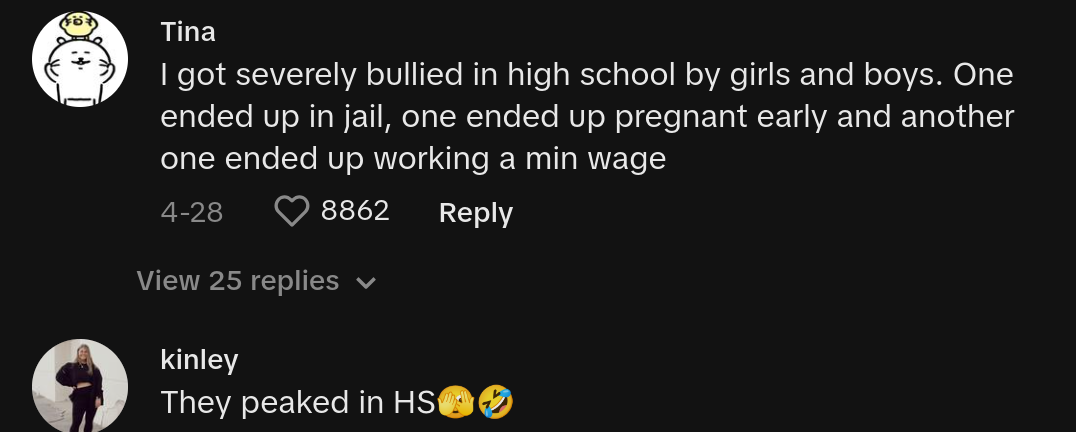 Article continues below advertisement
It seems that one TikToker solely uses Facebook for this same purpose: "i sit back, relax, and enjoy the show whenever i log onto facebook lmaoo"

Article continues below advertisement
Another person wrote: "I got severely bullied in high school by girls and boys. One ended up in jail, one ended up pregnant early and another one ended up working a min wage"

Article continues below advertisement
Another woman replied: "I'm 24 from a small town in the south so EVERYONE my age is basically married with kids and I'm still here like "I'm just a kid"… love it"
Is Leo hitting something perfectly on the head here? Do you take pleasure in gandering at the way high school bullies' lives played out? Or were you that bully he's talking about and seeing this post is making you reconsider your life choices?