TikTok's 'Hocus Pocus' Cocktail Recipes Will Have Thee Concocting Thy Own Delectable Potions
With the official arrival of 'Hocus Pocus' season, we present to you a list of some of TikTok's best cocktail recipes inspired by the cult classic film.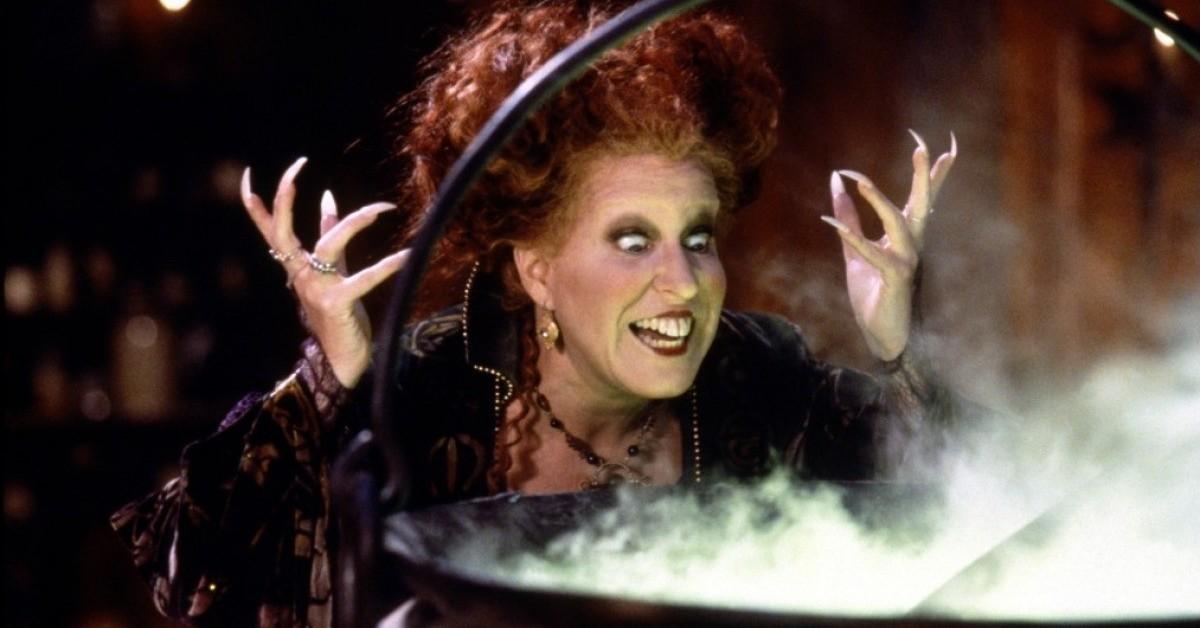 It's that time of year. The leaves are turning amber and crunchy, the air is getting crisper, pumpkin spice-flavored goodies are stuffing grocery store shelves, sweaters are being plucked from the backs of closets, pumpkins and mums are popping up on front stoops — shall we go on? It's fall, y'all. And when the clock strikes midnight on Oct. 1, spooky season will officially begin!
However, this didn't stop Disney Plus from releasing Anne Fletcher's witchy flick Hocus Pocus 2 on Sept. 30, 2022. We just couldn't wait until October to watch the long-awaited sequel to Kenny Ortega's Hocus Pocus. Despite the OG being severely panned by critics in 1993, over the years Hocus Pocus has solidified itself as a deliciously campy cult classic, one that we can't help but turn on every Halloween season.
Article continues below advertisement
For those who don't know, Hocus Pocus follows child-hungry witches Winifred (Bette Midler), Mary (Kathy Najimy), and Sarah (Sarah Jessica Parker) — aka the Sanderson Sisters — as they return to Salem in 1993, plotting their revenge on the town 300 years after they were hanged. How? Well, skeptical virgin Max Dennison (Omri Katz) couldn't help but light the infamous Black Flame candle on Halloween night, summoning the enchantresses in the process. Along with his spunky little sister, Dani (Thora Birch), and his sweet crush, Allison (Vinessa Shaw), Max must find a way to stop the evil sisters before dawn.
In celebration of the sequel's splendid arrival, here are some spooky Hocus Pocus-inspired cocktails to set the tone. Boasting glitter and magic, think of them as cutesy alcoholic potions. And don't worry, neither the blood of thy enemy nor a piece of thy own tongue are required ingredients.
This blue-hued witch's brew is utterly enchanting.
Boasting 2 oz. of Empress 1908 Gin, 1 oz. of blue Curaçao, 1 oz. of lemon juice, and a bit of soda water, this witch's brew is hair-raising in all the right ways.
"It tastes like a Tom Collins basically, but spooky," TikTok user @bestdayoftheweek shared. That's all we need to know.
Article continues below advertisement
This sweet n' sour potation will bring out the Winnie in thee.
Inspired kingpin witch Winifred Sanderson herself — who'd be nothing without the brilliance of Emmy- and Grammy-winning icon Bette Midler — @rachplusfive concocted a drink with .5 oz. of rum, 1.5 oz. of sour apple pucker, .25 oz. of blue Curaçao, 4 oz. of pineapple juice, and 2 to 3 oz. of Sprite. Add your glitter-sprinkle rim, pucker your lips, and enjoy!
Article continues below advertisement
This scarlet cocktail lets you sip from a tiny smoking cauldron.
"This is a perfect cocktail for any Halloween party," TikTok user @stayboozie shared. You'll need 1.5 oz. of lime juice, 1 oz. of sweet and sour mix, 3 oz. of vodka, 3 oz. of cran-cherry juice, edible glitter, a cube of dry ice, and some Sparkling Ice Black Raspberry seltzer. Of course, dry ice makes the beverage mimic the look of a smoking cauldron, which is an adorable touch.
Coat the glass's rim with lime juice and purple sugar (or whatever color tickles your fancy), and your bubbling potion is ready for consumption.
Article continues below advertisement
This cozy orange drink is begging to be consumed during a 'Hocus Pocus' watch party.
Perfect for brewing during a full moon, TikTok user Sin City Bartender suggests you combine two cherries, .5 oz. of orangecello, 1.5 oz. of cherry vodka, and 1 oz. of orange juice to concoct "A Taste of Hocus Pocus." The color just screams fall.
Article continues below advertisement
This lavender-hued drink is oozing with Sarah Sanderson energy.
TikTok user @blondeandboozy has created the prettiest beverage of the bunch with this sparkly purple dream. Combine edible glitter, a lavender drink bomb (who knew that was a thing?), club soda, and a bit of vodka and thee has an exquisite elixir to sip on. The eye-catching bubbling effect is just a bonus!
Article continues below advertisement
Saccharine mocktails can be spooky, too!
"Hey my Hocus Pocus babes, here are THREE non-alcohol drinks to enjoy," TikTok user Lovely on the Inside wrote. That's right, you non-drinkers deserve to partake in the spoopy fun too!
With elevated ingredients like botanical elixirs, honey syrup, espresso, and dark chocolate sauce, these dreamy drinks are for you sophisticated Sanderson Sister impersonators.