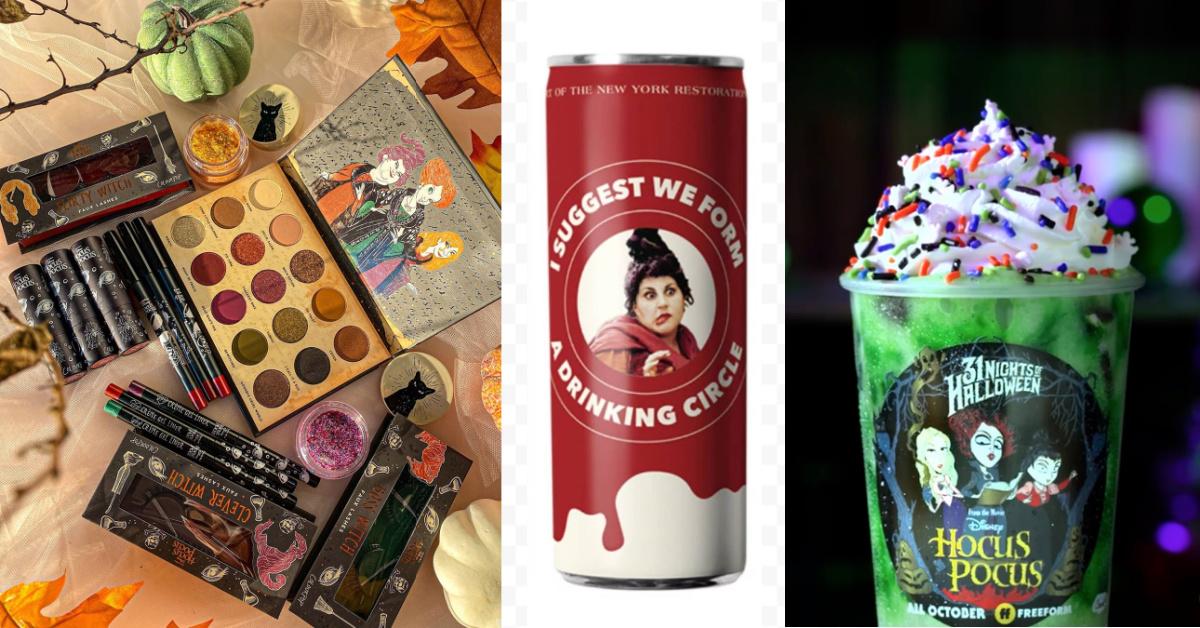 'Hocus Pocus' Gifts You Need in Your Life, From Witchy Wine to Spellbinding Makeup
By Abi Travis

Oct. 6 2020, Updated 12:37 p.m. ET
Halloween is right around the corner, and you know what that means: It's finally time to watch Hocus Pocus again. (Or, if you're like us and you watch it year-round, it's finally time for seasonally appropriate viewings!) Now, obviously, repeatedly watching one of the greatest Halloween-y films of all time is a wonderful way to spend your time, but what if you need more?
Article continues below advertisement
Well, then you're in luck! That's because there are several Hocus Pocus gifts being released this year. Buy them for your friends who love Hocus Pocus as much as you do… or buy them for yourself! You've earned it.
Here's a look at some 'Hocus Pocus' gifts that are being rolled out this year.
Article continues below advertisement
A 'Hocus Pocus' White Claw Tumbler.
This Etsy tumbler will certainly put a spell on you. Inspired by the iconic hard seltzer White Claw cans, the Hocus Pocus-themed tumbler features the witchy Sanderson Sisters on the front and their favorite drink of choice: "children." 
And, the ingredients on the back of the "can" are: dead man's toe, thine tongue, oil of boil, pox, and green newt saliva. 
So, whether you put your cold brew morning coffee in here or a yummy cocktail, this Hocus Pocus tumbler is perfect for fans to use this October.
Article continues below advertisement
The 'Hocus Pocus' Makeup Collection from ColourPop:
Whether you're dressing up as one of the Sanderson sisters for Halloween or simply embracing your witchier side, ColourPop has your makeup needs covered. The collection launched on Thursday, Oct. 1 at 10 a.m. PST (pumpkin spice time?!).
The collection includes an eyeshadow palette with 15 autumnal shades like warm bronze, bright berry, and fresh pear green. It looks like there's a mix of matte and shimmery eyeshadows, which are perfect for mixing and matching to create the perfect look. There are also creme gel liners, false lashes, glitter gel, and lipsticks.
Article continues below advertisement
'Hocus Pocus' Wine from Eliqs:
When you were a child, you liked childish things like movies about 300-year-old witches who are resurrected when a virgin lights a candle. Now that you're a grown-up, you still like witch movies, but you get the added pleasure of being able to enjoy some wine while you watch them. It's really a win-win situation. Luckily for you, there's now Hocus Pocus-themed wine!
Article continues below advertisement
Eliqs Beverages & Design Shop has partnered with Besa mi Vino to create two varieties of Hocus Pocus wine. The white wine pack features navy blue cans with the Sanderson sisters' silhouetted against the moon. The wine itself is described as being a smooth blend between dry and sweet on the palate.
There's also a rosé pack that comes in blood-red cans that feature images of the Sanderson sisters and the phrase, "I suggest we form a drinking circle." The wine has hints of cherries, dried roses, and lychee. We'll toast to that!
Article continues below advertisement
'Hocus Pocus' Milkshake from Carvel:
OK, so you can't exactly wrap up a milkshake to give to your friend, but you could leave it outside their door… or just pick one up for yourself. It's available from your local Carvel and it looks pretty darn delicious.
Article continues below advertisement
The milkshake is made with vanilla soft serve mixed with Oreo cookie pieces and a spooky green swirl, then topped with whipped cream and Halloween sprinkles. It's also served in a limited edition Hocus Pocus cup. Are we going to get this Hocus Pocus milkshake and then use the cup to drink our Hocus Pocus wine? Maybe!
Clearly, it's a good time to be a Hocus Pocus fan. We can't wait to see what else is brewed up in time for Halloween!