Home Depot Worker Applauded After Quitting Job During Pricing Dispute With Customer
A Home Depot worker's rage quitting response to a customer gripe is receiving applause from folks on social media.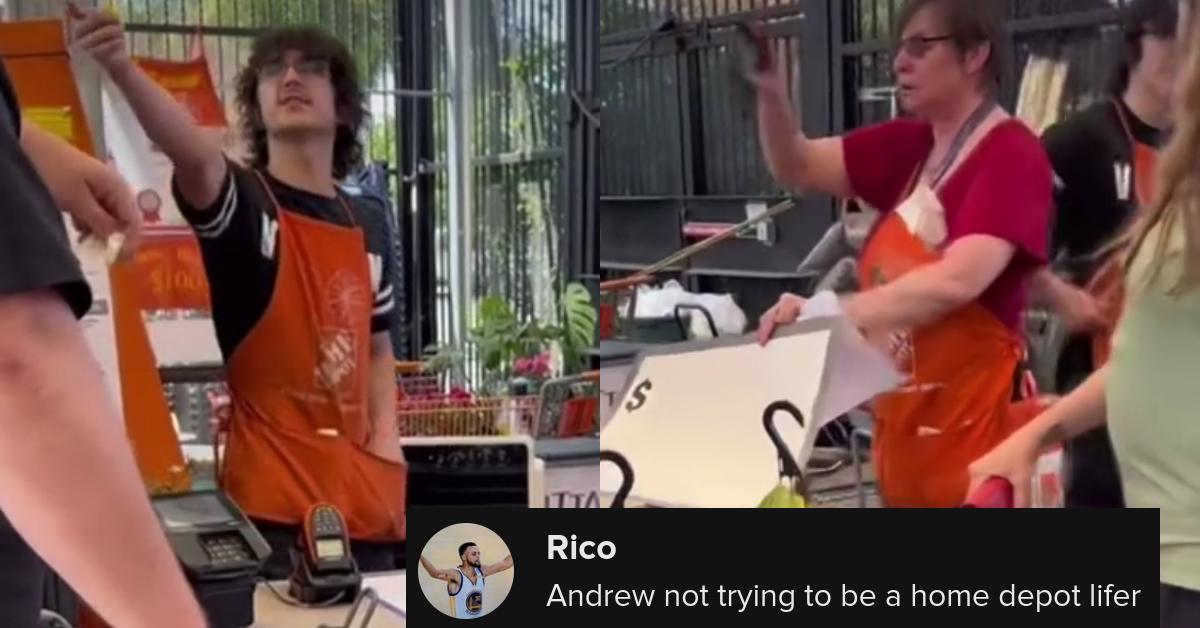 It was 1909 when retail magnate Harry Gordon Selfridge coined the term "the customer is always right," a credo that was rooted in an assurance London shoppers in his department store. Other businesses would go on to adopt this terminology as the basis of their own attitudes toward customer service.
Article continues below advertisement
This ideology has somehow morphed into some people believing they can hatch themselves into lumbering shopperzillas who spazz out at the first minimum wage employee who dares defy them.
There are countless examples of customer freakouts that have been documented and posted to social media, like this one Burger King customer who couldn't wrap their head around the fact they weren't receiving a discount in the drive-thru, or this other person who drew a line in the sand when it came to paying taxes on chips.
Article continues below advertisement
If one scrolls through the comments section of these posts, inevitably, they will find comments from some retail workers who say what they would've done in the situation, and other remarks from folks who are horrified at the behavior of these customers, with others saying they would either chew the shopper out and/or quit on the spot.
And a viral TikTok uploaded by @sheisty_345 shows a Home Depot employee doing just that in a conversation with a customer who seems to have a gripe with the fact that the price they were being charged for an item at check-out wasn't the same price they saw in the store's aisle.
Article continues below advertisement
Judging from the conversation between the Home Depot employee, Andrew, and the customers, it would appear that Andrew had asked the customer to return to the aisle to snap a photo of the price and bring it back to check-out so he could honor the price discrepancy.
Article continues below advertisement
However, this must've not been a tenable solution for the Home Depot customer, as Andrew becomes frustrated by their response and begins cursing out the customers before tossing a sign in their direction and quitting his job on the spot.
A text overlay in the video reads: "Andrew wasn't having none of that At Home Depot."
At the start of the clip, a woman can be heard saying off-camera, "All of this is over $5," as Andrew briefly paces behind the counter.
Article continues below advertisement

"She asked you to check the price you said-" the man says to Andrew, who replies, "I just said can you get a picture and you made a big deal out of that," he tells the shopper.
Article continues below advertisement
Andrew then says, "I told you to get a f----- picture for me and you made a big deal out of it," Andrew says again before leaning against the register.
"Listen to you dude. You work here," the customer tells the employee.
"I don't give a f--- if I work here bro," the young man says before slapping the sign off the counter, "f--- outta my face dude. Get the f--- outta here."
Article continues below advertisement

A woman standing by the counter who appears to be another Home Depot employee urges Andrew to go to the manager's office.
"I f---- quit," Andrew says as he walks away from the counter, as he appears to untie his apron as he walks off camera.
Article continues below advertisement
Commenters who saw the clip seemingly commended him for his actions, with one user writing: "Andrew did what all us workers want to do on the daily big props
Someone else wrote: "that's the customer service most people deserve lol"
Another concurred: "Andrew did and said everything I wish I could to a rude customer without fear of losing my job."
Article continues below advertisement

But there were some who thought that he could've been a bit more explicitly expressive of his feelings in those moments: "Andrew definitely shoulda cussed a little more"
What do you think? Was Andrew out of line? Should he have flown off the handle that much? Or would you have wanted to see more of what happened prior to him blowing up to get a complete picture of what really went down?