Who Is the "Home Depot Girl"? TikToker Talks About Those DMs Shaq Sent Her (EXCLUSIVE)
Ariana Josephine (@ariijosephine), aka Home Depot Girl, has garnered attention on the internet for her good looks and her job at Home Depot.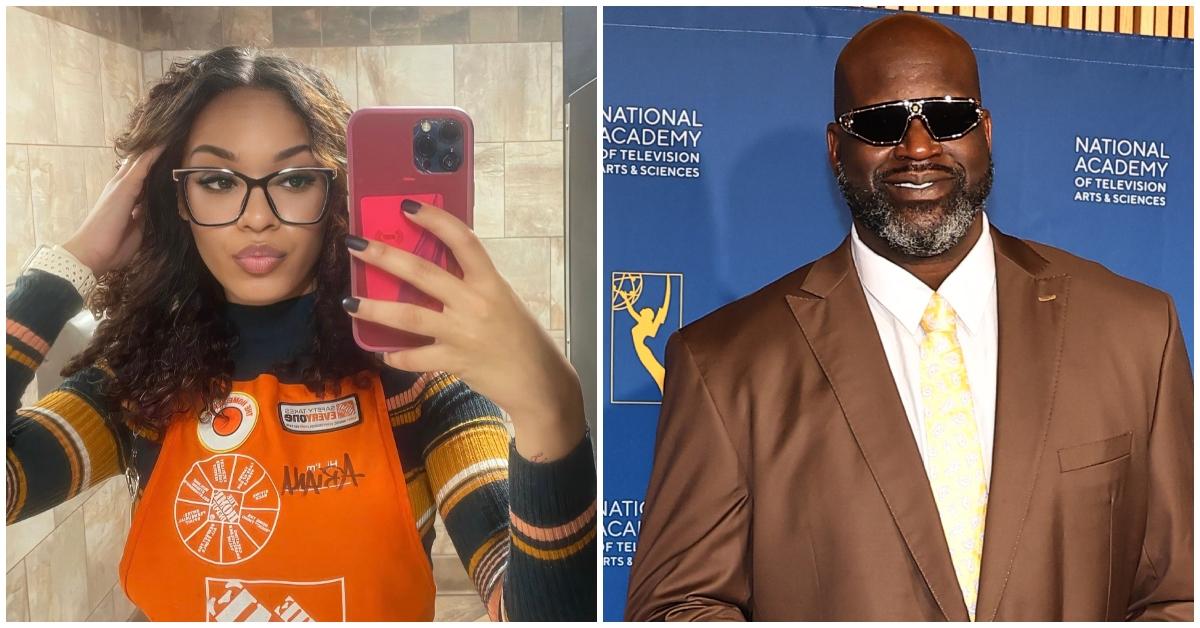 These days, it's hard to tell which content will spread like wildfire across the internet. Oftentimes it's unexpected and completely random, like this video of a woman trying kombucha for the first time or this one of a drive-thru employee complaining about a customer who paid in all change.
That said, a woman recently went viral for working at Home Depot. Well, not exactly for working at Home Depot per se, but more so for her good looks and the fact that she is spending her prime years directing folks to the power drill section.
Article continues below advertisement
A Home Depot employee named Ariana Josephine is the internet's latest obsession. Meet "Home Depot Girl."
Ariana Josephine (@ariijosephine) doesn't look like your typical Home Depot employee — which is probably the reason why she went viral so quickly.
In June 2023, Ariana shared a photo on Twitter of her taking a bathroom mirror selfie at work. Donning the trademark orange Home Depot apron, she teasingly wrote: "The one job I work at that I get reminded I'm too pretty to work at."
Article continues below advertisement
Little did she know that this simple work selfie was going to take over the internet
"I was shocked because it was a joke and [it] actually blew up," she told Distractify.
Article continues below advertisement
Ariana, who is based in Texas, said that she began working at the home improvement retailer three months ago for the benefits, which include a 401(k). And while she has always been a content creator, her new title as "Home Depot Girl" — which has been given to her by the internet — has come with a significant increase in messages and attention from those online.
Ariana Josephine (aka Home Depot Girl) and Shaq have been DMing each other — but no, it's like that.
Ariana's work snap garnered so much attention that she even got on Shaquille O'Neal's radar. The basketball legend messaged her with some practical advice about protecting her mental health during a time when it seemed everyone and their mother had something to say about her.
Article continues below advertisement
"Don't let them people bother you," he wrote to Ariana. She later shared their convo on her Instagram story and added: "When Shaq texts you know you doing something right okay."
Fortunately, Shaq wrote her at just the right time. "I thought it was cool to see someone inspirational give me kind words because I actually wasn't taking all the attention too well at that moment," she told us regarding his messages.
Article continues below advertisement
In terms of all the other messages that Ariana has been receiving, she said she's been ignoring them for the most part.
"The good is appreciated. But everyone negative just acts like they know me and my life. Or because I went viral they feel entitled to bash me or talk about me over things they made up or feel makes sense to them," she said.
Well, we're glad to hear Ariana is taking Shaq's advice and blocking out all the critical messages she's been receiving.
You keep doing you, Ariana. After all, we're pretty sure that the folks sounding off in your comment section aren't getting DMs from the Shaq.