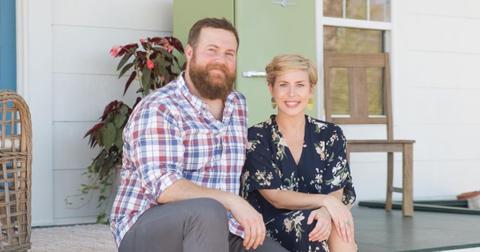 Do 'Home Town' Hosts Ben and Erin Napier Have Any Plans to Expand Their Family?
By Abi Travis

Feb. 12 2021, Updated 1:30 p.m. ET
The shows on HGTV feature so many charming hosts, and Home Town hosts Ben and Erin Napier are some of the most charming among them. Working with local craftspeople and trade workers, Ben and Erin are dedicated to restoring the historical homes of Laurel, Miss. — their real-life home town.
Every once in a while, we also get to see a glimpse of the third member of the Napier family: their daughter Helen! Now, people are wondering whether Home Town's Erin Napier is pregnant with baby No. 2. Here's what we know.
Article continues below advertisement
Is 'Home Town's Erin Napier pregnant?
Erin and Ben recently spoke to People regarding their experience having Helen (who is now 2 years old).
"I always wanted to have kids and it was also my biggest fear my whole life; I was terrified at the whole thought of pregnancy and childbirth just terrified me," Erin said. "But I wanted a family desperately. So that was a hard place to be. It was really difficult."
Article continues below advertisement
"And then when it happened, it felt like this huge release. Like, 'Well I don't have to worry about that anymore — that decision has been made for me. So she's on her way.' And then it was just joy. It was just absolute joy and it was a wonderful experience and I just don't know what our life would look like without [Helen] in it."
As for whether Ben and Erin plan to expand their family, they don't appear to be in any kind of rush. "It was a surprise the first time, [so] I figure it'll be a surprise the next time too," Erin said. The couple has also expressed that they'd be open to adopting a child. "We knew that if children weren't in the plan biologically, we would adopt. If we couldn't adopt for some reason, having each other would be enough," Erin said.
Article continues below advertisement
For now, it seems like Erin and Ben are focused on enjoying life with little Helen, and we couldn't be happier for them! Raising a 2-year-old isn't the only huge project in their life at the moment, though!
Article continues below advertisement
Will there be a Season 5 of 'Home Town'?
Erin recently took to Instagram to announce some very exciting news: Season 5 of Home Town is officially happening!
"It's been a hard secret to keep that we'll begin shooting SEASON 5 in a few weeks, as the pandemic dust continues to hopefully settle," she wrote. "We can't wait to meet 16 more families and bring 16 homes back to life. Thank y'all for following the journey with us."
The new season is slated to premiere on HGTV sometime in early 2021. In addition to the new season of their show, Erin and Ben are also taking part in a separate six-episode special event series called Home Town Takeover. In it, they'll be taking over and renovating an entire small town (not just a single house in it). HGTV has said there have been some production delays due to the COVID-19 pandemic, but the series is still slated to air in 2021. We can't wait!