Unhoused Woman Asks if It's a Requirement That She Work From Home Because She Can't
Normally being able to work from home is an excellent setup. However for one homeless woman, it's obviously impossible to do that. Here's what happened.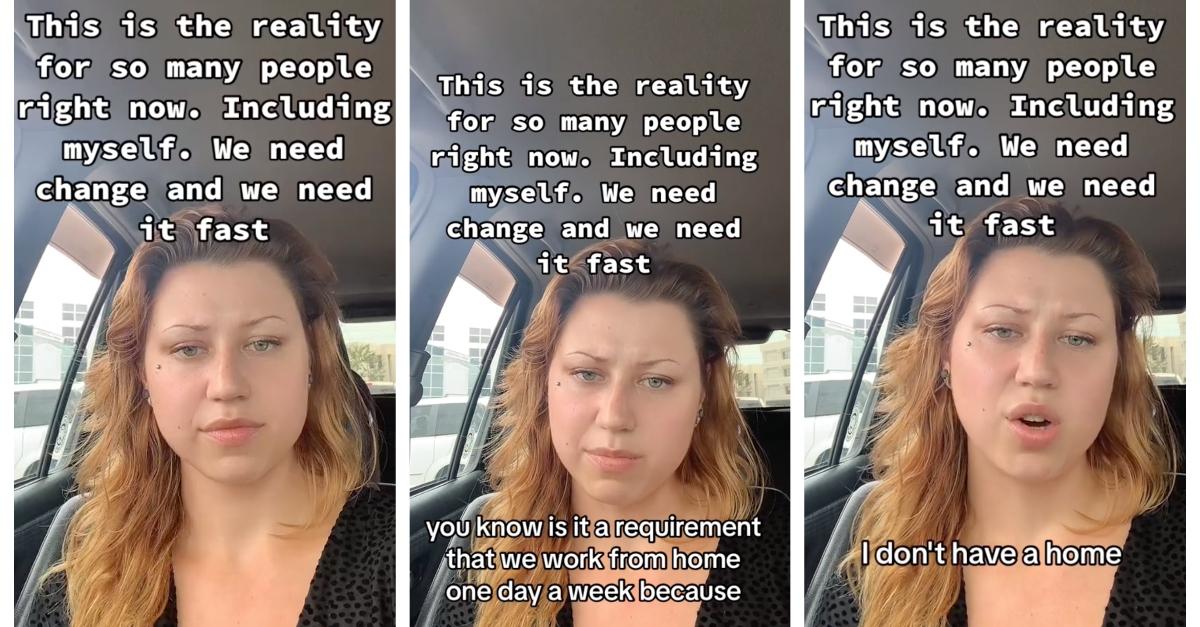 We've all seen the phrase "Home is where the heart is," framed on someone's wall, stitched on a throw pillow, or possibly written on a magnet affixed to the refrigerators of grandmothers the world over. And while its meaning is fairly obvious — love, not a house, is what makes a home — that's a bit easier said than done. By this I mean that's a simple sentiment to hold onto when one doesn't actually have to worry about where they are living.
Article continues below advertisement
For Allexandra, who goes by @cherrycherry.strawberry on TikTok, thinking about getting a roof over her head is a primary focus. Her heart is in the right place, which is finding a place for her heart. When asked by her employer about working from home one day a week, she had to explain why that's not possible. As always with situations like this, there is more to Allexandra's story.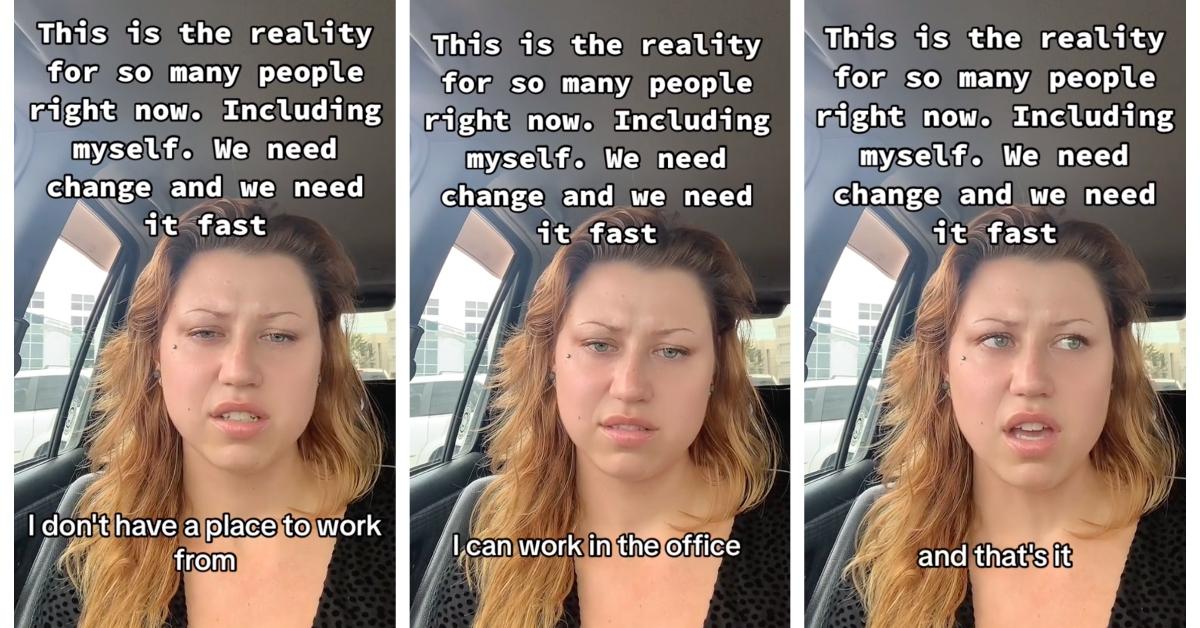 Article continues below advertisement
Allexandra cannot work from home because she doesn't have a home.
In a heartbreaking TikTok, Allexandra details the moment she had to say no to working from home. Allexandra's boss approached her about getting set up in order to work from home once a week, which might normally be great news for some people. Typically this involves making sure your home computer or laptop has whatever work programs needed to do your job.
Evidently Allexandra became eligible to do this after being employed at her company for six months. It sounds like a perk of the job. Sadly, Allexandra had to reveal more than she might normally. "Do we have to?" she asked her boss. "Is it a requirement that we work from home one day a week? Because I don't have a home."
Article continues below advertisement
Imagine, for a moment, the courage it must have taken Allexandra to share this information. There is a lot of shame surrounding her status, and I assume fear, as well. I would be terrified, however irrational this might be, that I might be fired because of my situation.
Article continues below advertisement
Allexandra goes on to acknowledge this issue goes far beyond her. It's systemic. After being employed for six months at full-time salaried job, with benefits, she still cannot afford a place to live. "I still have nothing," she says.
In a followup TikTok, Allexandra clarified that she's "not on the streets." For lack of a better phrase, she couch surfs with the help of friends. However, this is clearly not a permanent solution. "I'm trying," she explains. "I'm working my a-- off."
Article continues below advertisement
She lost her home in January 2023 and has been "trying to figure it out," ever since. Despite doubling down on how much effort she is putting into bettering her life against a system that makes if nearly impossible to do so, there were still awful people in the comments. Speaking of places to live, the comments section of any TikTok is where the worst people tend to congregate.
Article continues below advertisement
She didn't have to do this, but Allexandra dropped another TikTok in response to a garbage person without empathy who questioned why she can't save up money after working for six months. "I have nothing left after each paycheck," she says through tears. Her paycheck goes to things like food for her two children, who of course are not living with her, medical bills as she is a cancer survivor, and gas. "I spend $700 a month on daycare so that I can go to this job," says Allexandra.
Article continues below advertisement
Allexandra set up a GoFundMe to go back to school.
According to a GoFundMe page set up by Allexandra, she is trying to raise $20,000 to attend cosmetology school. After thousands of people commented about acquiring more skills, she decided this was the one for her. Apparently Allexandra is nicer than I am, because I would tell those people to shove it. One should be able to have all they need working full-time. It's not a lack of skills that has landed her in this position.
As of the time of this writing, Allexandra has raised $240. Hopefully she gets to her goal. "I want a life for me and my children, one that includes a place to live," she wrote. "I know I can do it."