Hooters Employees Must Buy $5 Tights From a Tampon-Like Machine to Complete Their Uniform
In a viral TikTok, a Hooters employee shows the vending machine that employees must visit every time they need a new pair of tights.
Believe it or not, TikTok has taught us a lot about what goes on behind the scenes in the food-service industry. From deceitful customer practices like tip-baiting to unsanitary rat-infested kitchens, the restaurant industry feels like it's home to many thankless jobs — especially when employers don't provide for workers as they should.
Article continues below advertisement
A Hooters employee recently took to TikTok to discuss where she and her coworkers get their tights for work. If you thought Hooters employees just received their pantyhose with the rest of their uniform, you'd be mistaken.
Keep scrolling to learn how Hooters waitresses get and replace their tights.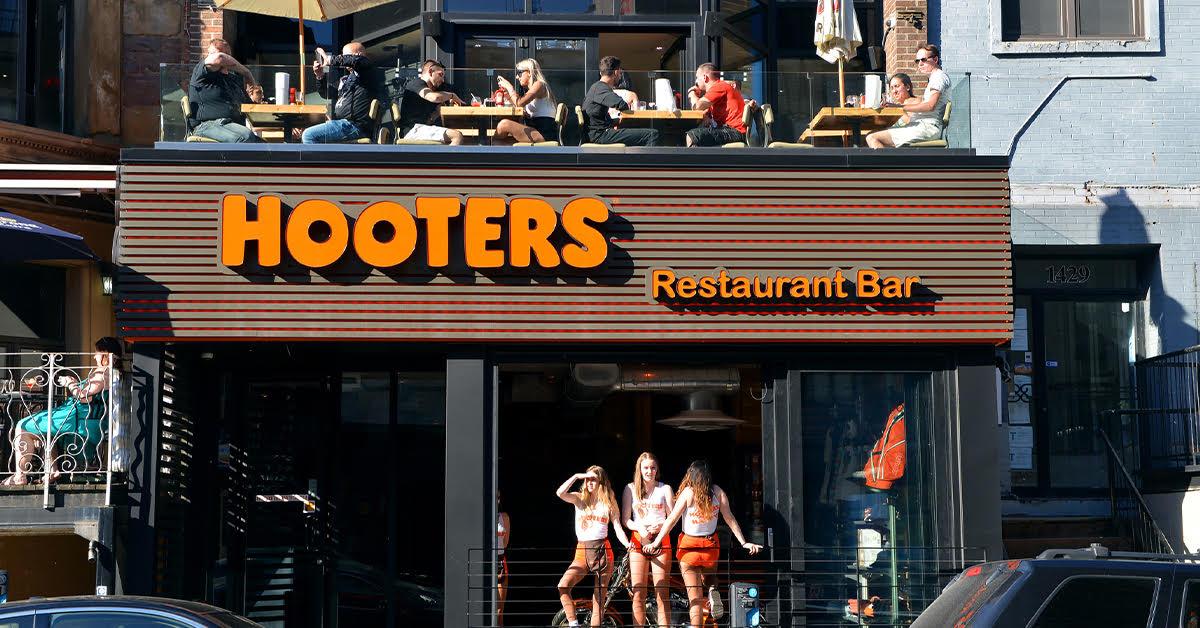 Article continues below advertisement
Hooters waitresses get their tights from a $5 vending machine located inside the customers restroom.
TikTok creator and Hooters employee @kenzjee took to the platform to share how she and her coworkers replace their tights.
"So people always ask me about our tights machine and I have to buy tights today, so I guess I'll just make a video about it," she said as she spoke into the camera. Her coworker, who was in the bathroom with her, then gestured toward the tights machine, which looked strikingly similar to a tampon machine, except with a slot for dollar bills.
As the video continued, @kenzjee put some cash into the slot and explained that each pair of tights costs $5. She then hit a button that was labeled "Suntan B" in small letters, and a pair of tights came out immediately.
There were also "Suntan C" and "Suntan D" options, which denote different skin tones.
Article continues below advertisement
Naturally, the comments were brimming with questions. "Is that in the normal bathroom?" one user asked. @kenzjee replied with an older video in which she explained that the tights machine is indeed located in the regular customer bathroom, which the employees also use. The machines are supposed to be just for the waitresses; however, she noted that customers do buy the tights on occasion, even though they're not supposed to.
Article continues below advertisement
Referencing the tights, another user wondered: "Is that tax-deductible as a work-related expense?"
@kenzjee replied that it is. She also explained that Hooters gets the tights from a third-party company, and can't provide employees with free tights because tights are considered "undergarments." Other users believed there was a way around that and said Hooters was just being "greedy." However, one TikToker compared the tights to the scrubs that medical workers must purchase.
Article continues below advertisement
Hooters has previously faced criticism from employees about their uniforms on TikTok.
While @kenzjee wasn't complaining about Hooters or the price of the tights in her TikTok (it was onlookers on the platform who expressed shock about the price and the machine), Hooters waitresses have used the video-sharing app in the past to voice workplace concerns.
In October 2021, many were upset after the company issued new shorts that were noticeably much shorter than the previous uniform. TikTok creator @sick.abt.it shared her thoughts in the viral video below and users quickly took her side in the comments.
"Love my job but don't love wearing undies to work," she wrote alongside the video. Within a few days, the CEO of Hooters contacted the TikToker to inform her that she could wear her old uniform (read: longer, comfier shorts) to work again.
This goes to show that the comments users write on TikTok have power — even when users least expect it. Perhaps if enough people sound off in the comments on @kenzjee's post, Hooters might amend its tights policy.