What's Fact and What's Fiction in Hulu's New Series 'Pam & Tommy'? (SPOILERS)
While the Hulu series 'Pam & Tommy' follows the events of the couple's real lives, it also fleshes out some storylines. So, how accurate is the show?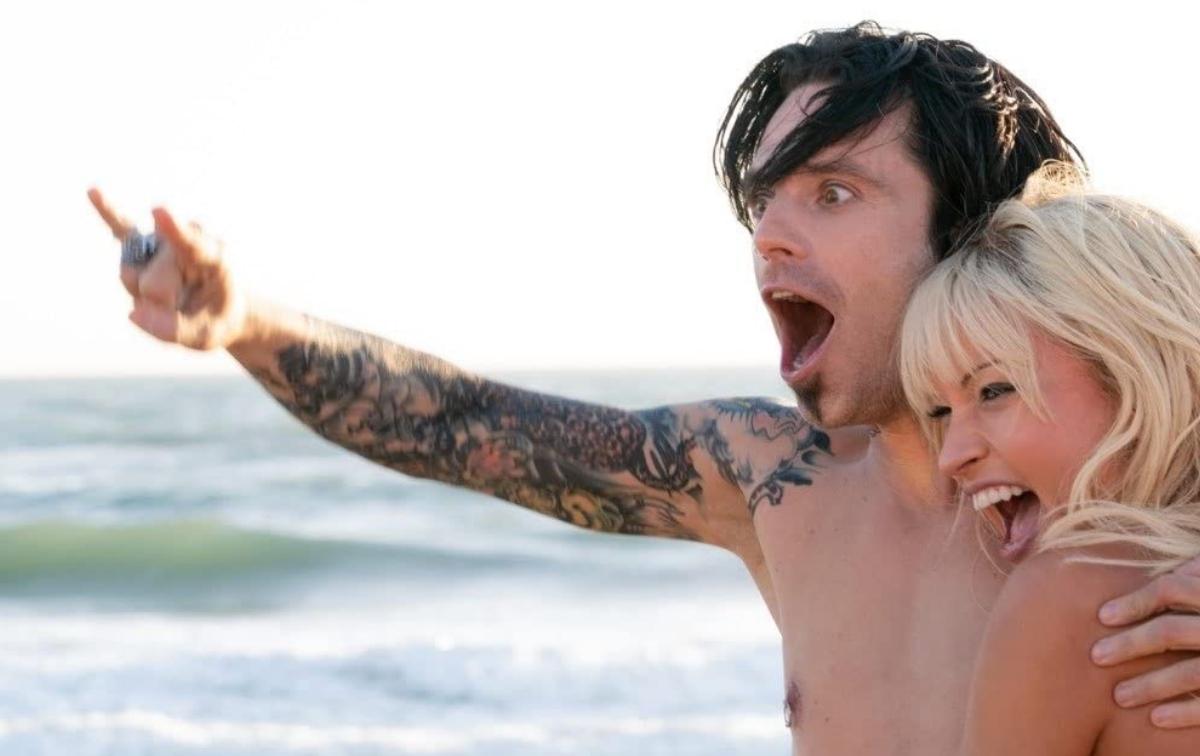 Spoiler alert: This article contains spoilers for the Hulu miniseries Pam & Tommy.
Before Paris Hilton and Kim Kardashian had their sex tapes leaked, an even more infamous sex tape was stolen. The iconic Baywatch bombshell Pamela Anderson and Mötley Crüe drummer Tommy Lee found their most intimate moments splashed across the world wide web in the dial-up days of 1997.
Article continues below advertisement
Their sex tape rocked the word, and now, it's doing some rocking all over again, thanks to the release of Hulu's miniseries Pam & Tommy, where actors Lily James and Sebastian Stan fully transform into the turbulent couple. The series tracks their whirlwind love affair and marriage, the basis of their sex tape leak, and how it affected the two celebs in crazily different ways.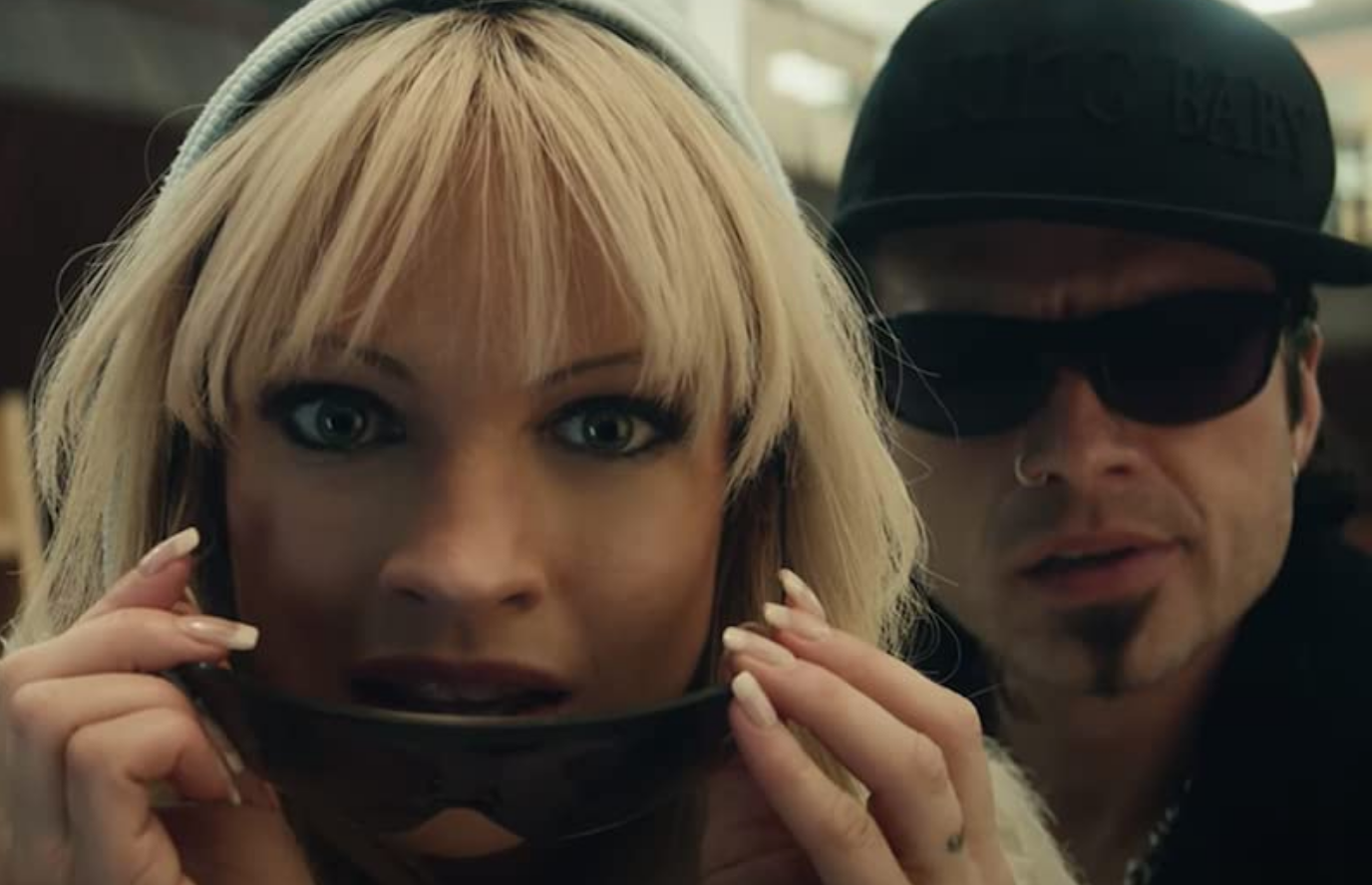 The show's basic ideas, facts, and dramatic retellings closely follow Pam and Tommy's story as it was reported, but the series adds its own layer of embellishments for creative effect. Since neither Pamela Anderson nor Tommy Lee was involved in the production of the series, exactly how accurate is Pam & Tommy?
Did Tommy Lee really lick Pamela Anderson's face when they first met?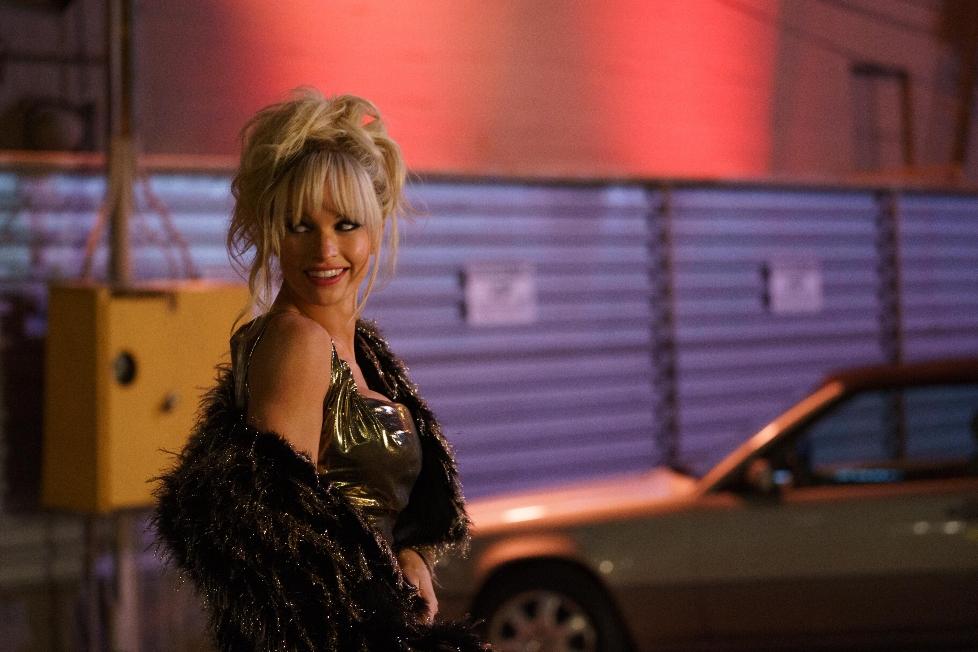 While Pam is out celebrating her birthday in Episode 2, the model and actress declares she's done dating bad boys and orders shots for the entire club. Tommy, who is there with his date, finds out that the complimentary shots are courtesy of Pamela, and looks over, totally mesmerized. He ends up abandoning his date, goes over to Pam's table, sits down, and, high on ecstasy, licks her face.
This actually happened. Tommy did lick Pamela's face the first time the two laid eyes on each other. Tommy recalled, per Rolling Stone:
I went out with some of my best bros to a [Los Angeles] club called Sanctuary. We all sat in a booth popping E, drinking champagne, and being f---ing maniacs ... Suddenly, a waitress came over and said, "Tommy, here's a shot of Goldschläger. It's for you, from Pamela Anderson." I pushed my way into [her] booth, slid over her girlfriends' laps, and forced myself a space right next to her. Then I grabbed her face and just licked the side of it, from chin to temple.
However, the pair didn't actually meet on Pam's birthday; in reality, they met on New Years' Eve 1994.
Article continues below advertisement
Was Tommy an actual homeowner diva?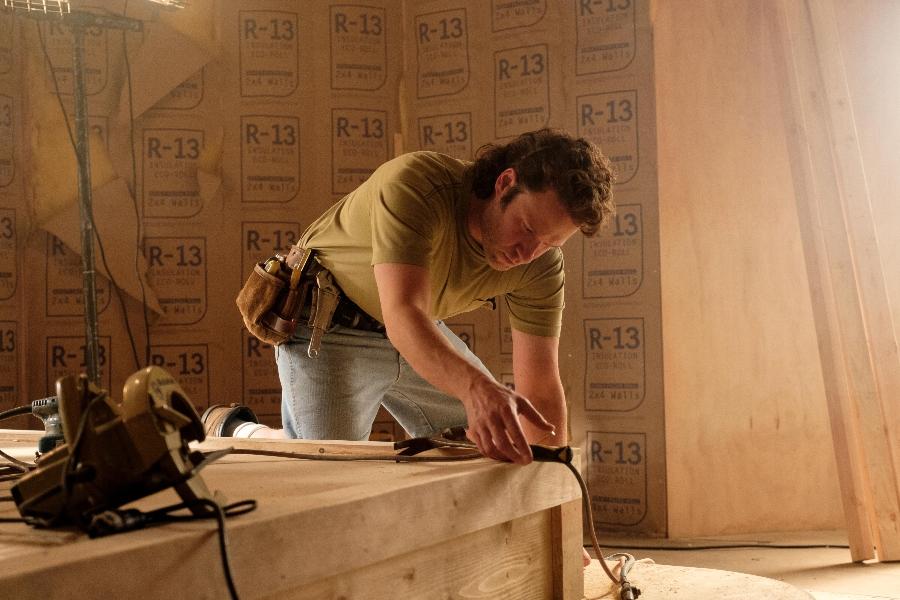 In Episode 1 of the miniseries, Rand Gauthier (Seth Rogan) is seen remodeling a bedroom to Tommy's specifications. As the carpenter is finishing a complicated and burdensome built-in bed, the rockstar decides he wants it moved across the room to accommodate his sex swing. The contractor tells him that the changes will cost more money, and Tommy appears to agree. However, after doing the extra work, Rand asks Tommy for the money, and Tommy accuses him of doing shotty work and upcharging him for materials; he ends up firing Rand and not paying anything. When Rand shows back up at Tommy's home to pick up his tools, Tommy chases him off at gunpoint.
This scene is based on real events. However, Rand was an electrician, not a carpenter. According to the 2014 Rolling Stone article that the Pam & Tommy script is based on, Tommy did hastily fire the contractor and his workmen, and yes, just like in the Hulu series, he also put a gun to Rand's head. The drummer refused to pay for the work that had been completed at his house, claiming that it wasn't up to snuff.
Tommy was famously a horrible client, and some of his outlandish requests included a 20-foot mural of heaven and hell in his elevator shaft, a 20-foot swing in the living room above a baby grand piano, and a koi pond.
Article continues below advertisement
Did Pam and Tommy get married after knowing each other for only a few days?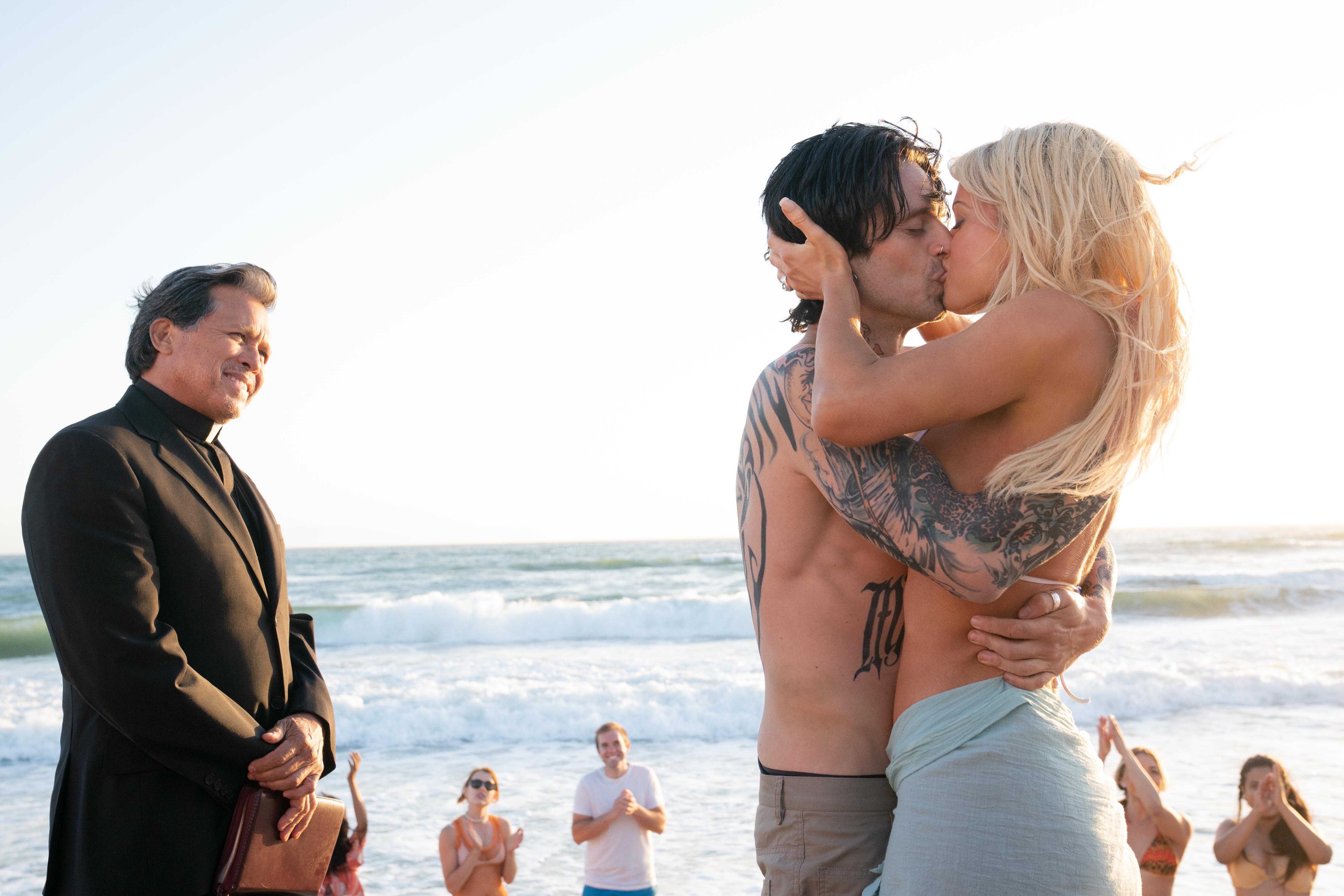 In Episode 2, after meeting Pam in the L.A. nightclub, Tommy calls Pam all the time, but she turns down hanging out with him because of her busy schedule. After mentioning to Tommy that Baywatch is sending her to Cancún for a long weekend to schmooze with the show's syndicators, Tommy ends up flying down too (even though she tells him not to come because she's working). However, he tracks her down and whisks her off to a nightclub, and during their wild and crazy ecstasy-fueled weekend, the pair get married on a beach in Mexico.
The way their wedding is portrayed in the series is primarily accurate, with a few exceptions. Tommy and Pam did get married on a beach in Cancún on Feb. 19, 1995. The actress wore a white bikini, which was also one of the items inside the stolen safe.
Unlike in the series, it had been several weeks before Tommy and Pam saw one another again after meeting in the nightclub. When she told him about having to fly to Mexico for a photo shoot, he did decide to go and surprise her. Tommy recalled to Rolling Stone, "I called every hotel on the strip, searching for her."
He found Pam at the Ritz-Carlton, and the two spent the weekend together. One night, according to People, Tommy proposed, simply saying, "I want to marry you!" His real-life proposal doesn't seem to have been anywhere nearly as dramatic or public as it's portrayed in the show.
Article continues below advertisement
Did Tommy and Pam consummate their relationship on their wedding night?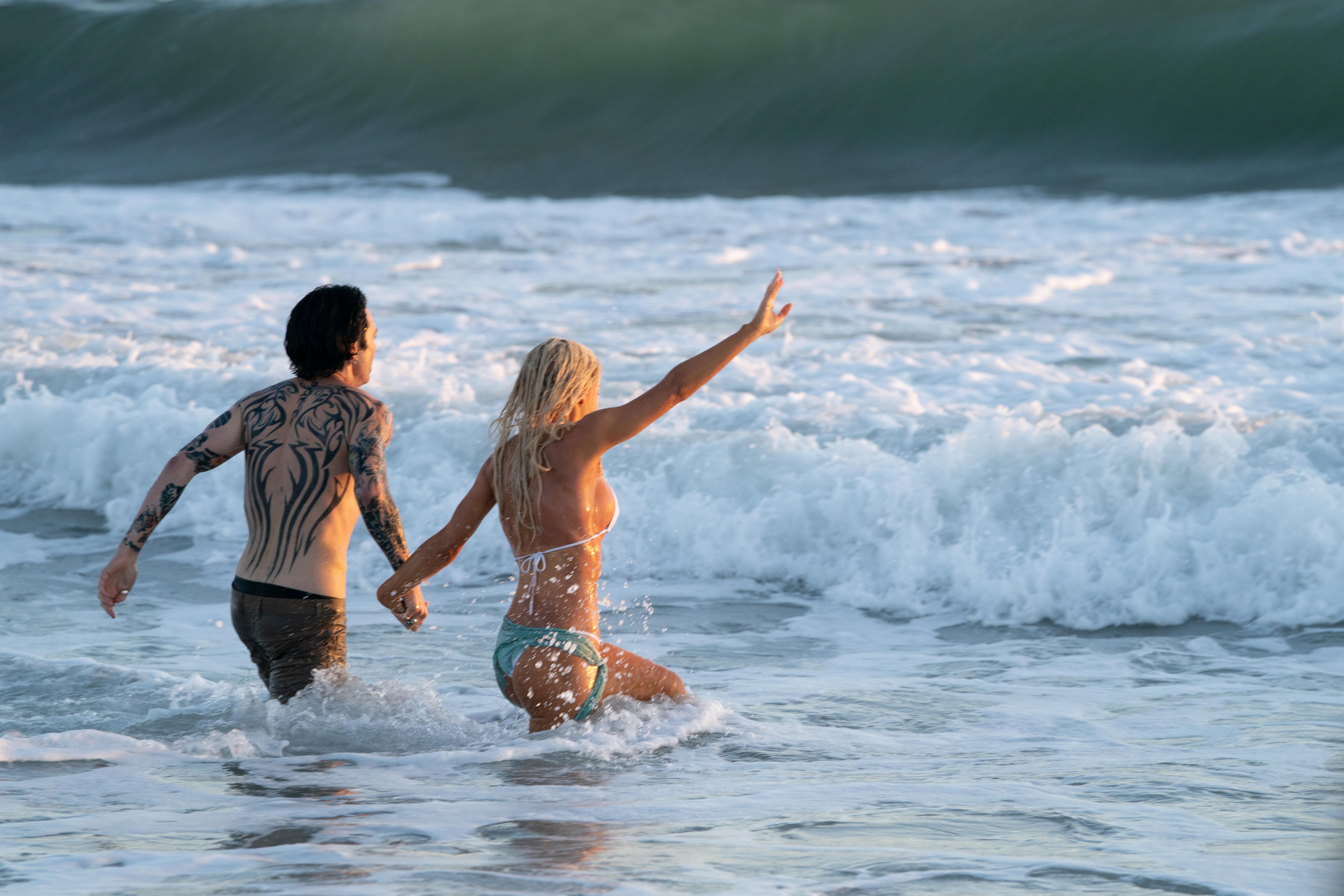 In Pam & Tommy, Tommy confides to one of his bandmates that even though he and Pam spent four days together in her hotel suite, he wants to wait until their wedding day to go all the way.
As one might guess, this isn't true! In a Rolling Stone interview, Tommy recalls that during their Mexico trip, the couple went "to clubs, to restaurants, to bars, to the beach, and all we did was stare at each other and kiss all night. Then we went home and made love." There's no doubt that Tommy was deeply in love with Pamela. "It felt like our hearts had been hot-glued together," he said.
Article continues below advertisement
Did Rand really disguise himself as a dog?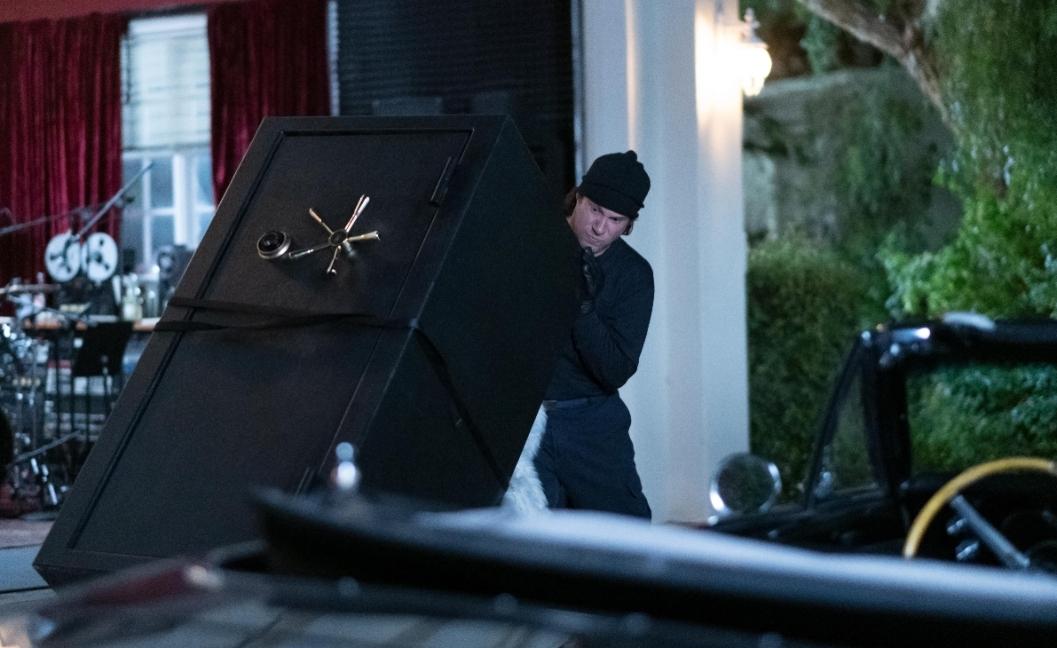 After Tommy Lee stops Rand from collecting his tools in Episode 1 with a gun to his head, Rand decides he's going to steal the safe from Tommy's garage. Rand goes to Pier 1 and purchases a white Tibetan yak fur as his disguise. When he jumps the fence at Tommy's mansion, he crawls in the grass with the fur thrown over him in an attempt to resemble the couple's dog. Once he gets to the surveillance camera, he pulls the wire, props the garage door open, and steals the safe.
Just like in Pam & Tommy, the real Rand had planned an elaborate heist to steal the couple's safe, but in real life, he staked out the mansion for several weeks. His dog disguise went precisely the way audiences see it on the show, and as bizarre as it sounds, that's how Rand was able to get into the garage and pull the safe out unnoticed. However, details on exactly how he pulled the heavy safe out are pretty fuzzy. The show tries as best as possible to fill in the gaps by making use of the U-haul mentioned in the Rolling Stone interview.
Article continues below advertisement
So far, it seems that the miniseries is pretty much sticking to the accounts of what happened to Tommy and Pam — with a few embellishments, of course.
The first three episodes of Pam & Tommy are available to stream on Hulu.