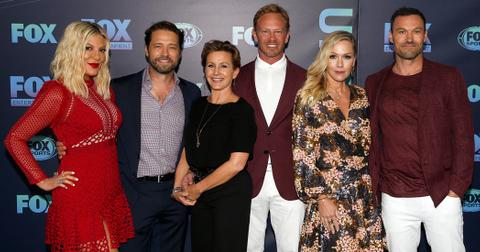 Here's How to Watch the Original 'Beverly Hills, 90210' Ahead of the Reboot Premiere
By Samantha Faragalli Younghans

Updated
Calling all Beverly Hills, 90210 fans! The hit 1990's drama series is set to return to the small screen with its highly anticipated reboot on August 7, so there's no better time than now to catch up on the original 10 seasons of the hit show! 
Scroll down to find out how to watch Beverly Hills, 90210 now!
How can I watch Beverly Hills, 902010?
Don't fret — there are a few ways to binge-watch 10 years' worth of 90210. If you're not sitting by your TV for the channel Pop's weekly reruns, you can watch all 296 episodes of the show online at a few different places so you're sharp for the premiere.
For starters, you can watch all 10 seasons on Hulu. In addition, the series is available on CBS All Access. Both platforms require a payment/subscription, but just a heads up that 90210 is worth every penny!
You can also start out by watching the first six seasons of the show on Amazon Prime, as the final four are not yet available on the platform. Lastly, you can purchase single episodes on YouTube for $1.99. 
How can I watch the Beverly Hills, 90210 reboot?
Let's be honest, it's inevitable that you may fall behind on the reboot if you're too busy catching up on the nearly 300 episodes from the original series that ran from 1990 until 2000 on Fox.
While you'll want to ideally catch it live on Fox to avoid any spoilers, you should be able to stream it on the Fox website the following day.
And since a plethora of Fox shows are available on Hulu, we imagine the 90210 reboot will eventually be as well — maybe even the day after.
When does the Beverly Hills, 90210 reboot air?
The Beverly Hills, 90210 reboot will air on Wednesday, August 7 at 9 p.m. EST on Fox.
Which cast members are returning for the Beverly Hills, 90210 reboot?
The 90210 reboot will star Tori Spelling (as Donna), Jennie Garth (as Kelly), Jason Priestley (as Brandon), Ian Ziering (as Steve), Brian Austin Green (as David), Gabrielle Carteris (as Andrea), and Shannen Doherty (as Brenda).
Will there be any newcomers to Beverly Hills, 90210?
Yes. Some of the revival's fresh faces include La La Anthony, Vanessa Lachey, Ivan Sergei, Karis Cameron, Jenna Rosenow, Alie Liebert, and more.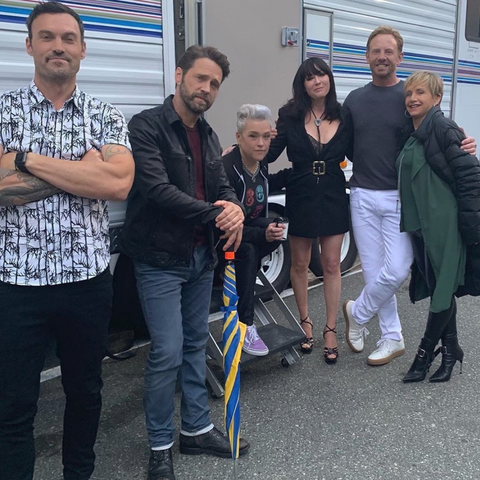 Will Luke Perry be in the Beverly Hills, 90210 reboot?
Sadly, no. The actor tragically died of a stroke on March 4, 2019, just one week after the reboot was announced. However, at the time of the announcement, he was not yet on board for the program. 
Since his tragic death, a few cast members have revealed that the reboot will pay tribute to him in some way. How sweet...
How did the Beverly Hills, 90210 reboot come about 19 years later? 
The Fox description of the reboot reads: "Having gone their separate ways since the series Beverly Hills, 90210 ended 19 years ago, the cast reunites at a 30th anniversary fan convention in Las Vegas, causing old flames, feuds, and feelings to reignite. At the end of the weekend, Tori suggests that they get a 90210 reboot off the ground." 
We cannot wait to hang with this A+ cast of characters again so, so soon! But until then, we'll be catching up on the original!