All but One of the Ninja Turtles Are Dead in 'The Last Ronin' Comic
The gritty 'TMNT' comic follows Michelangelo on a revenge mission for his fallen brothers, but how did the Ninja Turtles die? Find out what happened to them.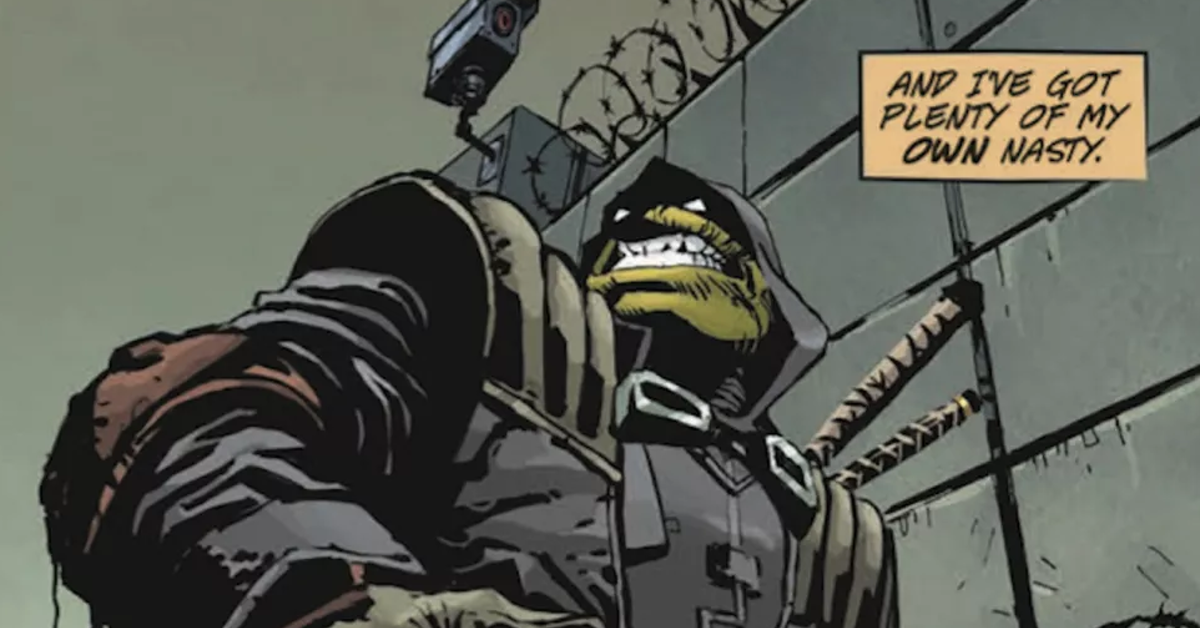 "Gritty old man" narratives aren't necessarily new, especially when it comes to comic books. One of the most popular examples of this has got to be the "Old Man Logan" storyline of Wolverine's from the Marvel universe. And it's a hard formula to argue with as there's something inherently awesome about seeing a superhero with diminished powers still fight to do what's right, even if they're technically less capable. The Last Ronin follows this same theme, but readers want to know: How did the Ninja Turtles die in it?
Article continues below advertisement
How did the Ninja Turtles die in the newest comic?
The Last Ronin: Book 1 was released on Oct. 28, 2020 and it had a lot of TMNT fans shook: namely because it was revealed early on in the story that three of the four fun-loving crime-fighting mutated martial artists ended up dying at the hands of a vicious crime-lord who now runs New York City.
That crime lord is Master Oroku Hiroto, the grandson of Shredder, the gang's longtime arch-nemesis.
In the comics, like the Mirage series, Shredder's been killed by the turtles several times. Donatello knocked him off of a roof and then blew him up with a grenade and Leonardo also decapitated him. He went through several mutations and revivals thanks to his minions and bio-worms, but the dude was put through the ringer thanks to the shell-rocking heroes.
Article continues below advertisement
So it would make sense that Oroku, who decided to follow in the footsteps of his granddad, would want to exact revenge on the aging ninjas. But how he's able to do so isn't made exactly clear as of yet in The Last Ronin series. Book 2 has been delayed yet again and Games Radar reported that the title will see a February 2021 release. It's unclear what the exact date is, but Book 3 was originally supposed to come out on Feb. 17.
Article continues below advertisement
So it could be that the original release date schedule (below) has been pushed back:
TMNT: The Last Ronin Book 1: Oct. 28, 2020
TMNT: The Last Ronin Book 2 on-sale date: Dec. 16, 2020 (pushed back)
TMNT: The Last Ronin Book 3 on-sale date: Feb. 17, 2021 (most likely pushed back due to the fact that Book II has yet to debut.)
TMNT: The Last Ronin Book 4 on-sale date: April 14, 2021
TMNT: The Last Ronin Book 5 on-sale date: May 19, 2021
Article continues below advertisement
The specifics surrounding their deaths haven't been delineated yet, but it's more than likely that the quartet was ambushed by the Crime Lord and from the looks of things, Mikey's the only one who was able to make it out alive.
It's taken a few years but after healing up and putting together a plot for revenge, it looks like he's finally ready to take down Oroku Hiroto.
Where can I buy 'The Last Ronin'?
You could always go to your local comic book store or spot to pick it up, but Kindle and comiXology digital editions are available on Amazon if you wanted to get Book 1 right away. If you want a physical copy, you can head to https://www.comicshoplocator.com/ to find a spot that's near you.
Article continues below advertisement
TMNT creators Kevin Eastman and Peter Laird are heading the project, with Eastman laying out the script and Tom Waltz writing it. The artists associated with the series are Esau Escorza, Isaac Escorza, Ben Bishop, and Luis Antonio Delgado. Andy Kuhn was originally slated to provide the artwork for the comics, but Esau and Isaac took over those duties.
Article continues below advertisement
In addition to Book II, the first volume will receive a director's cut reissue which comes packed with a bunch of original materials for the comic. That includes initial pitch, early artwork and other development ideas and content.
Article continues below advertisement
BossLogic has shared some incredible artwork for the series.
Included in the above tweet, the artist inked an incredible piece of a despondent Mikey with all of his brothers' bandanas wrapped around his face. TMNT fans are loving the artwork, along with The Last Ronin's storyline — it seems to be resonating with a lot of longtime fans.
Have you read it? What do you think?
Article continues below advertisement