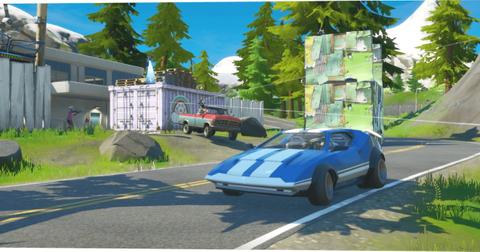 How Do You Drive a Car in 'Fortnite' in Chapter 2 Season 3?
By Devan McGuinness

Updated
Everyone is talking about the new season of Fortnite now that Chapter 2 Season 3 has begun. Many are wondering how do you drive a car in Fortnite and where do we find them? We know they're there, or they're coming, because Fortnite has teased some images of their new cars.
Those that have been fans of the game for a while have been asking and hoping for faster ways to get around the map for a while. While it seems odd that a map filled with water is the season we're getting cars, we have to trust that the teases we've seen over the past few weeks are real and cars are just around the corner.
Fortnite cars is the topic on everyone's lips with the start of Fortnite Chapter 2 Season 3. Question is, how do you find and drive cars in Fortnite and where can you find Fortnite car locations? We've got the details on what you need to know right here with a complete guide to the Fortnite cars.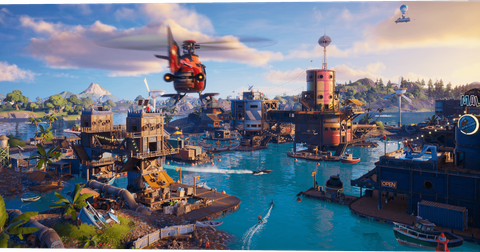 Where are the cars in 'Fortnite'?
There hasn't been a lot of information released on the specifics of what we can find in the new season of Fortnite, but Epic Games did give some clues on where to find the cars.
"As time goes on and water recedes, even more locations will be uncovered," Epic Games said. "And as the roadways become more open, you'll discover new ways to get around." This was written along with a still shot of a really fun blue race car looking vehicle.
Cars are finally coming to fortnite yesss

— Drew (@JustNotDrew) June 17, 2020
We can then assume that the water in Season 3 will disappear at some point, allowing drivers to see what was under all that and, hopefully, to find some cool looking cars along the roads to drive. With the addition of cars, players will be able to drive around with those, boats, helicopters, and of course, golf carts.
This Season Is mad Fun I can't wait till they add the cars 😀 #Fortnite
(not sarcasm)

— Sable (@SableFN_) June 17, 2020
So excited for cars to be added. One of my Fortnite dreams, as i've mentioned before.

— Jordan101x (@Jordan101X) June 17, 2020
The limited ability to get around the map in Fortnite faster has been one of the biggest complaints of the players. The addition of cars to be able to move around at a much faster pace is a source of excitement for players who were waiting for the release of Chapter 2 Season 3.
The water will be going down In a total of 8 stages, most likely on the final stage cars will be drivable. The map Is almost like ever-changing to make gameplay more interesting and not boring over the entire season, more POI's will also be uncovered!

— Jsepz • Fortnite Leaks & News • Giver/Seller (@jsepzFN) June 17, 2020
How do you drive a car in 'Fortnite'?
While Epic Games hasn't released how to drive Fortnite's cars yet, most likely it would be the same control functions as driving the golf carts which have been a feature since the first Chapter.
Golf carts were used a lot in the early seasons, and they were so popular with players that finding videos on where to find a spawned golf cart within the map were all over YouTube.
We're going to have to wait until Chapter 2 Season 3 of Fortnite has been out for a little bit to allow for some time for the water to disappear. Hopefully, it won't take too long for players to find a car in the map to be able to test the controls to see how they really work.