The Season 5 Finale of 'Queen of the South' Ended With a Gigantic Narrative Twist
Spoiler Alert: This article contains spoilers for the series finale of Queen of the South.
Its captivating action scenes, brilliant character development, and on-the-nose topic choice earned the Queen of the South comparisons to TV shows like Narcos.
Article continues below advertisement
The fast-paced crime drama first premiered on June 23, 2016, on USA Network, and it became an instant hit among those with a deep-seated interest in the murky dealings of drug kingpins and far beyond. So, how did Queen of the South end? Here's what went down in the Season 5 finale of the show.
Article continues below advertisement
So, how does 'Queen of the South' end?
The last ever episode of Queen of the South plunges viewers into the aftermath of Teresa's (Alice Braga) death. As loyal viewers will recall, Teresa was gunned down in Season 5, Episode 9, shortly after giving Russian mobster Kostya (Pasha D. Lychnikoff) a taste of his own medicine — or, in this case, a trickle of the same poison he used to murder Oksana (Vera Cherny).
The Season 5 finale charts the events taking place after James (Peter Gadiot) shoots Teresa at her Belize mansion at the request of Devon Finch (Jamie Hector). The first few scenes of the episode directly deal with the grievous outcomes of the atrocity, showing Samara (Eve Harlow) give a witness statement to the police and Pote (Hemky Madera) as he watches the cremation before heading out to spread Teresa's ashes.
Article continues below advertisement
Elsewhere, James goes out on a limb to produce sufficient documentation to prove to Devon that Teresa is dead. Boaz (Joseph T. Campos) sets up shop inside Teresa's New Orleans home. What's more, he starts to make "provisions" for James, Pote, and Kelly Anne (Molly Burnett).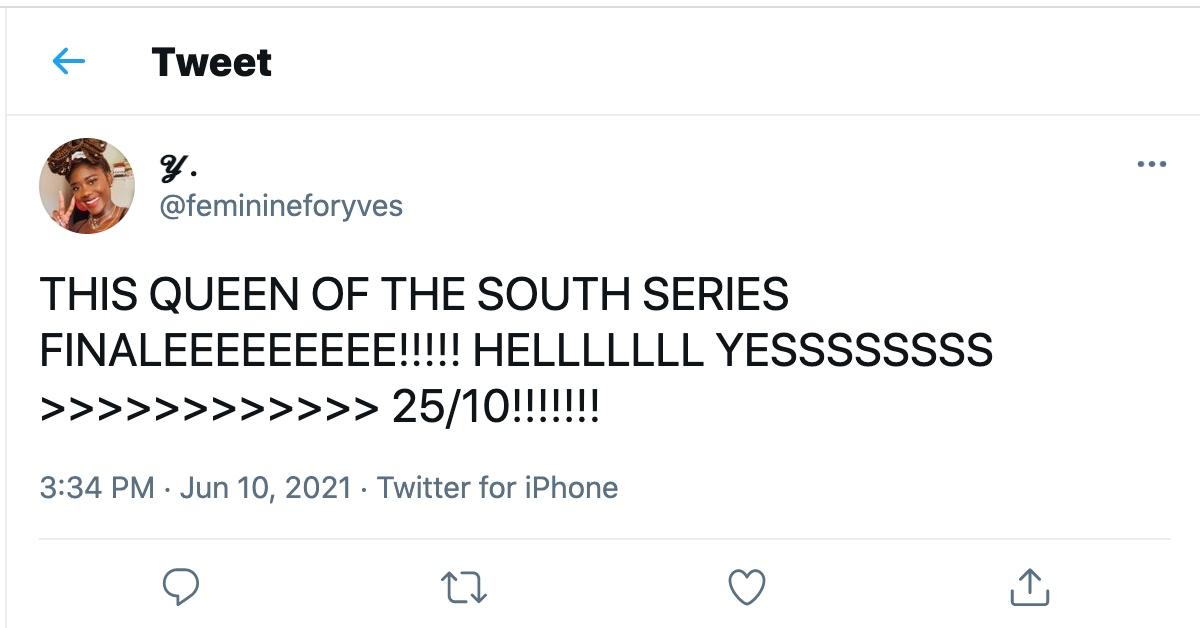 Article continues below advertisement
Devon's men set out on a hunt for James and Pote in Culiacán, Mexico, while Boaz's subordinates search for Kelly Anne. Too wary of getting spotted while out and about, Pote nicks a car — which soon turns out to be the cause of his downfall.
He ends up in jail after a poorly-timed encounter with the police. Needless to add, he doesn't make it in time for his meeting with Kelly Anne. Chicho (Alejandro Barrios) visits Pote in jail. As part of the brief skull session, Pote relays his latest news, telling Chicho that he could stay in prison for several years.
Article continues below advertisement
The second half of the 'Queen of the South' finale is a great deal less harsh on fans.
Queen of the South features a time jump, capturing where the main characters end up three years after the frenzy surrounding Teresa's shooting. After leaving jail, Pote makes it his mission to get revenge on the spineless Boaz.
The fast-escalating face-off features a bloody knife fight. Although the odds are stacked up against him, Pote ends up winning. As a "parting gift," he offers Chicho Siete Gotas. Dumas gets Teresa's waterfront property.
Pote finally reunites with Kelly Anne, his daughter, Lena (Mileiah Vega), and the old crew. It's here that we learn that Teresa is not only not dead — but that she has successfully pulled off another genius plan.
Pote tells her that Dumas and Chicho suspect nothing. Teresa delivers a monologue, explaining that she chose to "kill herself" to avoid death or prison.
"If either prison or death were my own options. What do you know? I chose life," she says.