The second wave of the summer update has finally hit Animal Crossing: New Horizons, and with it comes a slew of new and exciting features to the game. While the first summer update brought swimming back to the franchise, this second update brings some new features to the gameplay that haven't been seen before, and players are understandably ecstatic.
One of those exciting new features is the addition of firework shows. Since the update didn't drop until July 30, they're a little late to be considered Fourth-of-July-inspired, though they really bring summer to your island.
Here's what you need to know about fireworks in Animal Crossing: New Horizons, including when they start and how long they last.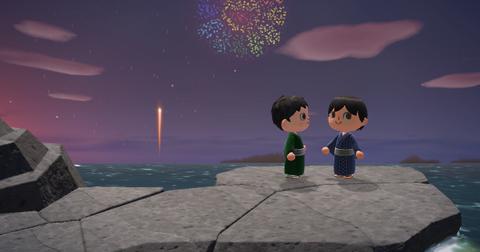 When do the fireworks start in 'Animal Crossing: New Horizons'?
As part of the second wave of the Animal Crossing: New Horizons summer update, players will be able to watch a firework show every Sunday starting at 7 p.m. The show starts at 7 p.m. on the dot, no matter your time zone.
These firework shows only last throughout the month of August, though, so they'll only be a feature on your island for a limited time.
How long do firework shows last in 'ACNH'?
If you don't log on right on at 7 p.m. to attend your island's firework show, don't worry, because you'll have plenty of time to view the fireworks being put on display. Each firework show lasts five hours, wrapping up just before midnight. This time frame gives you ample time to check in on your island's show and do some extra terraforming while you're at it.
How to add your own custom fireworks to the show.
Part of this new feature includes the option to have your own designs displayed in the sky as fireworks. To do this, you'll want to have some designs already created in your custom designs, which can be accessed using your Nook Phone.
Once you've created your designs, go speak to Isabelle. Instead of being in her usual spot behind the counter at Resident Services, she'll be standing outside of the building, organizing the event.
At any point during the day, you can go and talk to her about designs you would like displayed as fireworks. She will ask you which designs you would like displayed in the sky. You can give her up to 10 designs to review and display as part of the show; these designs will rotate throughout the show, so you'll have plenty of opportunities to see all of them light up the sky.
If you don't consider yourself a particularly crafty person, you can also download designs to use as fireworks from other players. To do this, go to the Able Sisters' shop, and check the kiosk located in the back of the store.
Using a design or creator code, you can download designs from this kiosk to your Nook Phone, which you can then take to Isabelle to display as part of the show.
The possibilities are really endless when it comes to design options, so get creative or ask your friends for help.