Donny Osmond and His Wife Have a Pretty Big, Pretty Religious Family Tree
Donny Osmond has received acclaim as a singer and TV personality, but how many grandchildren does the singing icon of the 1970s have?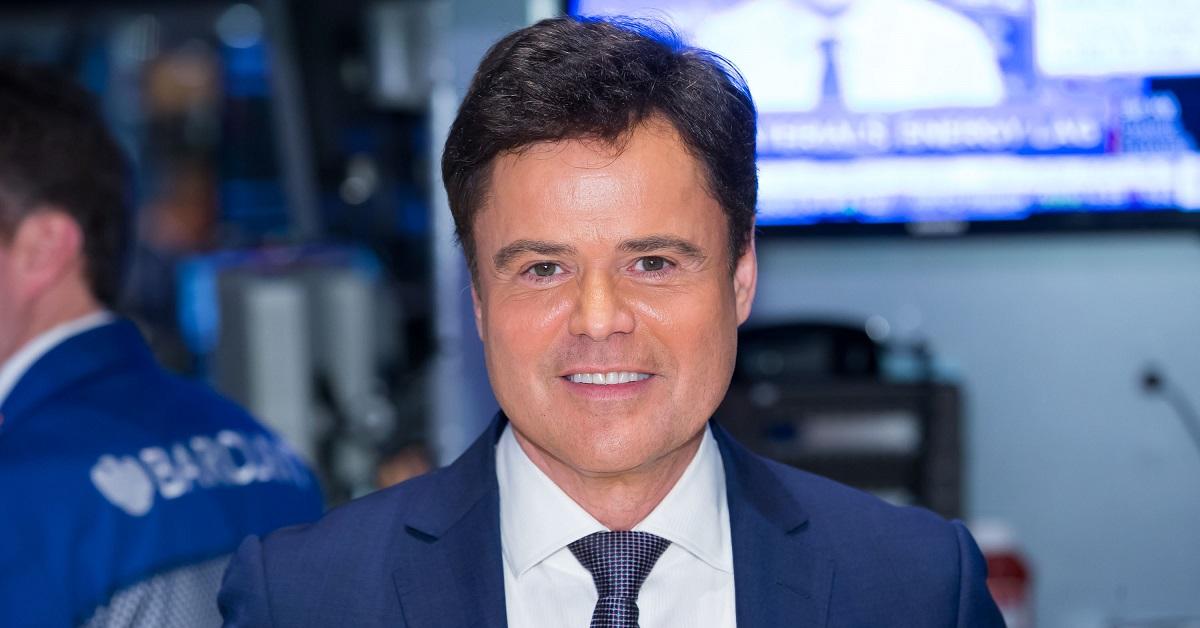 Over the course of his long career in and around Hollywood, Donny Osmond has proven that he's a charismatic, talented singer with plenty of other talents as well. Even more recently, he's taken advantage of opportunities on shows like Dancing With the Stars and The Masked Singer. Donny, who is now 62, also has kids of his own that are full adults now and more than a few grandchildren.
Article continues below advertisement
How many kids does Donny have?
Donny married Debra Glenn of Billings, Mont. in 1978, and the couple had five children together over the course of the '70s, '80s, and '90s. All of their children are male, and they span almost 20 years, from 1979, when Donald Jr. was born, to 1998, when Joshua arrived. In between, Debra gave birth to Jeremy, born in 1981; Brandon, born in 1985; and Christopher, born in 1990.
Article continues below advertisement
How many grandchildren do Donny and Debra have?
Donny and Debra first became grandparents in 2005, and since then, they have amassed 10 grandchildren. While 10 may seem like plenty for some grandparents, Donny and Debra are likely to add even more people to their immediate family. Josh, their youngest son, just got married on June 12. Josh was married to Summer Felsted in an intimate backyard ceremony. The wedding came after their original venue canceled because of COVID-19.
In an interview with Closer, the couple said that their wedding turned out perfect. "It made the whole day more personal and special," Josh said. "The wedding turned out more beautiful than we could have even imagined. It was such a fun celebration of this new step we're taking in life." Originally, they wanted to get married at the Temple of The Church of Jesus Christ of Latter-Day Saints.
Article continues below advertisement
Donny and his family have always been very religious.
Donny and Debra are both devout members of The Church of Jesus Christ of Latter-Day Saints, and it seems at least some of their children are as well. Even to this day, he still shares thoughts about religion on his website. In the past, Donny has condemned gay marriage and said that he was a supporter of Proposition 8 when it was in effect in California.
Article continues below advertisement
Donny was grateful to have time with his family.
In an Instagram post, Donny also expressed his gratitude for his son's ceremony, and for his full family. "Debbie and I have never seen Josh as happy as he is with Summer by his side. They make such a cute couple, and they complement each other so well," the singer wrote.
"It's such a great feeling for Debbie and me to know that our family will soon be complete. We were blessed with 5 wonderful sons, and are extremely lucky to have gained 4 (soon to be 5) phenomenal daughters-in-law. Each of them are such a great strength and blessing to our entire family." Donny also welcomed Summer to the family, saying that they loved her and were "so thrilled to call you one of our own."