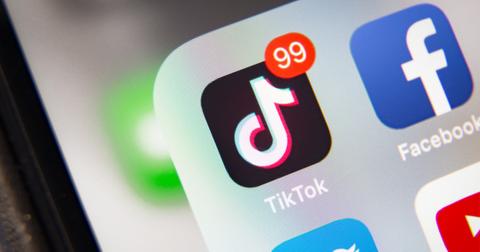 What Are Linktrees, and Why Are People Adding Them to Their TikTok Bios?
By Abi Travis

Sep. 23 2020, Published 4:54 p.m. ET
The more time you spend on TikTok, the more you start to notice that a lot of the most successful users have several things in common. They might not necessarily participate in the same trends or use the same filters, but there are definitely some ways you can distinguish between a TikTok pro and a TikTok novice.
Article continues below advertisement
One of the pro TikTok moves is including a link in your bio. Just like when people include links in their Instagram or Twitter bios, providing a link in your TikTok bio allows you to direct traffic from your TikTok page to elsewhere on the internet, such as to your other social media profiles, or even to a product you're selling. One of the easiest ways to do this is by using a tool called Linktree. Here's how to add a Linktree to your TikTok bio.
Article continues below advertisement
Here's how to add a Linktree to your TikTok bio.
For anyone (or any company) that's trying to gain popularity on the internet, gaining an audience is only the first step toward success. In order to be profitable, you usually want to be able to direct your audience elsewhere (ideally, to a place where you can make money from their engagement). While it's possible to make money purely through TikTok, it's smart to have multiple, potentially profitable platforms.
If you do it correctly, adding a Linktree to your TikTok bio makes it so that your audience can simply tap on the link and be taken directly from TikTok to your blog, e-commerce store, Instagram profile, YouTube channel, acting reel, website — pretty much anywhere you want to direct them. It saves them a step of having to look anything up, and when it comes to building your brand, saving steps is of the utmost importance.
Article continues below advertisement
So, first thing's first: You're gonna want to check whether you have the ability to add a clickable link in your TikTok bio. Do this by going to your account and tapping "Edit profile." If you can add links to your bio, you should see a field for "Website" where you can paste a link.
If you post content on TikTok....

Upgrade your account to a Pro Account!

This allows you to see analytics, including:
✅ Prime time to upload
✅ Follower demographic
✅ What content has demand

Oh did I mention...

It's completely FREE to upgrade aswell!

🎥

— GFUEL | Earlswood (@EarlswoodTwitch) May 28, 2020
Article continues below advertisement
If you don't see it, don't worry! You'll just need to upgrade to a pro account — which is totally free, by the way. Go to settings and select "Manage account," then "Switch to pro account." You'll want to set your account as a business account and then select a category, but it doesn't matter which category you choose. Go back to edit your profile and ta-da! You'll now have the ability to add links to your bio.
The next step is setting up your Linktree. You can sign up for a free account, which lets you add unlimited links, or select the paid account which offers more features and costs $6/month. Then, just go through the prompts to add whatever links you want to direct people to, paste your Linktree link in your TikTok bio, and you're all set! You're basically a marketing genius. Good luck!