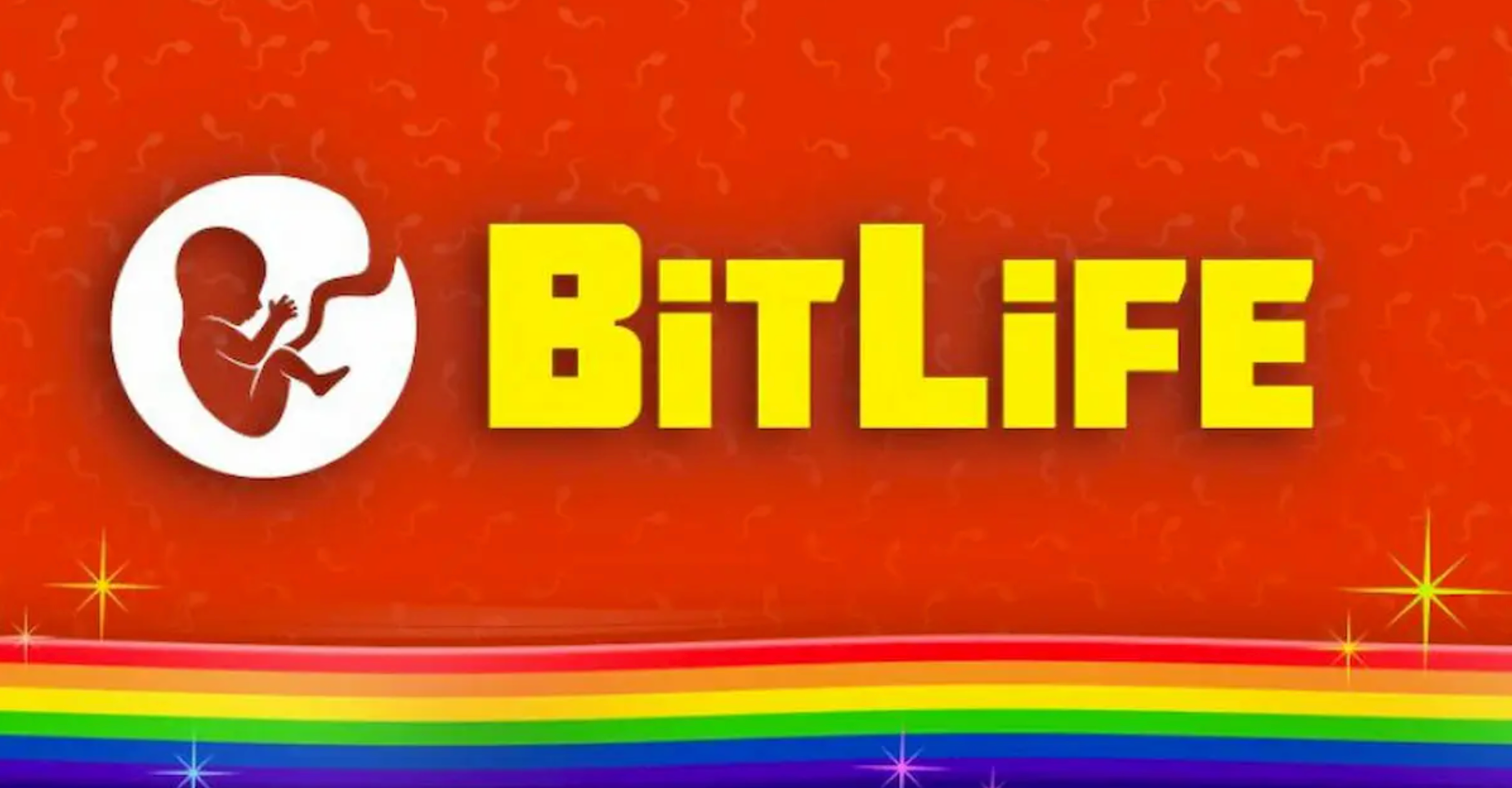 How to Successfully Break Out of Prison in 'BitLife'
The mobile life simulator game BitLife has become increasingly popular, offering a much more mature take on The Sims and similar games. Whether you just want to complete the themed challenges or want to live a life of royalty, BitLife creates endless opportunities for players to create a new and exciting life for their characters.
Article continues below advertisement
Sometimes, your character's actions can land them in jail — but instead of serving time, you can attempt to break out of prison. Here's how to do it.
First, here's how to land yourself in jail.
To commit the ultimate jailbreak scheme, you have to start by landing yourself in prison! To do this, you have to start by committing a crime. If you've never committed a crime before, your options might be limited, so you'll want to commit small crimes like pickpocketing and shoplifing.
These can be done as early as the age of eight, and once your character is an adult they'll be able to commit larger crimes, like grand theft auto or bank robbery.
Article continues below advertisement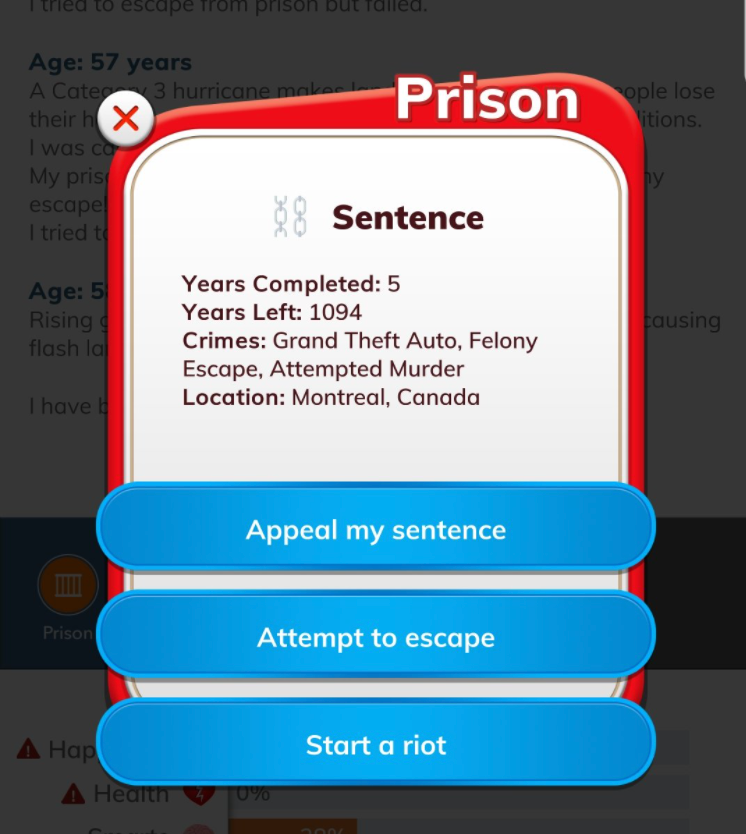 While committing these crimes, you have to get caught by the authorities to be thrown in prison. Once you're caught, your occupation will automatically change to "prisoner" (meaning you'll lose the job you had before).
Once in prison, you'll be able to attempt escape once a year, though you'll have to navigate the puzzle to escape.
Article continues below advertisement
Now, here's the trick to escaping from prison in 'BitLife.'
To escape prison, you'll need to navigate your character out of a maze while avoiding the prison guard. While trying to make it to the exit, it's important to note that the guard will move two spaces for every one your character moves, and the first move will always be in a horizontal motion.
Article continues below advertisement
Unfortunately, the maze randomizes every time you attempt to escape, so there isn't one clear escape route you can use to get out of jail. That being said, the guard will always make a move toward you, so it's easy to trap them behind a wall to secure your escape.
There are countless videos on YouTube demonstrating various ways to get yourself out of the maze and to the exit without getting caught, though no one solution is bound to fit your escape. A good rule of thumb while trying to make it out of prison is to move so the guard is trapped behind a wall if you're stuck to buy you some time.
Article continues below advertisement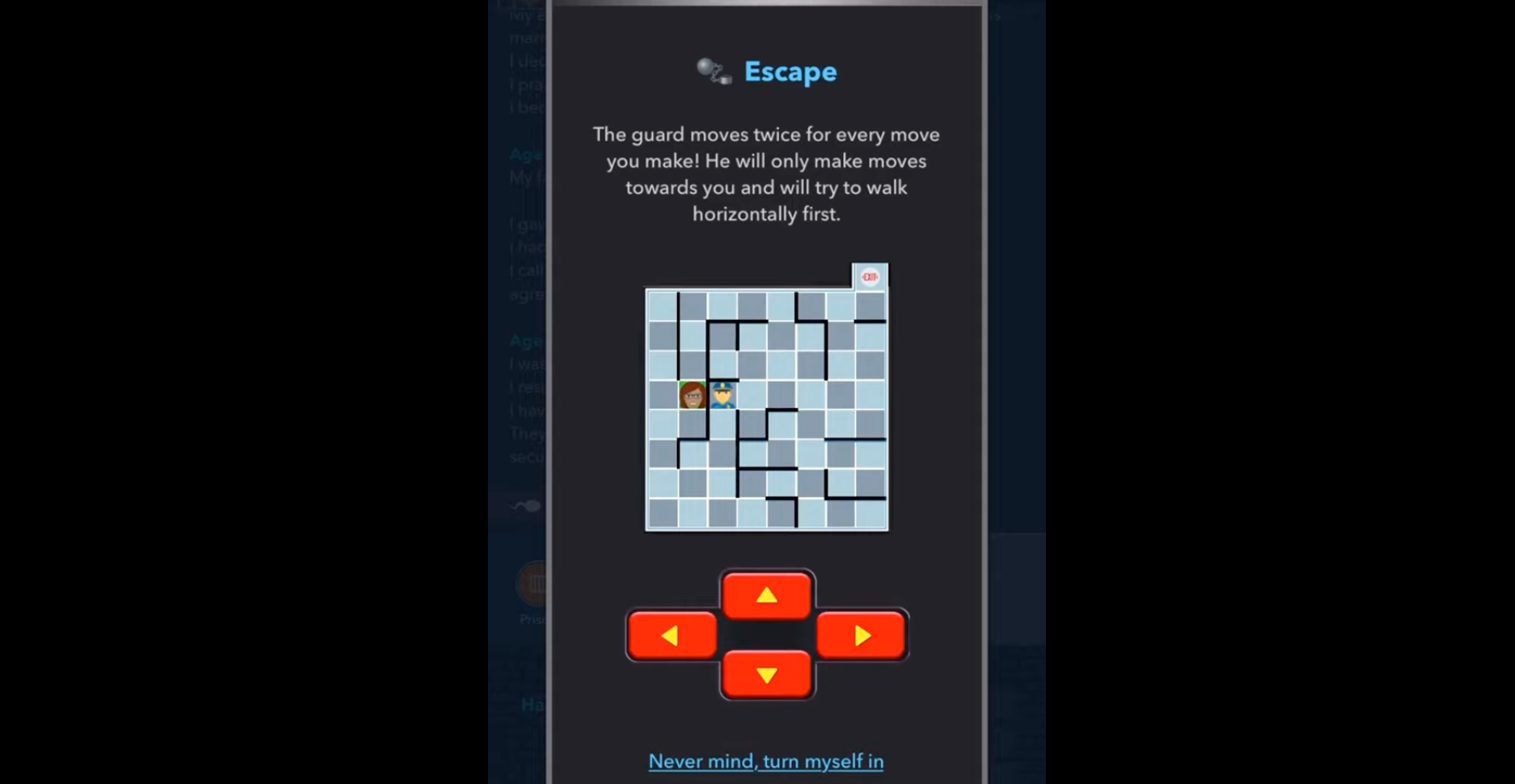 There are two different ribbons you can earn by successfully escaping, a Jailbird ribbon and a Houdini ribbon. To receive either of these, you'll have to escape from prison multiple times. Escaping four times earns you the Jailbird ribbon, while 10 successful escapes wins you the Houdini ribbon.
Successfully escaping from prison is a good way to establish yourself as a criminal. If you're struggling to get into one of the mafia families, committing a couple of jailbreaks is a sure way to increase your notoriety, thereby securing you a better chance at joining a mafia family.