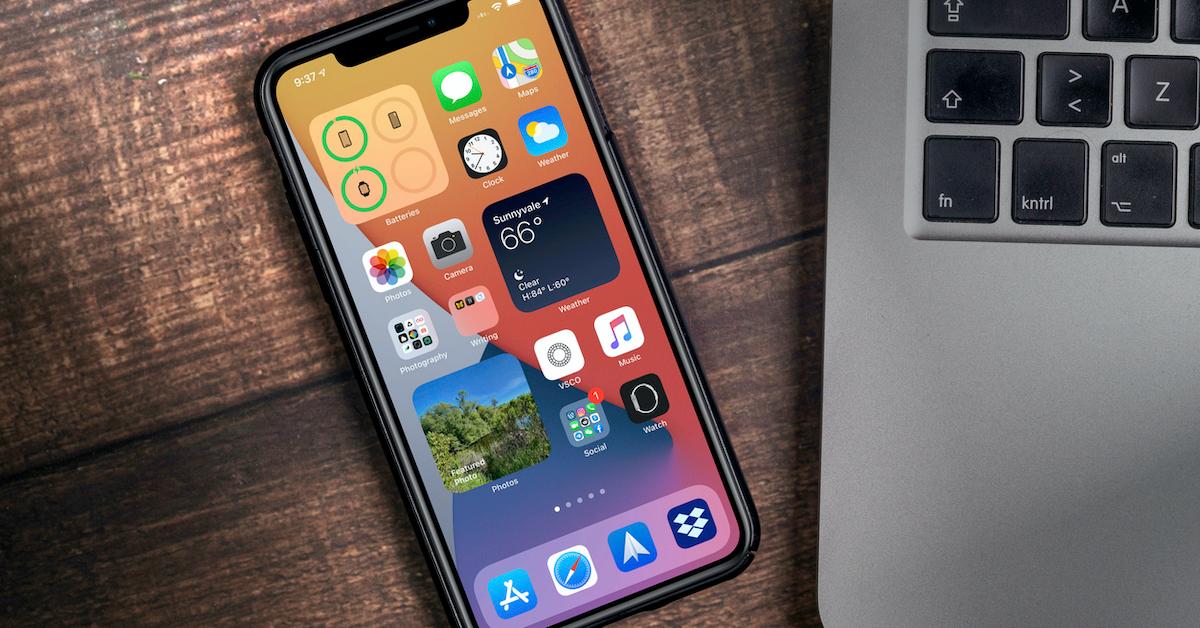 You Don't Need to Download Anything Fancy to Customize Your iOS Icons
Apple's newest iOS 14 update is letting users organize their phones like never before. With the help of home screen widgets, which provide information from apps at a quick glance, iOS users can now customize their home screens and layouts to better suit their aesthetic and organizational needs.
Article continues below advertisement
Article continues below advertisement
How to change app icons in iOS14:
The newly released iOS14 update gives users the option to add widgets to their home screens, which is extremely convenient because it lets you see reminders, accept FaceTime calls, check the weather, scribble a note, or even check how long you've been on your phone without ever opening an app.
That said, this useful update also means that the more anal-retentive among us will have to figure out how to customize our home screens to make sure it remains as aesthetically pleasing as it is easy and convenient to use.
Article continues below advertisement
One trend users are taking to when considering how to customize their home screens is changing around the colors or images of the apps, rather than sticking to the factory-made icons.
Article continues below advertisement
Say you decide to go for a neutral home screen.
In that case, you probably want to pick a solid color for your background and make sure that all of your icons are monochromatic and arranged according to your aesthetic, rather than just organize the icons that already exist.
But how do you change the colors or replace your icon with a photo?
So, first things first: after you identify which apps you want to keep front and center, and then press the plus sign on the upper left to select the widgets you want displayed — as well as their sizes — you're going to want to customize the apps themselves.
Article continues below advertisement
The steps aren't hard at all, but they do require some paying attention. And if you miss anything, don't worry because we're linking to a video below where you can follow along step-by-step.
First, you'll want to open the Shortcuts app. We know, this app has existed for a few updates now, but we literally have never used it before today.
Article continues below advertisement
Once you've opened Shortcuts, press the plus sign on the right hand side of "Starter Shortcuts." Press the button that reads "Add Action," and a search bar, along with several icons will appear.
Type in "open app" in the search bar and an icon with colorful tiles should appear under "Actions." Press that button and type in the app whose icon you'd like to change.
The screen should read "New Shortcut 1" on the top, and it should say "Open [the app you selected]" below.
Article continues below advertisement
Now, you'll want to press the three blue dots "..." to the right of the words "New Shortcut 1." You'll notice a screen open prompting you to add a "Shortcut Name," which is where you should enter the name of the app as you'd like it to appear on your home screen.
Next, press "Add to Home screen."
Article continues below advertisement
To the left of where it says the name of the app, there should be an icon with a blue border around it. Press the icon, and press "Choose Photo." Now, you'll be able to customize any iOS 14 app to the icon you'd prefer. Choose a cute picture, for example, or just zoom into a photo and pick a color you love!
The only downside with this extremely pleasing organization is that opening whatever app you customized will always take you through the Shortcut apps as a little detour. Alas, that's the price of beauty!