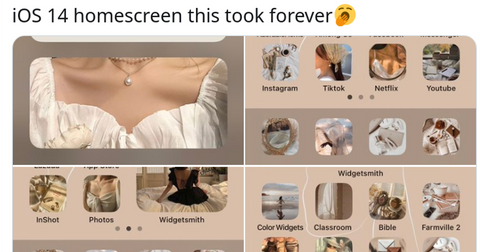 Here's How to Make the Most out of Your Shiny New Home Screen on iOS 14
By Mustafa Gatollari

Sep. 21 2020, Published 2:04 p.m. ET
I've said it once and I've said it again: Apple's innovation isn't necessarily coming up with new technology, but finding ways to implement it that work so much more seamlessly than other tech companies are able to do.
I've been a long-time Android user and have been a Google stan for years, but even I have to admit that the only thing keeping me from jumping ship to iPhone are lightning cables. Especially with all of these cool new iOS 14 home screen ideas floating around the web.
Article continues below advertisement
Here's how to customize app icons on iOS 14.
While iOS has steadily developed over the years, it was clear to see that the mobile operating system was lagging behind in certain areas, especially when compared to other smartphone and tablet operating systems. The camera lock screen feature? Taken from Windows Phone. The slide down notification drawer? Android. Everyone borrows from each other, but the one design aesthetic Apple seemed dead-set on keeping was the nightmare home screen.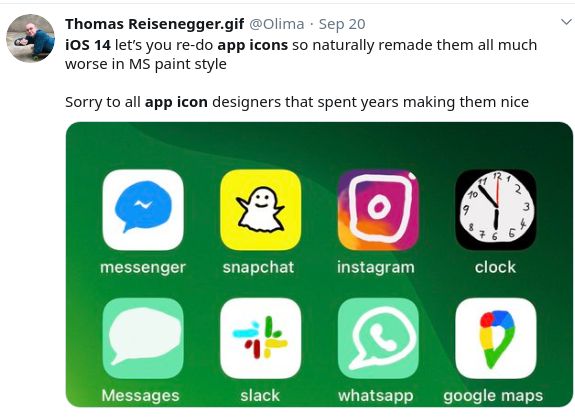 Article continues below advertisement
Apps upon apps upon apps upon apps clogging up your screen. Arranging them was a nightmare and the folders system did little to help contain the madness that was occurring on your phone. It was surprising that it took Apple so long to effectively implement new design cues with iOS 14 to allow users to re-arrange their home screens in inventive new ways that utilize widgets in a variety of new ways, but you finally can.
One big new customizing trick is being able to trick out your app icons. Here's how you can do that:
Open the Shortcuts app
Hit the "+" icon in the upper right corner of the screen.
Hit "add action".
Type in Open App in the search bar
Tap Open App
Tap Choose
Hit the app icon
Then, when the drop-down menu comes up, you'll be able to Take Photo, Choose Photo, or Choose File. Pick the option that contains the new image.
Pick the new image.
Rename the app.
Hit Add
Hit Done
Article continues below advertisement
While this sounds like a sleuth's dream come true, it's really just a fun way to trick out your phone in a way that you've never been able to do before on the iPhone. Don't want anyone to know you still play Candy Crush? Change the app icon and name. Want to have a secret folder filled with choice memes you don't want anyone else accessing? Again, you can change it up on your phone.
Article continues below advertisement
Cool iOS home screen ideas: