The "Rellface" Trend on TikTok Is Equal Parts Horrifying and Hilarious
TikTok user @relltheremedy started a trend of making face swap videos using his own face, and the results are hilarious. And terrifying.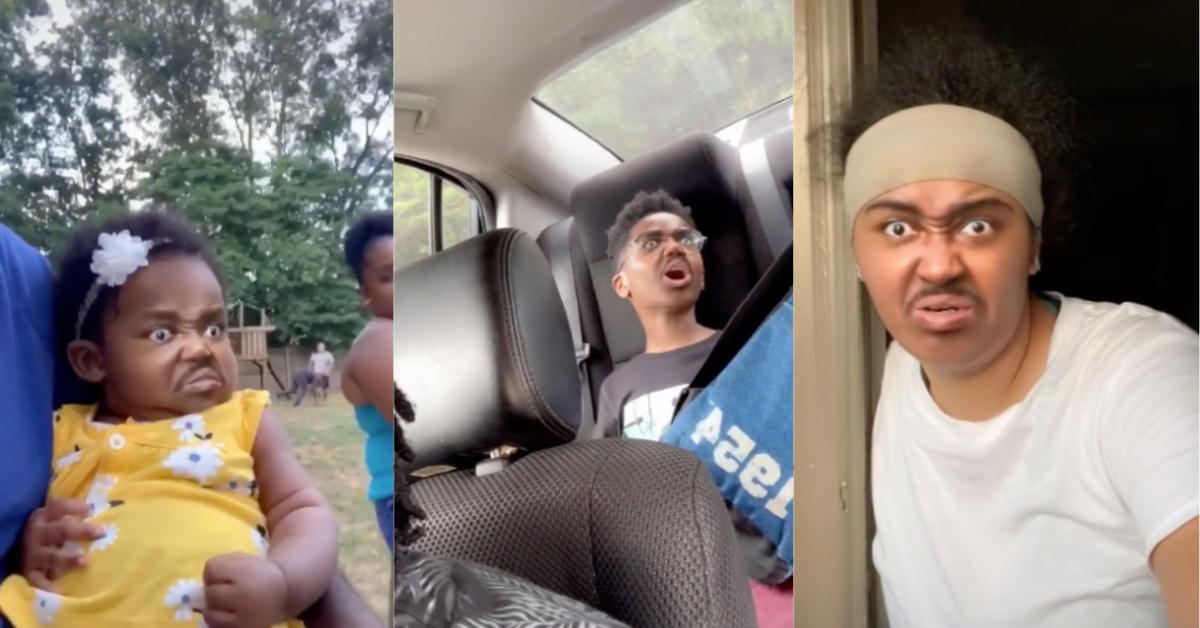 It feels like we find a new "favorite thing ever" on TikTok all the time, but this time, we really found our new favorite thing ever. Remember when face swaps were the funniest thing? Well, TikTok user Terrell Brown just brought them to the next level by incorporating his own face — and now other people are using it too!
Article continues below advertisement
He calls the effect "Rellface." The trend is simple — you just use one particularly funny image of Terrell's face to create a face swap video. For best results, Terrell and others use it on unsuspecting video victims. The only problem is that people can't seem to figure out how to make their own Rellface videos on TikTok. We can help with that!
Article continues below advertisement
Here's how to get the Rellface on TikTok.
As soon as you see your first Rellface video, you're probably going to want to recreate it for yourself. It's just that funny. Somehow, Terrell managed to take the perfect picture that makes face swaps even funnier than they usually are. (According to his TikTok bio, he's a photographer, so perhaps we shouldn't be too surprised!)
Anyway, your first instinct might be to start searching for a Rellface filter on TikTok, but that will get you nowhere! The Rellface is not an official TikTok filter or effect — not yet, at least. TikTok, get on that! For now, you're going to need to use a bit of a workaround in order to make your own Rellface video. Specifically, you're gonna need Snapchat.
Article continues below advertisement
First, go to Terrell's TikTok profile (@relltheremedy). Open up his profile picture and take a screenshot, then save that picture to your phone. Next, you're going to want to open up Snapchat and the Face Swap effect.
Article continues below advertisement
When you do that, you should see the picture you took of Terrell's face pop up as an option for the swap. Select it, and record your video. Or videos (you probably won't be able to resist making more than one). Download the videos from Snapchat and bring 'em over to TikTok. Upload, tag them with #rellface, and you're all set! This TikTok video Terrell made does a good job of explaining the process:
Article continues below advertisement
So far, TikTok videos using the #rellface tag have a combined total of more than 24 million views — most of them being from Terrell himself. Obviously, that number is only going to go up as more people start making their own hilarious Rellface videos.
Feel free to get creative with your own Rellface videos — you don't have to only use them to record ridiculous videos of unsuspecting prank victims. We've also seen some very funny videos using the Rellface effect over television broadcasts, still images, and even pets. The options are pretty much limitless, and also all very funny.
Article continues below advertisement
In short, TikTok, please keep the Rellface videos coming. They're one of the only things keeping us going these days. We're also open to other hilarious face swaps, but it's impossible to deny that Terrell clearly has the best face for swapping. We don't make the rules. We just watch the videos (and bust a gut laughing at them).