People With Curly Hair Swear by the "Plopping" Technique — Here's How to Do It
"Plopping" curly hair involves wrapping it up in a cotton shirt instead of using a terrycloth or microfiber towel. It makes a huge difference!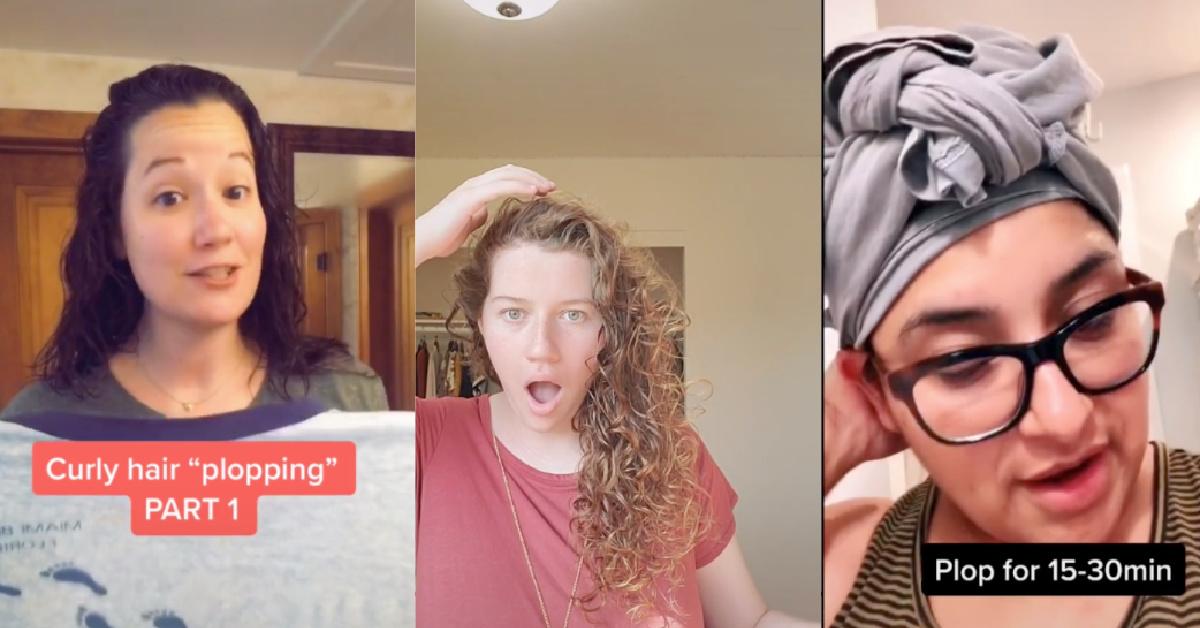 If you have curly hair, you know that learning how to style it is a whole process. If you don't use the right products, the right techniques, or if you look at it even slightly funny, POOF. It's frizz city.
Article continues below advertisement
There are so many different tricks floating around out there for people who have curly hair, but our favorite one is plopping. Please note: We did not choose the name. Weird name aside, plopping your hair is a super easy way to get the most out of your natural curls without putting in a ton of effort. Without further ado, here's how to plop hair.

Article continues below advertisement
Here's how to plop hair.
The plopping method has actually been around for years. All you need is a cotton shirt and whatever products you usually use in your hair, such as leave-in conditioner or curl cream.
Before you plop, you're going to want to wash your hair. After you're done washing it, do not wrap it up in a towel — that's a one-way ticket to frizziness. If you need to comb it, do so with a wide-tooth comb (not a brush — again, that'll cause frizziness). Add your product. Then, grab a cotton shirt. It can be either a long-sleeved or short-sleeved shirt, just make sure it's 100 percent cotton.
Article continues below advertisement
Lay the shirt flat in front of you with the neck hole of the shirt closest to you (it'll be easier if you lay it out on top of your bed). Then, simply plop your hair onto the shirt. This is where the method gets its name, as you've probably already guessed. Bring the bottom of the shirt up over your head, then tie the sleeves into a knot at the back of your head. Here's a video that shows the method clearly:
Article continues below advertisement
Ta-da! You have officially plopped! Now all you have to do is finish getting ready for the day. Leave your hair in the plopped position for at least 15 minutes. You can try blowdrying your hair through the T-shirt to speed up the drying process, or, after some time has passed, take the shirt off and use a diffuser to dry it a bit more. You can also just let your hair air dry the rest of the way.
The biggest difference plopping makes is that it greatly reduces frizz and adds definition to your curls. In fact, there's a good chance that your curls will look better than they ever have before simply from plopping instead of using a towel.
Article continues below advertisement
Although plopping has been around for years, it's recently started getting popular again thanks to people sharing their plopping results on social media — especially TikTok. Scroll through the #plopping or #curlygirl hashtags and you'll be amazed by some of the curly hair journeys people have gone through!
You might want to try plopping even if you don't think you have curly hair. Sometimes, your natural curls just aren't given the chance to show themselves — plopping can help! Best of luck as you set out on your own curly hair journey!