Hugh Jackman Updates Fans On His Health: "My Biopsies Came Back Negative"
Hugh Jackman was first diagnosed with basal cell carcinoma in 2013. In 2023, he shared with fans that he was getting tested again. Is he OK?
Renowned Australian actor Hugh Jackman needs no introduction. Since the 2000s, the award-winning actor has taken on the iconic role of Wolverine in the X-Men franchise. He has also starred in a number of popular films, including Les Misérables, The Prestige, and The Greatest Showman.
Article continues below advertisement
Over the years, Hugh has become quite vocal with his fans about his health. Recently, the 54-year-old took to Instagram to share that he — at the suggestion of his doctor — had gotten some tests done and was now awaiting the results. Is he OK? Here's everything we know about Hugh's current health.
Is Hugh Jackman OK? Actor reveals he had to undergo skin cancer tests.
"My biopsies came back negative!!!" Hugh wrote in an update to fans via his Instagram Story on April 5. "Thank you for ALL the love. I feel it!"
Article continues below advertisement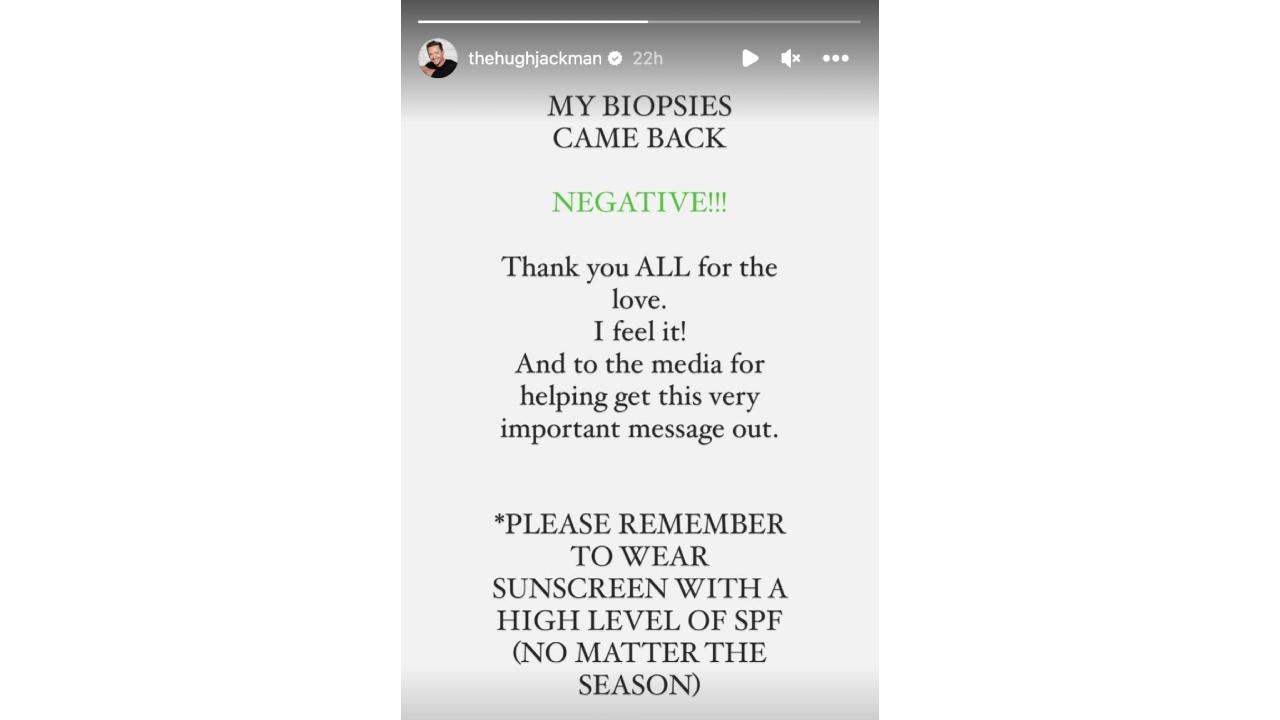 Earlier that week, Hugh had shared in a video that during a checkup, his doctor saw "two little things that could be or could not be basal cell carcinoma." At her suggestion, he got tested right then and there.
Fortunately, he was able to deliver good news to fans when the results came in.
Article continues below advertisement
Per the Skin Cancer Foundation, basal cell carcinoma is the most common form of skin cancer. It is caused by exposure to ultraviolet (UV) radiation from the sun or indoor tanning, which can trigger changes in the basal cells, which are the cells that make up the outermost layer of skin.
In his video, Hugh also reminded his followers to take care of their skin this summer. "Please wear sunscreen. It's just not worth it. No matter how much you want to tan, trust me," he said.
Article continues below advertisement
This is not Hugh's first time encouraging his fans to wear sunscreen. In 2013, Hugh revealed that he had been diagnosed with basal cell carcinoma on his nose. And if it wasn't for his wife Deborra-Lee telling him to get the mark on his nose checked, he might have never known. Since then, he has used his platform to raise awareness.
In the last few seconds of his video, Hugh pointed to his bandaged nose, where cancer cells had previously grown, and said "This is all stuff that happened 25 years ago. It's coming out now," capitalizing on how cancer can manifest at any time.