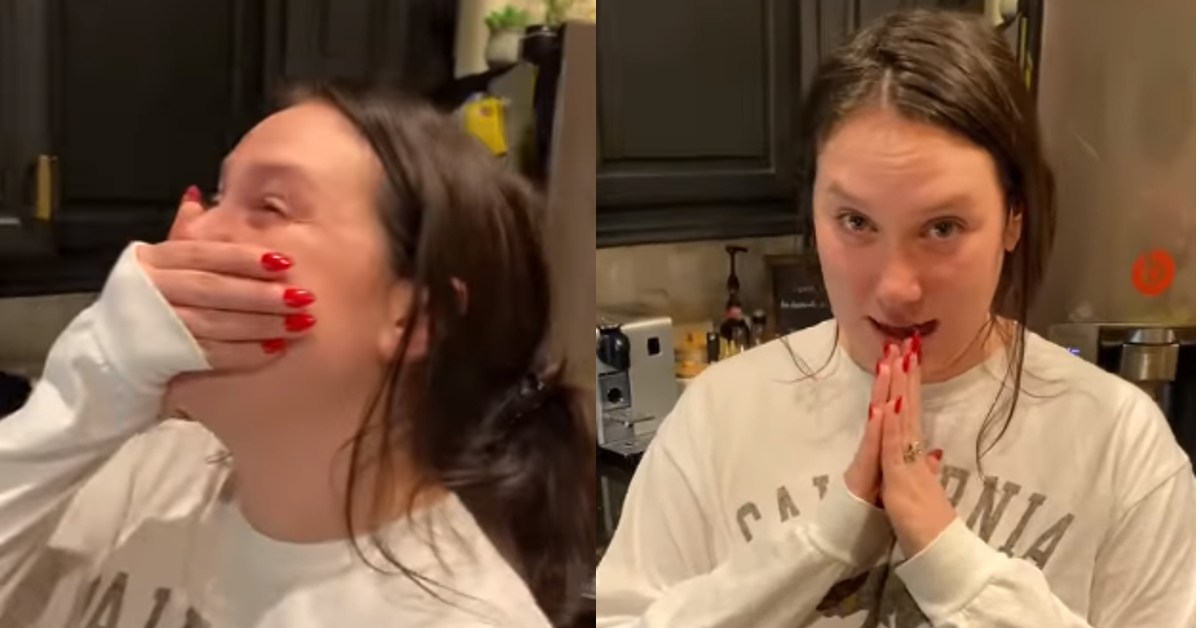 Mom Breaks Down Crying After Husband Goes to Target Without Her
When you're with someone that you absolutely adore it can feel like a betrayal if they do something without you. It can be as innocuous as going to the gym or even picking up some groceries. If you add an element of being stuck at home with kids during a pandemic, some folks can get really hurt if their significant other decides to do some shopping on their lonesome.
Article continues below advertisement
And while it might seem silly that a person would get so upset that they'd cry if their beloved decided to go shopping at let's say, Target without picking them up first, that's exactly what happened in this now-viral video uploaded by @positively_paige_ who poked a bit of fun at herself for her hysterical reaction to discovering her husband, Mark, went to the popular retailer by himself.
She uploaded the video to her Instagram page with the caption, "In case y'all were wondering how Mark started my year…He drank my coffee AND went to @target without me. After I haven't been in a month. I like to think Target misses me too. #target."
Article continues below advertisement
If this seems like a little much, there's been a lot written about the psychological addictions folks can build up to shopping at Target, aka what many folks refer to as "what Walmart should be."
The video starts with Mark going into the house and mentioning to Paige that he "popped" in Target to pick up something real quick.
Article continues below advertisement

Paige can be seen wiping away her tears and cutting back-and-forth in between genuine sadness and laughter.
"I'm sorry, are you upset that I went to Target without you?" Mark asks.
"Uh, a little," she says, still fighting back crying. She then gushes, "Only in the sense that like ... you didn't even ask me if I wanted to go with you!"
Article continues below advertisement

"Okay, okay...how long were you there?" Paige asks.
"Like 10 minutes!" Mark says in what sounds like an attempt to ameliorate the situation. But the situation isn't ameliorated. "I just had to pick up something real quick, I didn't even think about it!" Mark then goes on to say that he "didn't even like" his shopping experience.
Article continues below advertisement

"Was there anything good? Did you even go to the loungewear?" Paige asks, still fraught with emotion.
The clip went viral as there were a lot of people who could commiserate with Paige's feelings. Many social media users pointed out that trips to retail stores can feel like a mini-vacation for some moms.
Article continues below advertisement

"She's a tired mama who probably hasn't left the house in a while and has been daydreaming about doing so. Solidarity, sister."
Another wrote, "So many people don't get that usually being a mom means not being able to do something on a whim without any planning. You always have to account for your kids."
Article continues below advertisement

Jersey Shore cast member Jwoww commented on the video with a laugh emoji, writing, "Praying for you." While other users brought up the fact that Target addiction is a real thing: "You really do need help for your addiction! I genuinely hope you seek out a therapist for it (preferably over video chat, because unfortunately going out anywhere right now is much too risky)."
Article continues below advertisement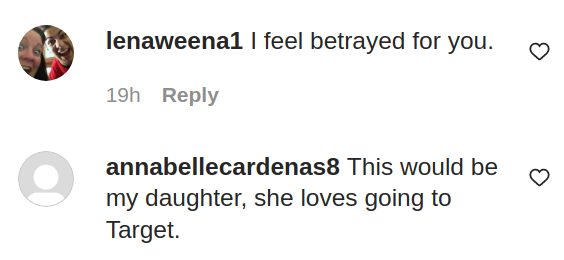 Others just thought that Mark "enjoyed her 'pain' so much."
What do you think? Would you be upset if you were home all day and your significant other went to your favorite store without you? Would you feel betrayed?